Former Irish internationals Matt Holland and Kenny Cunningham joined OTB AM on Friday to give their reaction to Ireland's 1-1 draw with Bulgaria.
An injury-time header from Shane Duffy was needed to rescue a 1-1 draw in Stephen Kenny's first game as manager.
Kenny's starting line-up was youthful and excited many fans but still the debate over Seamus Coleman and Matt Doherty rumbles on.
"I think it is a totally different position that Matt Doherty is being asked to play," Holland said.
"It's difficult to go from playing in a back three regularly at club level to then play in a back four when he's asked to do it at international level. I don't think it suited him at all last night. 
"We didn't see him in those attacking positions. I think he made one run into the box in the second half but generally we didn't see him in those attacking positions that we're so used to."
Holland thinks that incorporating both Seamus Coleman and Doherty into the team by playing a back three is something that needs to be looked at by Stephen Kenny.
"I was looking at the players who played in that back four last night, they all play in a back three at club level. It didn't necessarily suit them the system," Holland explained.
"If he [Kenny] changes his system, he can play both Coleman and Doherty. You can play Seamus in a back three which is something he's done for Everton and put Matt Doherty into more advanced positions where he can be more of a threat in the opposition box."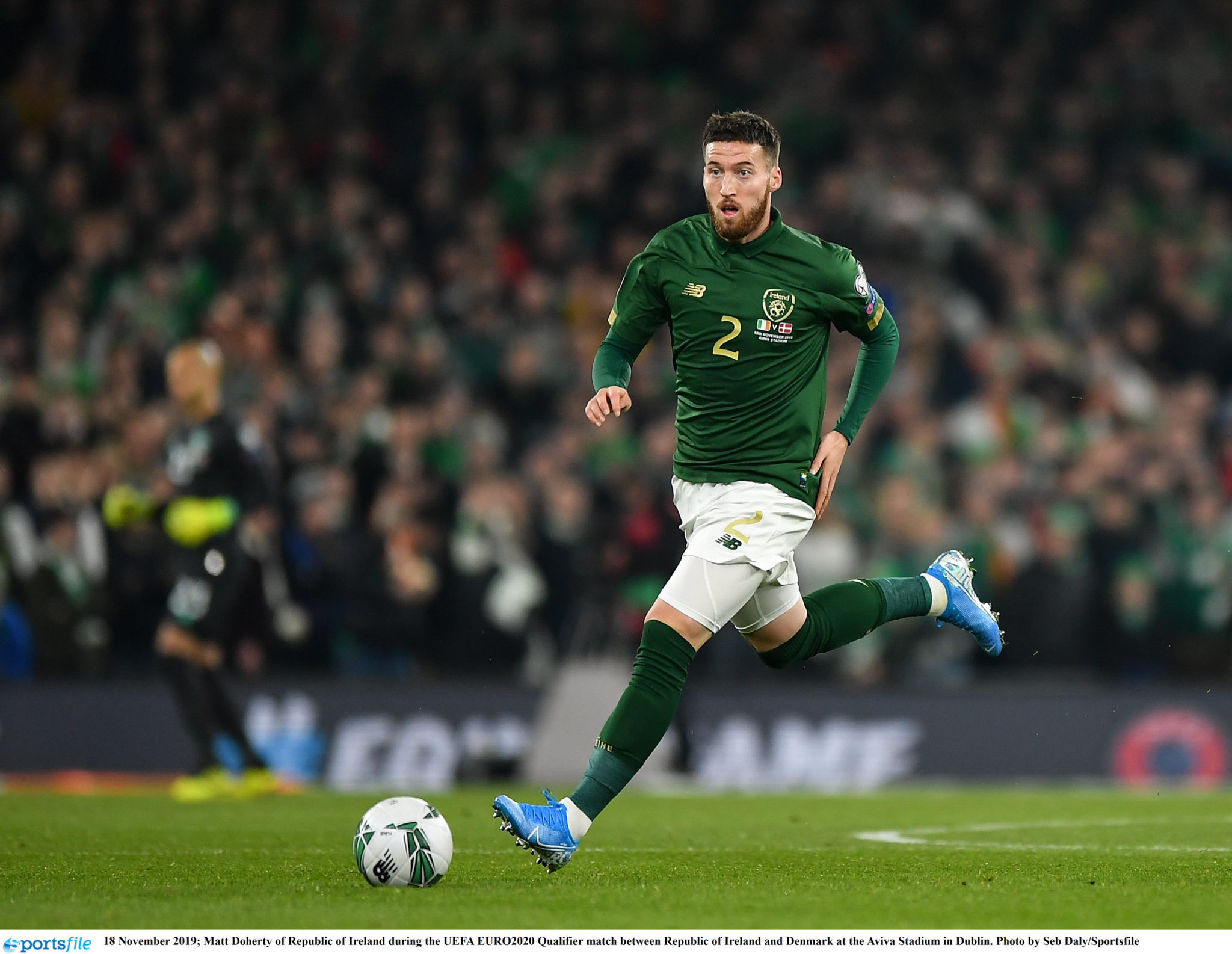 Holland does acknowledge however that with the Slovakia game being only next month, time is limited.
"It is a difficult one when you are are used to playing a certain system as a manager. You want your team to play in a certain way, it is difficult to abandon that at such short notice with the games meaning so much."
Former Ireland captain Kenny Cunningham talked previously about incorporating both Doherty and Coleman into the one team. On Friday's OTB AM though he explained how both have different strengths.
"From an attacking point of view, who is the most productive in terms of goals and creating chances? I think you'd say that in the last year that that is Matt Doherty," Cunningham said.
"If you examine their defensive attributes. Out of possession of the football, that kind of positional sense which is always key for a fullback in defending the back post. I think there's an argument that Seamus is the better defender.
"Stephen will have to look at that and maybe almost judge it game to game."
Looking ahead to Sunday's game against Finland, both Holland and Cunningham think that if it is a back four, then Doherty should get another chance.
"It's difficult to judge him on one performance so absolutely he should get more opportunities," Holland said.
Cunningham doesn't think Coleman should be given a game "for the sake of it". He feels that if Stephen Kenny and his staff see Doherty as their long-term starter then he should play again.
A rarely spoken about part of this starting right-back debate is Coleman's leadership and organisational skills.
"Coleman is the leader, he is the captain, he is the spiritual leader of that group," Off The Ball's Nathan Murphy said.
"Where are the other characters and personalities maybe away from Duffy and Egan? Who are the really loud voices who are getting at players.
"When Coleman sees that little bit of disorganisation, he can be that in game manager. I think they missed that a little bit last night."
 After the draw in Sofia, Ireland will be looking to take all three points when they face Finland on Sunday in the Aviva stadium.
Download the brand new OffTheBall App in the Play Store & App Store right now! We've got you covered!
Subscribe to OffTheBall's YouTube channel for more videos, like us on Facebook or follow us on Twitter for the latest sporting news and content.