As one unnamed person rightly pointed out, working out the Ireland permutations for getting to Euro 2020 is like those maths books we all used to have.
We've all had a sneak peek at the answers at the back of the book. But correctly calculating the answers for yourself is a different matter entirely.
It's not even the Ireland permutations that are the biggest issue. We know we have to beat Denmark in Dublin next month to advance automatically. But the playoff picture is complicated due to the UEFA Nations League contaminating the process.
So as we did in the Leaving Cert, let's show our work.
Automatic Qualification
We're going to start with a few assumptions though. Switzerland and Denmark will win their games in hand against Georgia (H) and Gibraltar (A) respectively. So Denmark will be on 15 points, three points clear of us before they arrive in Dublin for November 18th. Switzerland's task against Georgia is a bit harder but with home advantage, they would be expected to take all three points.
That would leave Vladimir Petkovic's team on 14 points, two ahead of us. All that would remain for them would be what's essentially a gimme. No disrespect to Gibraltar but Switzerland won't make as hard work of that fixture as we did home and away. They will be victorious at Victoria Stadium to go onto 17 points to qualify automatically.
Which leaves a duel at the OK Corral Aviva Stadium between Denmark and ourselves. If Denmark win, they eliminate us from consideration and we must go the playoff route. If we draw, it's the same end result. But if we win - and it's a big if - it's Ireland that advance on head-to-head as we'll both be on 15 points. Shane Duffy's late equaliser in Denmark away from home means any win for us at home will be enough if we're level on points.
Playoff Process
Before getting to the Nations League side of things, let's get the easy part out of the way. There are 10 qualification groups and the Top 2 in each qualify for Euro 2020. Simple.
But let's make our job slightly easier by projecting who those Top 2 will be. And also for the purpose of Ireland permutations, we'll assume we don't qualify automatically.
Automatic qualifiers per our strictly hypothetical crystal ball (those already through in italics):
Group A
England
Czech Republic
Group B
Ukraine
Portugal
Group C
Netherlands
Germany
Group D
Denmark
Switzerland
Group E
Croatia
Slovakia
Group F
Spain 
Sweden
Group G
Poland 
Austria
Group H
Turkey
France
Group I
Belgium 
Russia
Group J
Italy
Finland
So congratulations to all those nations and hard luck for those who don't actually make it through in real life next month. Group E has the potential to be most changeable, so I've gone for the following:
Slovakia to lose to Croatia but beat Azerbaijan. Wales to beat Azerbaijan but drawing against Hungary at home. That would leave Slovakia and Hungary on 13 points and Wales on 12. Slovakia have a superior head-to-head against Hungary and therefore qualify.
The European Championships have been a 24-team affair since Euro 2016. So 20 teams have been accounted for. That leaves four teams who survive the playoff process.
Nations League Contamination
That's where the UEFA Nations League comes in. As you'll remember, we did quite badly in that competition. Not that it matters for the playoffs.
The Nations League was split into four Leagues: League A to League D. Ireland were in League B. In theory, each League will produce one qualifier through the playoffs. They are officially split into Path A, B, C and D, corresponding to each League. But given that many teams - especially in the higher leagues - will go through via the qualifying groups, it complicates the playoff picture.
Let's assume, we've got the 20 automatic qualifiers correct. How do the Ireland permutations look then if we end up catapulted into the playoffs?
We are ranked 23rd in the overall Nations League rankings. But 19 teams are ranked above us are (by our predictions) going straight to Euro 2020 anyway. In League B, we are 11th of 12 but our predictions have eight of those 12 going through automatically. Which leaves four teams to fill out the League B playoffs, including ourselves, safely ranked third among those four. So we would be among the four remaining teams in League B alongside one group winner Bosnia, as well as Northern Ireland and Wales. So Path B is full and accounted for and we're in it. Phew!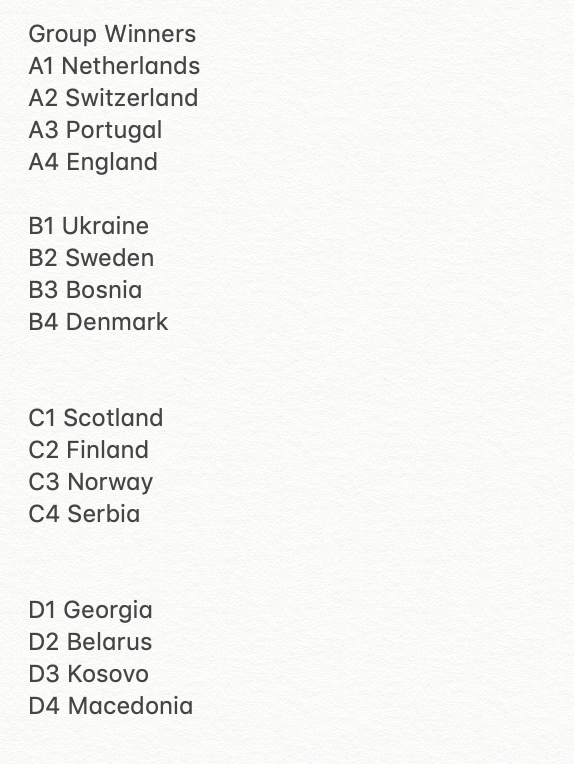 All of the League A winners have qualified automatically. Ukraine, Sweden and Denmark are also through per our predictions. In League C, Finland are also through according to our crystal ball.
Per the Nations League rankings of unqualified teams, we would be left thus:
Path A
Iceland
Bulgaria/Israel/Hungary/Romania (three out of four)
Path B
Bosnia
Wales
Ireland
Northern Ireland
Path C
Scotland
Norway
Serbia
Bulgaria/Israel/Hungary/Romania (one out of four)
Path D
Georgia
Belarus
Kosovo
Macedonia
Iceland would be the only League A team not to qualify automatically, leaving three spots in Path A. Scotland, Norway and Serbia are assured of Path C involvement due to winning their Nations League C groups. That would leave three open spaces in Path A and just one in C.
Four teams would be used to fill out the three remaining slots from Path A and the sole spot in Path C. Per the rankings of teams not already allocated a playoff space or qualified automatically, UEFA would have to dip back to unqualified League C teams that didn't win their Nations League groups.
The four highest-ranked non-allocated teams according to the Nations League rankings are: Bulgaria (29th), Israel (30), Hungary (31st) and Romania (32nd). They would be divided up by a draw which would place them in either Path A or C. Three would end up in Path A and one in C.
Let's get back to the Ireland permutations from thereon in. As the third highest-ranked team in Path B, we would play the second highest-ranked. So according to our predictions, we would face Wales away, before a "final" against the winner of Bosnia vs Northern Ireland for a place at Euro 2020.
Of course, beating Denmark means we avoid that quagmire...
Download the brand new OffTheBall App in the Play Store & App Store right now! We've got you covered!
Subscribe to OffTheBall's YouTube channel for more videos, like us on Facebook or follow us on Twitter for the latest sporting news and content.