An international window in which Stephen Kenny's Ireland all but conceded World Cup qualification, OTB's Cian Fahey breaks down causes for concern and reasons to be hopeful.
Ireland fans hoped that the performance against Portugal in Faro would be a turning point.
Penetrating passes, quick ball movement and a solid defensive display allowed Ireland to match Portugal in every non-Cristiano Ronaldo way.
But the nature of development is that it's not necessarily linear.
Realistically, there won't be one moment or one game where Stephen Kenny's Ireland turn the tide. Instead, there will be big positives, big negatives, small setbacks and small steps forward. The gradual growth of this team will be felt rather than seen if Ireland stick with the process.
That means the path has many more sharp turns in different directions before Ireland are a good team again.
But while the results overall were negative, the performances once again offer reasons to be hopeful of where this team is going. There are clear negatives and clear positives but even the negatives come with a positive spin. Most of the challenges facing this team right now can rationally be expected to be overcome with more time.
That's because the positives are primarily coming from the younger players and the negatives can be primarily attributed to a lack of experience or ineffectiveness from older players.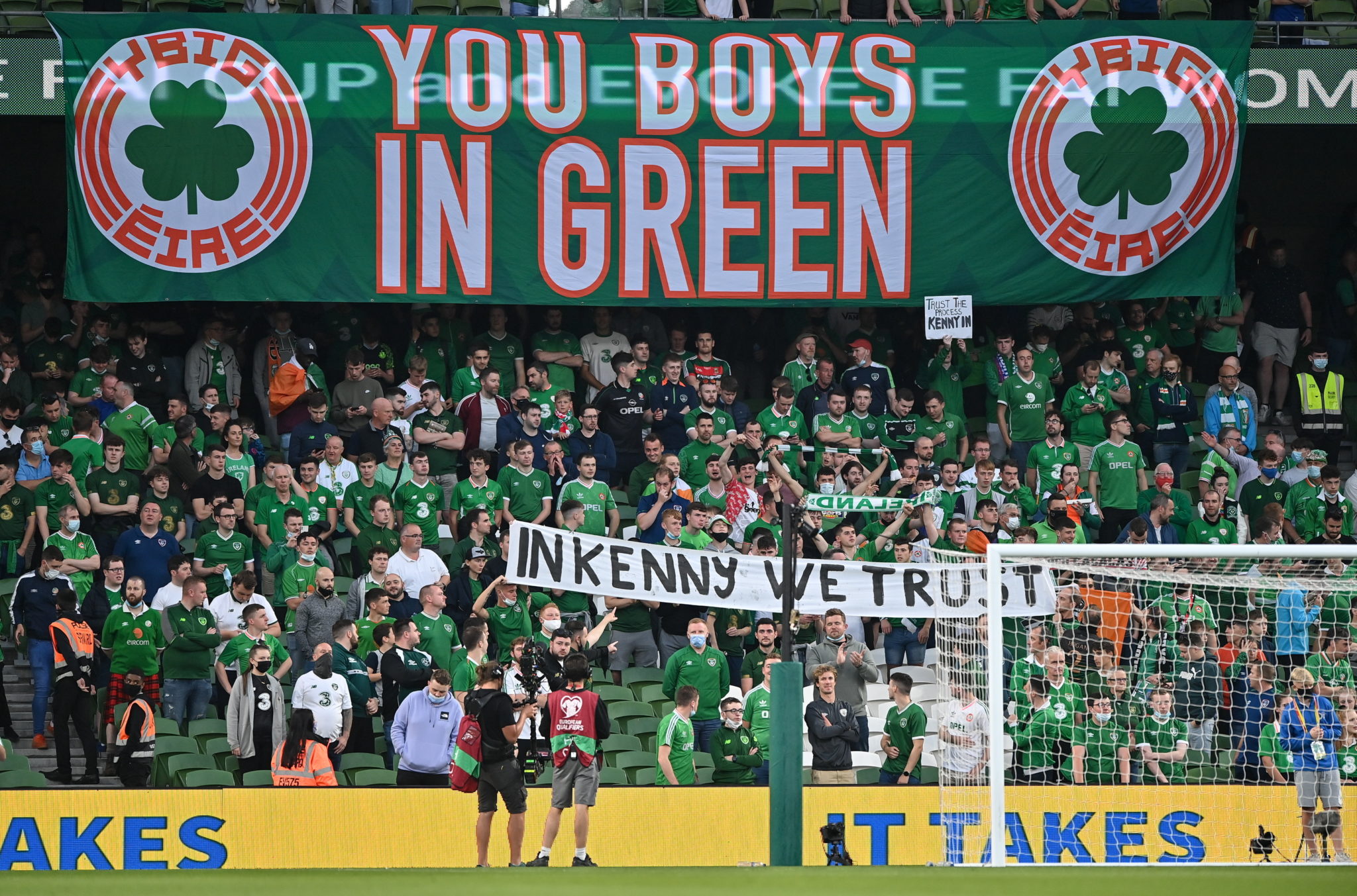 The Positives for Ireland
Gavin Bazunu
Although he's still prone to the odd mistake – his poor pass leading to the penalty in Portugal, his poor placement for the goal against Serbia and a rash decision that almost led to a second against Serbia – Gavin Bazunu has been outstanding for a 'keeper of his age.
Not only has he impressed as a shot stopper and shown comfort claiming balls in the air amongst crowds, his range of passing is unlike anything Ireland have ever had at the back. It's not hard to see why he's a Man City player.
Bazunu is in position to win 100+ caps for Ireland. And the biggest threat to that is Caoimhín Kelleher, who might even be better than him.
Adam Idah
For all the talk of Stephen Kenny's Ireland over-playing the ball at the back, his affinity for Idah as a target man dates back to his time as the under 21 coach. Repeatedly in each game, Idah chased long balls and beat the more experienced defenders trying to contain him.
He understood when to hold the ball up, when to take a defender on, when to lay the ball off with a perfect first touch and when to close down the opposition to keep the shape of the press.
We may all be desperate for Ireland to have a goal-scoring striker up top like Robbie Keane. Idah's goal scoring record at youth level suggests he's capable of that and he wasn't missing chances in these games. As the lone striker, it's a different role to the one that Keane played all those years, which means fewer chances.
But while we're desperate for a goal-scoring striker, we should be happy with having a 20-year-old who gave Ruben Dias a 90 minutes he's never going to forget for all the wrong reasons.
Andrew Omobamidele
One fair criticism of Kenny is his refusal to trust Omobamidele against Azerbaijan. While it would have made far more sense tactically and when considering performance, we must also remember that he's a 19-year-old defender with no real experience. The fact that Kenny put him in the Portugal game and started him against Serbia should offset the frustration.
No Ireland manager of the past 10 years at least would have put Omobamidele on the field. He probably wouldn't have been in any squads either. Kenny's trust in him was immediately rewarded.
Omobamidele's comfort on the ball in tight spaces and his excellent decision making shouldn't distract from the fact he didn't once put a foot wrong in defence. He had one highlight moment with a last ditch block on Aleksander Mitrovic against Serbia and showed positional awareness that far exceeded the expectations of a 19-year-old.
He even forced the Serbian keeper into a world-class save with a strike from long range late on.
Josh Cullen and Jamie McGrath
Jamie McGrath is 24 years of age and Josh Cullen is 25 years of age.
They are not the youth players that Kenny's appointment was tied to but both have thrived under their new manager. Cullen was particularly good against Portugal, highlighted by his outside of the boot pass to set Aaron Connolly in on goal.
McGrath's set piece delivery and his consistency picking the right pass stood out. His comfort with the ball at his feet allows him to move the ball into the right areas and pressure the defence by attacking space.
Individually, both players were very promising. But collectively, it's hard to remember a time when Ireland had two central midfielders who not only always wanted the ball but made efforts to put themselves in position to receive the ball.
Matt Doherty
Playing on the left side of the field suits Matt Doherty. It did previously when he played on the left side in his early years for Wolves and it does now for Ireland. He's so technically gifted that he can leverage his right foot to free himself down he left sideline or work infield with the ball to retain position and create attacking platforms.
His performance against Portugal, along with Seamus Coleman's, ended any suggestion that the two can't play together in the same team.
The Negatives for Ireland
Aaron Connolly's Finishing
Whether it's confidence, experience or poise, Aaron Connolly is just not comfortable in front of goal.
He's played upfront for Brighton more often than not when he's played in the Premier League, but he was a winger primarily for Ireland's under-21 team. Being on the wing likely suits him better long term but even then he'll need to be a more efficient player.
This isn't a major concern because he's so young. It's the type of thing that he can get better at. But it's also the difference between becoming Diego Forlan and Aiden McGeady.
Neither Forlan nor McGeady could deliver an end product early in their careers. McGeady never figured it out whereas Forlan went on to become one of the most intimidating strikers in the world for a stretch.
Jeff Hendrick's Speed of Action
Nobody can fault Jeff Hendrick's effort in the Portugal game. There was one moment late in the second half when he sprinted to the edge of the opposition box from midfield, then turned and sprinted back to his own box to keep pace with the ensuing Portugal break. You won't have noticed it unless you were looking for it because the ball never went his way.
That kind of endeavor is valuable to this young Irish team. He's setting an example with his work rate and it's what keeps him in Stephen Kenny's team. Kenny has previously noted how exceptional he is at pressing the ball high upfield.
But Hendrick has also fallen into the trap of being predictable on the ball and taking extra touches when he doesn't need to. He's a technically gifted player who is capable of playing at a faster speed than he does. It's the primary difference between his early career performances for Ireland and his more recent struggles.
It's unlikely to change but Hendrick is also more likely to fall back into a complementary role as this team moves forward.
James McClean's Crossing
While he may have lambasted the Irish media this week, McClean being in the negatives for Ireland is about his on-field performance. He's somewhat unlucky in that he's a former winger who has been converted into more of a defensive left-sided player but that doesn't change the problems with his performances.
McClean's positioning defensively and his instincts are actually decent for a winger but problematic for a left wing back. The bigger issue is actually how he uses the ball. He's one-dimensional and predictable. Every time he gets the ball out wide he goes for the big whipping cross. It's too predictable and not fitting the style of play that Ireland are trying to move towards.
His aggressiveness to get the ball into the box is admirable, but now that he's at the stage of his career where he can't beat defenders outside the crosses are coming from deeper positions and going around bodies so the threat is minimal.
The Team's Finishing
Focusing on the results is easy but it should also be noted how flimsy those results are. Ireland created lots of chances against Azerbaijan and Portugal that should have been taken advantage of. For all the talk of tactics and team selection, a couple of moments in each game completely change the narrative around this team right now.
We can't assume these chances will be taken advantage of more often moving forward. These things don't just balance themselves out. But the style of play, the calibre of player and the mindset of the team is now creating chances.
You can't control how often you score as a manager, but you can set your team up so that they create more chances. More chances will inevitably lead to more goals.
And when we needed to, we still were able to lump the ball into the box for Shane Duffy to get his head on it.
The Verdict
If you can look past the results, you'll see an Ireland team where the younger players are bringing the positives while the negatives are either realistically solvable problems or emanating from players who won't be long-term fixtures in the team.
The younger players are the ones who are standing out. Those are the players who will be the foundation of future sustained success at higher levels. That puts Ireland in a good position to move forward with this manager.
Whether they will or not is another question entirely, but they should.
Download the brand new OffTheBall App in the Play Store & App Store right now! We've got you covered!
Subscribe to OffTheBall's YouTube channel for more videos, like us on Facebook or follow us on Twitter for the latest sporting news and content.