Ireland's James McClean addressed the sectarian abuse he continues to receive and how his international teammates have responded on Wednesday's OTB AM. 
The 31-year-old McClean joined OTB AM where he addressed a comment made by the retired Irish midfielder David Meyler on Twitter earlier this week.
After speaking out against a recent spate of abuse directed toward his old teammate on Instagram, Meyler was asked why he had not spoken out against this during his playing days.
"Honestly I was afraid to get involved," admitted Meyler. "I stood by and watched a friend & teammate get abused time after time and thought to myself I don't want that aimed towards me and my family."
Joining Meyler on Wednesday's OTB AM, James McClean shared his thoughts on the response of his international teammates to the abuse he continues to receive.
"Meyler summed it up perfectly," McClean commented on OTB AM. "People don't want the abuse and understandably so."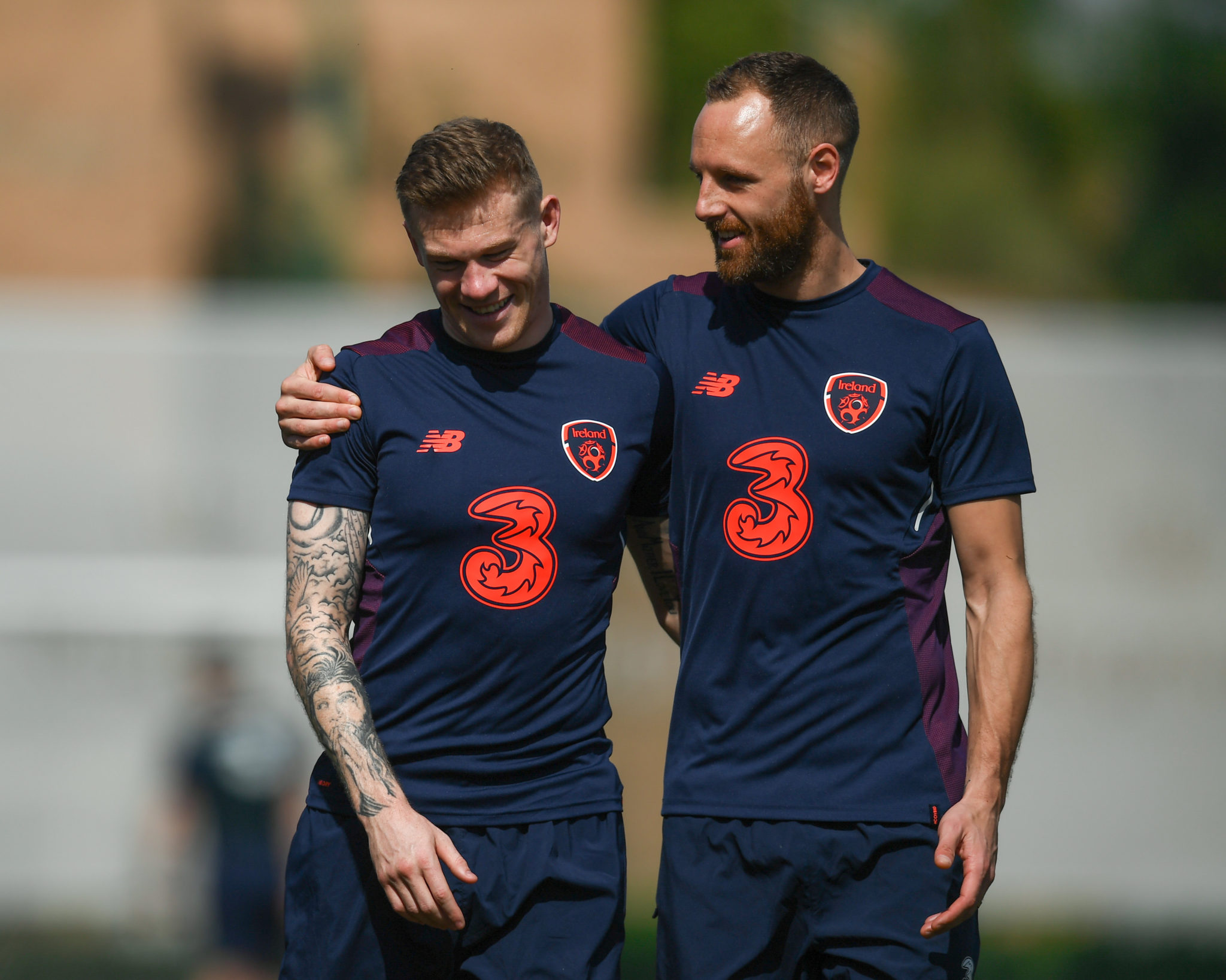 Despite the nationalistic nature of the abuse McClean has consistently received, he explained that it is not a regular topic of discussion within the Irish camp.
"We're focusing on the game, that's the main focus," he stated. "But it is something that has been in the public eye and everyone is fully aware.
"We don't need to have that conversation. There would have been a couple over the years here and there, not as a group but just sitting and chatting when someone asks a question.
"It isn't something that comes up in every camp. People know how I feel."
In a lengthy interview on OTB AM that you can watch across OTB's social channels, McClean explained that he refuses to feel inferior about something intrinsically important to his life.
"You shouldn't be made to feel that way," he noted of the abuse he received," you shouldn't feel guilty about who you are.
"Hopefully now people will see that this is not OK and we're no longer going to accept it, that this is the first step on the road to this stopping.
Earlier this week McClean's wife Erin shared a letter detailing the impact of this relentless abuse on her family.
"We have three very young children who are now at an age where they know and understand these things being said," she explained, noting the daily occurrence of the abusive messages being sent.
"Of course, we have tried as hard as possible to keep them away from it all but there has been times when we are out shopping and there is people making remarks towards James in front of the kids.
"We can take the name-calling and the rest but what we cannot accept is threatening our family home and our children's lives. They don't deserve this.
"Why, after nine years of constant abuse, should we be OK and have to accept receiving these threats constantly. People ask me 'how do you deal with it?' and I always say 'ah, we're well used to that now' but why should we be?"
You can catch up with everything James McClean had to say on Wednesday's OTB AM across OTB Sports' YouTube channel here
Download the brand new OffTheBall App in the Play Store & App Store right now! We've got you covered!
Subscribe to OffTheBall's YouTube channel for more videos, like us on Facebook or follow us on Twitter for the latest sporting news and content.