Republic of Ireland international and Stoke City player James McClean joined OTB Sports for Wednesday's OTB AM where he discussed the sectarian abuse he has regularly been exposed to as a professional footballer. 
The 31-year-old midfielder with 73 Irish caps to his name joined Ger Gilroy and Eoin Sheahan live to discuss football, the sustained sectarian abuse he has received and more besides on Wednesday's show.
"For example, I just got this this morning," stated McClean, reading out a message that had been forward to him by his brother Patrick, a footballer with Glentoran:
I'm sorry what I said about you and your brother and your brother's kids. I don't want them to burn in a house fire. I would much rather James go up in flames on a chair while his kids are tied up opposite to him on three separate chairs to watch their dirty, stinking, Fenian, rebel bastard of a Dad burn to a crisp. Maybe that's better than dying in a house fire. 
Disconcertingly, the message appeared to have been sent by a child.
"It was actually sent by a kid, this is a kid writing this," stated McClean. "Where is that hate [coming from]? That hate shouldn't be in you at that age. Social media and society nowadays is a dangerous place."
Across the decade in which he has been a professional footballer in England, James McClean has become a regular target for such abuse.
"I don't think it has ever gotten worse," he remarked, certain that it has been as vitriolic as it has been regular. "It has always deemed to be acceptable.
"We as Irish people, men or women, have been guilty of allowing it to happen [but] I don't care how many doors I have to bang on, I will be heard.
"We shouldn't be in fear or ashamed to be Irish. I couldn't be anymore proud to be Irish."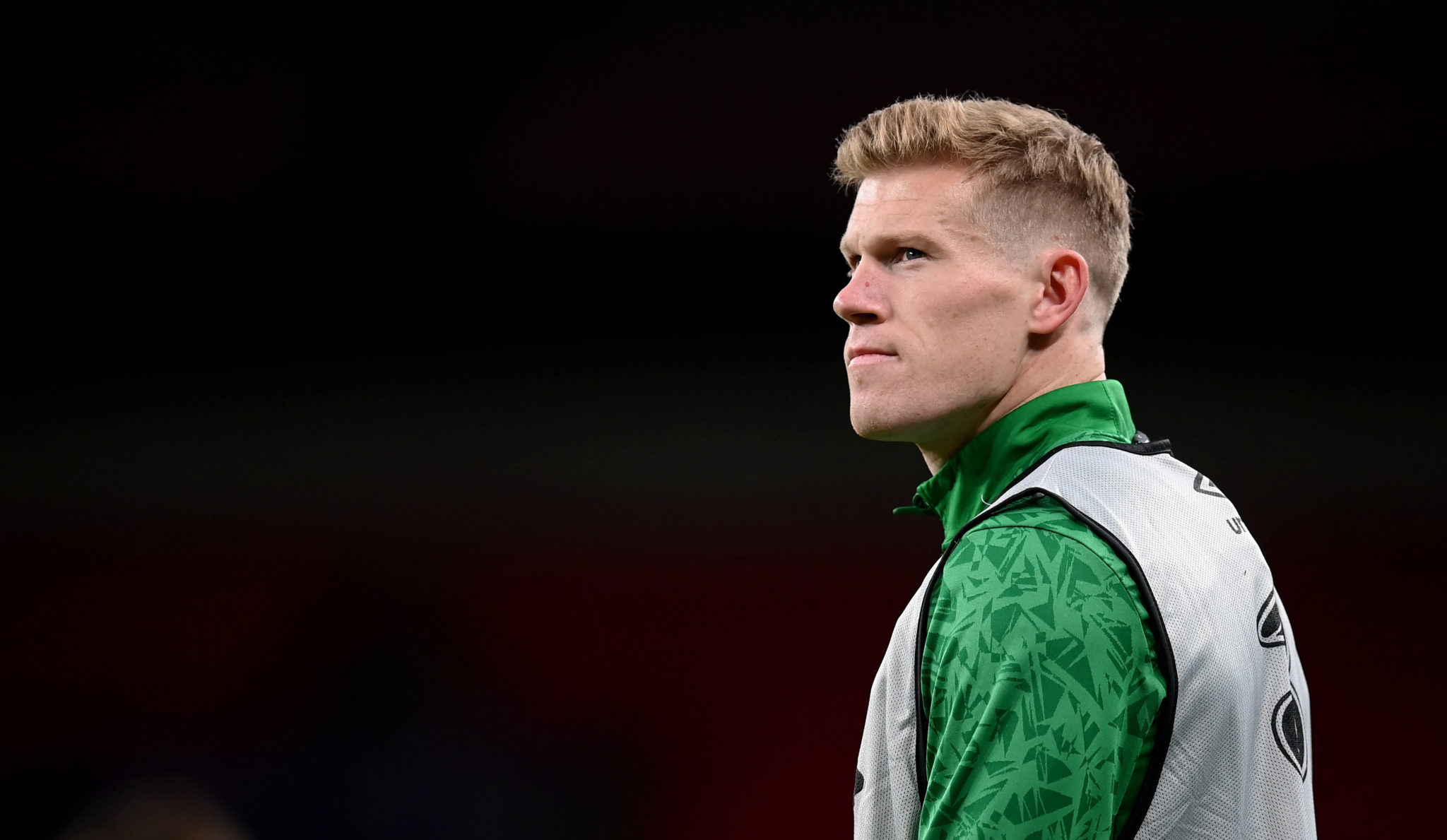 James McClean's name was already in the news this week after his wife Erin made an impassioned plea for more to be done regarding the most recent abuse her husband and family received.
"I've highlighted this abuse non-stop over the years," he noted, by this stage thoroughly familiar with the worst that can be said. "I've never hid away and I share it for all to see and I've been quite vocal in the past about not much being done about it.
"This is a daily thing [and] maybe [Erin's] just had enough. We're at a stage where our kids are getting older and asking questions. Maybe it was just the finals straw for her as well, that someone might carry out these threats."
Related Reads:
"P**s off back to Ireland, Paddy" | Niall Quinn details anti-Irish sentiment
James McClean: 'Meyler summed it up - people don't want the abuse'
A father of three young children, McClean acknowledged the challenges ahead for himself and his wife Erin when it comes to explaining the source of the abuse in time to come.
"How do you sit your kids down and tell them their Daddy is hated so much," he asked helplessly. "It is a really difficult one.
"You know, I'm just going to have to try and be as honest as I can."
"I've always kept relatively quiet about the abuse that James, myself and the family receive because I don't like giving people the platform," she wrote in a message released via Twitter on Monday. "It has become part of our daily lives for the last nine years.
"There isn't a day that goes by that either one of us don't receive a message of some sort, whether it be a threat, or else telling us to get the f*ck out of England. And to be honest, it's gotten to the point now where it doesn't affect us one bit, and hasn't for a long time!
"However, we have three very young children who are now at an age where they know and understand these things being said. Of course, we have tried as hard as possible to keep them away from it all but there has been times when we are out shopping and there is people making remarks towards James in front of the kids.
"We can take the name-calling and the rest but what we cannot accept is threatening our family home and our children's lives. They don't deserve this. Why, after nine years of constant abuse, should we be OK and have to accept receiving these threats constantly."
In a message you can read in its entirety here, Erin McClean signed off with a cautionary message.
"The internet these days is a scary place and anyone can write a threat to someone," she wrote. "My concern is if only one of those people throughout the years truly meant it. What happened to being kind?
"Some people can only take so much abuse given towards them and so many unnecessary and tragic things have happened in recent years from people on the receiving end."
Check out the OTB Sports YouTube channel later this morning for the James McClean interview in full. 
OTB AM is brought to you in association with Gillette | #MadeOfWhatMatters
Download the brand new OffTheBall App in the Play Store & App Store right now! We've got you covered!
Subscribe to OffTheBall's YouTube channel for more videos, like us on Facebook or follow us on Twitter for the latest sporting news and content.