Fifteen years on from Manchester United's unforgettable visit to Highbury, John O'Shea relived his wonder goal against Arsenal and the celebration that followed on Friday's OTB AM.
Be it nutmegging Luis Figo or scoring a last-minute winner against Liverpool, John O'Shea's tremendously successful spell with Manchester United has thrown up an array of unforgettable highlights for the former Irish international.
Fifteen years after Manchester United overcame Arsenal 4-2 at Highbury on a night made famous by Roy Keane's bust-up with Patrick Vieira in the tunnel, John O'Shea, coming off the bench with United leading the hosts 3-2, he produced another such moment.
"I was fortunate," he explained to Friday's OTB AM of how he'd found himself one-on-one with Manuel Almunia, "I'd made the run after the manager had just told me to come on and sit in midfield.
"Obviously, I took a bit of a chance and thankfully Scholes found me."
I was trying to do an awful Eric Cantona celebration with the hands but I just looked like I had an awful shock on my face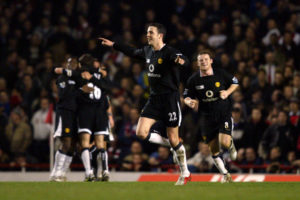 Without giving it much thought, the 23-year-old John O'Shea went about scoring what most likely is the finest goal of his long career.
"I'd honestly done a few of them in training," he explained of the lobbed finish that left the Arsenal 'keeper for dead. "Probably two or three weeks beforehand at different times in the sessions we'd do little shots like that on the angle.
"But to do it in a game like that with all that had happened beforehand, it was nice to finish a game off like that."
What happened next John O'Shea hasn't ever really discussed before. Coming to a dead halt and stretching out the arms to take his plaudits, was the Irish defender paying homage to club legend, Eric Cantona?
"Ah, I was trying to do an awful Eric Cantona celebration with the hands," he said laughing back at himself 15 years ago. "I just looked like I had an awful shock on my face.
"Everyone was telling me after, 'Oh, you must have thought you were offside?' In my mind, I was Eric Cantona though, not in anyone else's though!"
Unlike United's former French forward who was quickly flanked by Brian McClair and Karel Poborsky, John O'Shea's mimicked attempt didn't quite pan out on account of his tired teammates.
"I was thinking that I'll just stand here still," he recalled, "but everyone was that far away from me that I thought, 'Oh, I best move here.'
"Eventually they caught up with me thankfully."
You can watch back John O'Shea relive the match between Manchester United and Arsenal 15 years ago here. 
Download the brand new OffTheBall App in the Play Store & App Store right now! We've got you covered!
Subscribe to OffTheBall's YouTube channel for more videos, like us on Facebook or follow us on Twitter for the latest sporting news and content.