Former Manchester United captain Roy Keane pulled no punches in his criticism of his former team after their 4-1 defeat to Manchester City at the Etihad.
United slumped to a massive defeat in the Manchester derby on Sunday. Doubles from Kevin de Bruyne and Riyad Mahrez secured the victory for City, with only Jadon Sancho's counter-attack goal putting the visitors on the scoresheet.
However, it was not the result itself that annoyed Keane, but rather the manner in which the players simply sat back and took it.
"They gave up and shame on them"

Roy Keane didn't hold back on Manchester United's second-half performance during their 4-1 defeat to Manchester City 👇 pic.twitter.com/afLZMnQd3m

— Sky Sports Premier League (@SkySportsPL) March 6, 2022
Speaking on Sky Sports after the match, Keane ripped into his former club.
"The worst thing that you could say about United is that they gave up," Keane said. "I think, for a player, in a derby or any game, to give up, it's unforgivable really.
"The beauty about top level sport is there is no hiding place. United have done well here the last couple of years, but we saw all of United's shortcomings today.
"Manchester City were very good in the second half. There are ways to lose football matches. We have all lost football matches.
"The way that United lost it today, they stopped running, they gave up. There were players not running back, that's what I don't understand.
"The manager will be criticised, and the tactics, but players not running back when you are playing for Man United is really not acceptable.
"I think they threw the towel in, which is shameful."
Keane suggested that eh would have been alright with United losing the match if they had at least shown complete effort. However, Ralf Rangnick's men were far from their best on the field.
"It is hard when you are out there against a really good team," Keane said. "They were obviously keeping the ball and you can't get it back.
"But to go back to it and you see some of the goals, you have to run back, you have to tackle. United players have shown quality over the years, but we have just seen a reflection of where the team is and where the club is.
"It is just so far behind the other teams."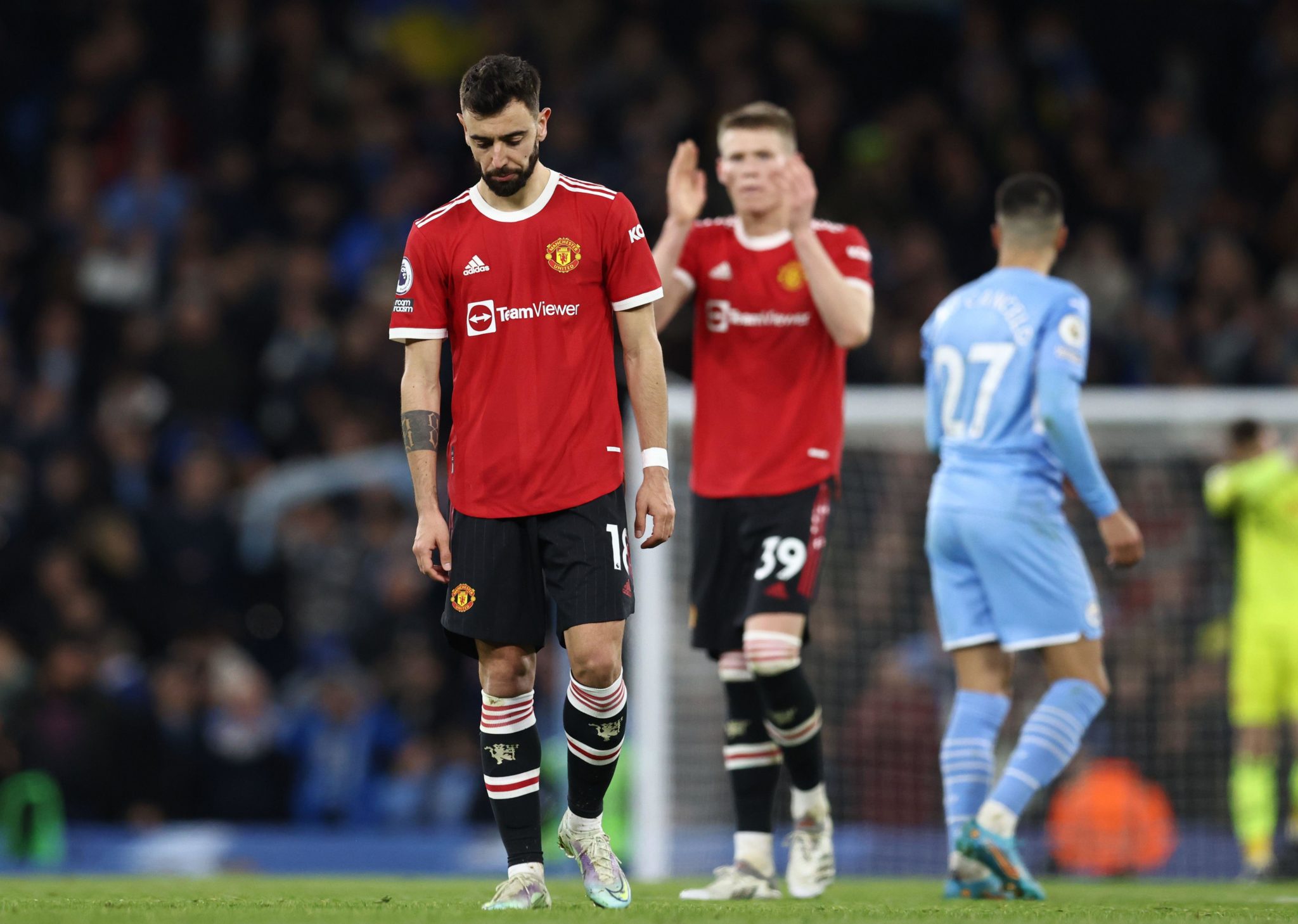 United lacked pride
There have been rumours and leaks in recent months suggesting that the United dressing room is unhappy with stand-in manager Rangnick among other things.
However, Keane feels that the off-field things should not have prevented United from at least playing with some pride.
"You should still play with a bit of pride, whatever is going on in the dressing room," Keane said. "We hear noises all the time, or we hear problems with the new manager coming in.
"Your own bit of pride eventually has to come in at some stage. I would forgive mistakes, but players have to run back. There are five or six players that I think should never play for Man United again.
"It is shameful, shameful that you can't run back and put your body on the line."
After going 2-1 up with De Bruyne's second goal in the first half, City looked in firm control. However, Keane felt that they too could have been better, suggesting that they had more to give.
"City weren't even at their very best," Keane said. "City didn't have to be at their best. I thought City had another couple of gears to go.
"I think they toyed with them, a bit like the game at Old Trafford. They say, 'men versus boys', and they gave up. Shame on them!"
Football on Off The Ball brought to you by Sky. All the football you love in one place across Sky Sports, BT Sport & Premier Sports.
Download the brand new OffTheBall App in the Play Store & App Store right now! We've got you covered!
Subscribe to OffTheBall's YouTube channel for more videos, like us on Facebook or follow us on Twitter for the latest sporting news and content.