The disagreements between former Ireland manager Mick McCarthy and Roy Keane are the stuff of legend, with the Saipan incident in particular being one of the most infamous incidents in both former players' careers.
While a lot of what has happened between the two former teammates has been told, not everything has been explained to fans, in particular where the friction started between the pair.
For Keane, the friction with his eventual manager started as far back as when the Cork man had just been called into the senior Ireland squad, when McCarthy was a senior player in his final few seasons at international level.
While on a walk with Gary Neville as part of Sky Bet's The Overlap, Keane explained the origins of his disagreements with Mick McCarthy, which started when they were teammates in the national team.
"I remember going into the senior squad with Ireland, and I don't expect fellas to baby-sit you, but some players don't go out of their way to help you do they?" Keane said.
"There were one or two that were great with me; Dave O'Leary, [Andy] Townsend, Packie Bonner, great lads. But then there were one or two who barely even had a conversation with me, which is fine.
"You turn up on a Sunday night, or Monday. This was before the international break, you play on the Wednesday and there would be people that you wouldn't even get a chance to chat with."
While the team was on tour, Keane and a few other players were late for their bus after they had been out drinking.
While Keane admitted that he was in the wrong at the time, he also believed that McCarthy was out of place for calling him out, as it was not his responsibility at the time.
"So me and Mick, I had a fall out with Mick in America again," Keane said. "I was out of order, I was drinking, but I was drinking with a whole group of other lads.
"We had been drinking and we were late for the bus; I was late. Jack Charlton was having a go, but Jack is the manager. I didn't want a player having a go at me who has never spoken to me.
"If Packie Bonner or Dave O'Leary who were helping me were saying something, I'd take that, but not from somebody who never spoke a word to me and who was shouting at me in front of everybody.
"That would have been the start of it."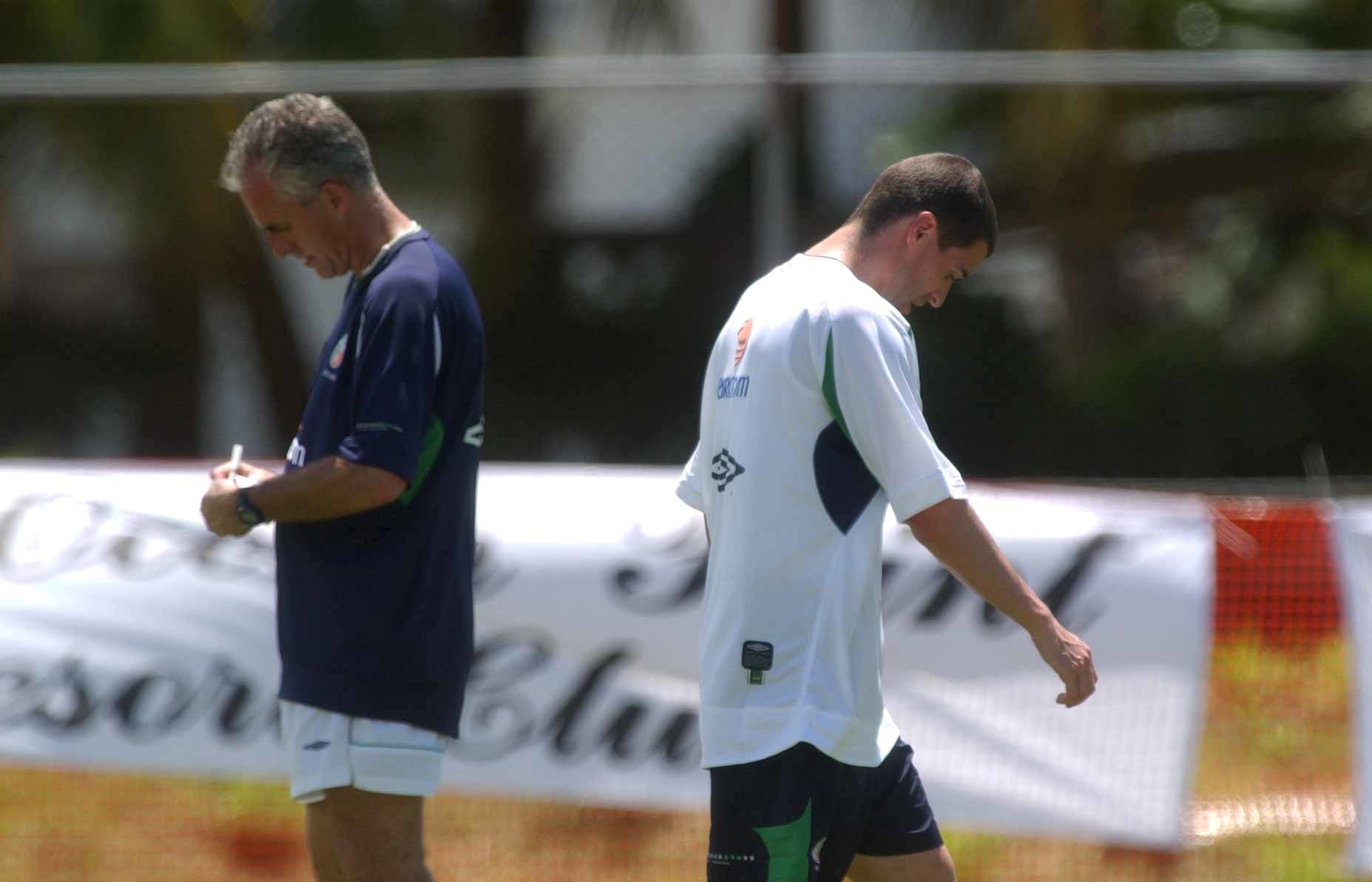 Keane and McCarthy: The Saipan Incident
Of all of the stories and incidents between Keane and McCarthy, the most notorious was that trip to Saipan in 2002 ahead of the World Cup, which resulted in the Ireland captain being sent home.
While the incident has divided fans ever since, Keane feels that McCarthy was out of line suggesting that he missed a match, when he only missed one match en route to the finals, and it was due to injury.
"I finished when I was 34 because of injuries, because I played with injuries, like every other player," Keane said. "I am not saying that I am any different to anybody else.
"For a manager again, in a team meeting with senior players around, to say, 'oh, you could have played in this game'.
"We qualified for the World Cup in 2002. We had 10 matches, won seven, drew three, and had the same points as Portugal.
"If I remember I played in all of the games. I played the first play-off match, and missed the second one because I had an injury.
"So, in 12 qualifying games, I played 11 and missed one. Strangely enough for a manager to tell a senior player that I could have played in that match is bizarre to accuse me of missing a match."
Keane had previously made no secret of the fact that he was unhappy with the training set up in Saipan, and around the Ireland camp in general.
From poor quality training facilities to late and missing gear, Keane expected much higher levels of facilities and equipment at national level.
However, in spite of this, Keane insists that those previous grievances had nothing to do with his eventual falling out with McCarthy.
"People talk about the equipment and gear not [being up to scratch], we had moved on from that," Keane said. "That was the week earlier, and people still want to bring that up.
"With Ireland it was to the extreme. You'd think after qualifying out of a tough group we'd go over there and think, 'this team might do something here'.
"You can't blame finances all the time. To get a pitch? And for your gear to turn up on time? We'd travel and end up in a hotel on an island, and it was 'oh, by the way, there is no gear here'.
"Imagine if that happened with England, or France or Brazil. But for some reason, because its Ireland, it is fine.
"I couldn't get my head around it, but I did. I got over it. I was fuming and I let a few people know that I wasn't happy including the manger, but we moved on.
"We didn't qualify a week before so it was a bit tight getting the gear over. We qualified six months earlier!
"You laugh, and I laughed; I've laughed for years with Ireland. But I just had enough!"
Download the brand new OffTheBall App in the Play Store & App Store right now! We've got you covered!
Subscribe to OffTheBall's YouTube channel for more videos, like us on Facebook or follow us on Twitter for the latest sporting news and content.