Stephen Kelly says he was "beyond rage" when his commitment to Ireland was questioned by the management duo of Giovanni Trapattoni and Marco Tardelli.
Kelly, who was involved with international teams from the age of 16 to 32, also said that Trapattoni's assistant Tardelli was dismissive in his dealings with him and looked down on the Irish players to an extent.
Kelly was on Wednesday's OTB AM and began by talking about his memories of trying to break into the team after Ireland's 1-6 drubbing to Germany in the 2014 World Cup qualifiers.
"I went to speak to them just to ask am I going to play now after we have lost," the former right-back recounted.
"I was just trying to make a case for myself, I said: 'I feel I deserve an opportunity.' It wasn't really a risk, I'd played a couple of hundred Premiership games, we are playing the Faroe Islands. I think I could handle myself."
"I'm not exactly the argumentative type. I can look after myself but I'd always do things respectively."
Rather than engage in a conversation on his position in the squad though, Kelly explained that Tardelli was simply dismissive of the idea.
"Tardelli was just dismissive and waved it away and wasn't interested."
"It was just the way Tardelli was, and that was it. He was very dismissive. It was a frustrating time."
Looking down on the squad
While Kelly said he often felt more able to talk with Trapattoni despite his poor English, he noted that with Tardelli's career perhaps his attitude towards players wasn't a surprise.
"Maybe because he was a World Cup winner he felt he could be dismissive."
Asked if the Italian management duo looked down upon the Irish squad, Kelly didn't necessarily agree.
"Not Trapattoni. I think he was respectful and he just felt this was the best way to get a performance out of us. He didn't look down on us.
"Tardelli on the other hand. I'm afraid of what I am going to say here. I think to an extent [he did look down on the squad].
"None of us were at that level. None of us had ever won a World Cup so, for him, he probably felt we were below the standard he set of himself."
'Lacking Commitment'
In spite of his recollection of Tardelli's dismissiveness towards him, Kelly's lowest moment with the pair, he says, was when they cited a lack of commitment as a reason why the full-back was left out of the Ireland squad.
"After all that, they questioned my commitment to Ireland and all and things like that. I was like, 'Are you kidding me? I have played for Ireland since I was 16 years of age.'
"I'd gone something like four years not missing a qualifier even though I probably only played in five of them.
"So for people to question your commitment to your country when all you've ever been was committed to Ireland. It was probably the pinnacle and best moments of my career playing for Ireland.
"I was just fuming. Absolutely fuming. Beyond rage.
"For myself and my wife, we've been together since I was 17 and she's seen how much effort and time I'd put into playing for Ireland and coming home for every game and being disappointed not to play but I'd always turn up.
"I'd always keep coming and want to play. If you're still willing to come and you're not guaranteed to play that says a lot."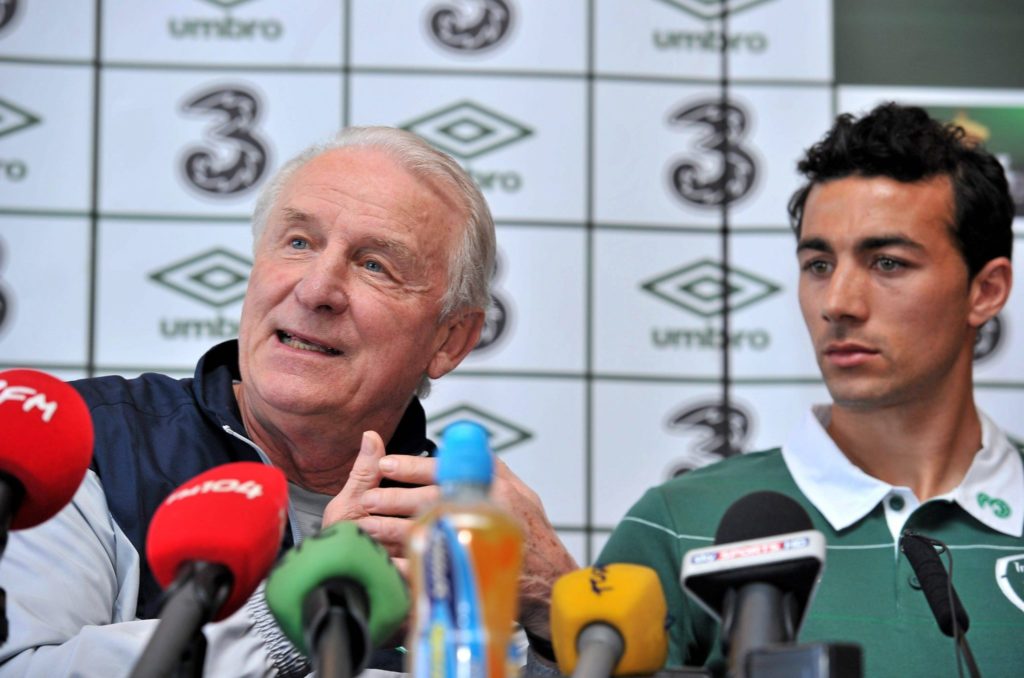 Despite his frustration at the time, when his next call-up came Kelly says he just got on with it.
"We wouldn't have had many conversations anyways. You didn't really speak to them that often because they didn't speak that good English so when you came in the squad it was just basically the same."
Similarly to Shay Given, the former Spurs and Fulham right-back also highlighted his disappointment with the lack of a phone call from anyone involved with the Ireland team after his sixteen years of service.
"I don't hold grudges against it but when you are asked to talk about it you get frustrated thinking about it. When you've committed that amount of time to your country or a club and you don't get a phone call to say 'thanks for your services' or 'we appreciate everything you've done.'"
Download the brand new OffTheBall App in the Play Store & App Store right now! We've got you covered!
Subscribe to OffTheBall's YouTube channel for more videos, like us on Facebook or follow us on Twitter for the latest sporting news and content.