Former Republic of Ireland manager Brian Kerr stopped short of saying that Ole Gunnar Solskjaer should be fired following a humiliating defeat for Manchester Untied to Liverpool in Old Trafford.
Liverpool thrashed United 5-0 on their home turn in what was a record result for the storied rivalry. Mo Salah scored a brace in the first half, to take the visitors 4-0 up and half time, before completing his hattrick early in the second half.
United fans were not happy throughout the match, with many beginning to leave, while others booed both the players and Solskjaer as they walked up the tunnel at half time.
Chants of 'Ole Out' filled the stadium, while other fans were heard shouting at the players that 'they should be ashamed of themselves'.
Boos ring around Old Trafford at the half-time whistle. 0-4!

Two Utd fans in South Stand almost coming to blows, some fans shouting "You should be ashamed of yourselves" to United players.

Carnage 🤯 pic.twitter.com/nDBQclhqEf

— Shane Hannon (@ShaneHannon01) October 24, 2021
The reaction from the Manchester United fans at half-time tells you everything you need to know.

📷 Sir Alex Ferguson also pictured looking on pic.twitter.com/D1Isumo5a1

— Football Daily (@footballdaily) October 24, 2021
A ton of Manchester United fans have left Old Trafford well before the 90th minute.

Man U is currently down 5-0 to Liverpool. pic.twitter.com/l3aSoYdSat

— The Athletic (@TheAthletic) October 24, 2021
Speaking to John Duggan on Off The Ball after the match, Kerr discussed Solskjaer's struggles at the helm of United.
"I am sure that Solskjaer said recently that he needs to win trophies this season," Kerr said. "To justify all of the spending that had been made by Manchester United, the recruitment of players like Verrane, like Sancho, and maybe even Ronaldo.
"Whether he wanted Ronaldo or not we can never be quite sure. Given that, over the last year, they have been by miles the heaviest investors in the market for players, a lot more was expected of them.
"They haven't won a trophy in a few seasons. He did admit that before the season started. I think, considering that, he has to be under vast pressure now."
While Kerr does not want to say that any manager should lose their job, he did suggest that Solskjaer's position has to be under threat after that Liverpool perormance.
"It wasn't just because they got a red card that they were beaten five nothing," Kerr said. 'They were already four nothing down!
"It is just dreadful, and it is difficult to see Ole Gunnar Solskjaer's position not being under pressure. I am not one for saying managers should be sacked.
"I have never gone that road, but just taking the circumstances into account and the ownership of it, not that they have been too happy on the triggers in the past of other managers, but they are under pressure as well.
"They backed the manager, they spent massively, and now look at the position they are in. They have 14 points from nine games and are already well behind the front three in regards to the championship."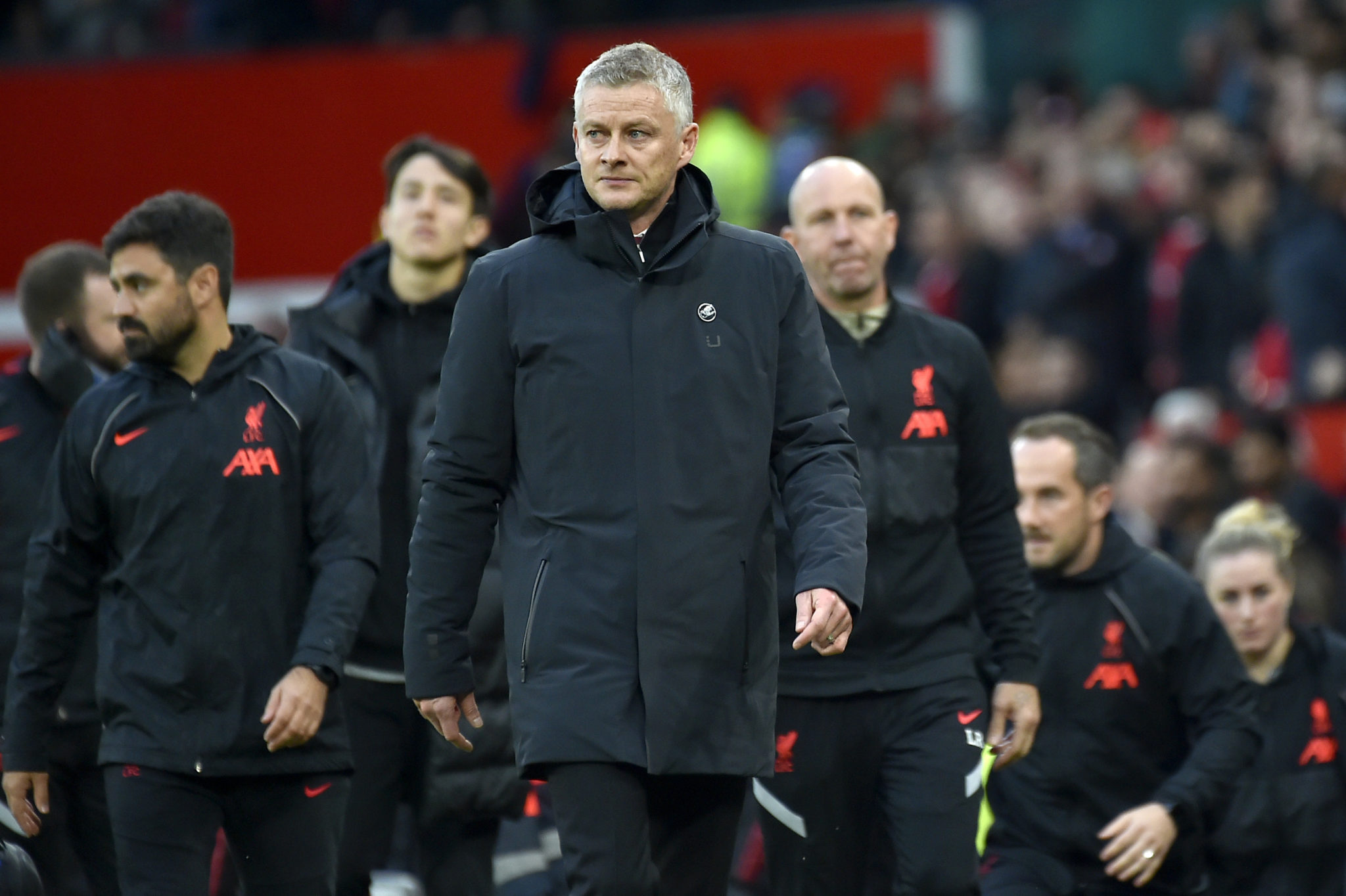 Kerr believes that the combination of tactics and players does not suit United and has resulted in the situation in which Manchester find themselves.
"To play Ronaldo, you are admitting that you have to play in a certain way," Kerr said. "You are allowing the opposition to take the game to you and you are going to play on the counter attack.
"You are not in a position where you are going to control the game. If you look at the first goal, they went for a bit of a press on Liverpool's kick out. They were short a player because Ronaldo doesn't involve himself in that.
"You need everyone tuned into it. You cannot have anyone going solo and getting exposed. That was what happened.
"The ball was played out to [Andy] Robertson, where [Mason] Greenwood went to run to Robertson but he was between two players, and Robertson played the ball along the touchline.
"[Aaron] Wan-Bissaka came too late, the pass was made, and [Diogo] Jota was able to play the pass inside to another Liverpool player and on the move went.
"I am not saying every goal came because of that, but you look at the midfield today and they all looked off."
For Kerr, Solskjaer has not used his substantial player base correctly, and will be sweating over his future if he does not fix things quickly.
"I think the tactics aren't right for the players that they have," Kerr said. "The bottom line for every manager is you are expected to get the best out of the material that you have.
"You would have to say, at the moment, Solskjaer is not getting the best out of the material he has. He has a lot of great material, a very good squad to work with, but they are just not doing it. They are just average at the moment."
MARK LAWRENSON'S COMBINED MANCHESTER UNITED-LIVERPOOL XI
Football on Off The Ball, brought to you by Sky. All the football you love in one place across Sky Sports, BT Sport & Premier Sports  
Download the brand new OffTheBall App in the Play Store & App Store right now! We've got you covered!
Subscribe to OffTheBall's YouTube channel for more videos, like us on Facebook or follow us on Twitter for the latest sporting news and content.