With the lack of League of Ireland football and no concrete idea of when it might return, Team 33 sat down with some of the best and successful people to have graced the pitches to look back on the highs and lows of their careers. 
Liam Coyle - Episode One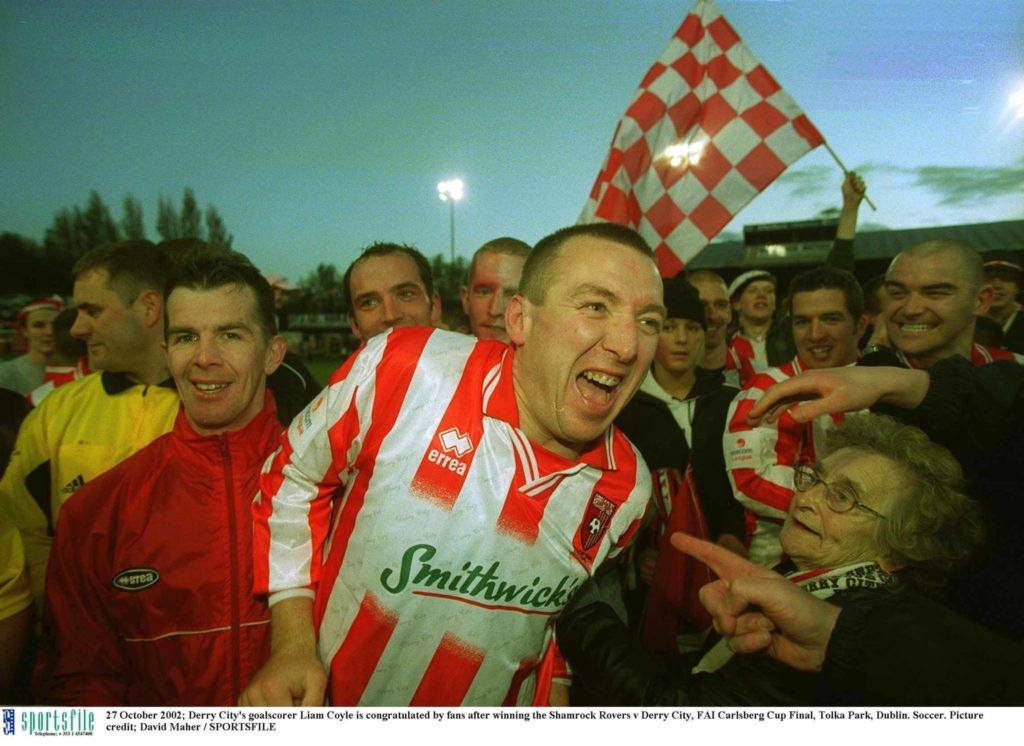 Liam Coyle is arguably one of the most gifted players to have graced the League of Ireland. The Derryman grew up in the shadow of the Brandywell and would go on to become a legend of the club.
Coyle made his debut for the Candystripes in 1988 against Cobh Ramblers and immediately gave fans a taste of what was to come, bagging a hat-trick. Derry went on to win a historic treble that year, Coyle was crowned Young Player of the Year and capped for Northern Ireland.
The following year, disaster would strike. Having impressed against Benfica in Europe, Coyle damaged his knee in a league game against Dundalk later that week. Scans revealed something far more severe - a rare, underlying condition known as Osteochondritis dissecans.
Doctors told Coyle that he may never walk again if he continued to play football and so he retired from the game he loved.
Depression followed as without football, Coyle was without purpose.
"It was absolutely terrible. I was a pretty quiet young fella growing up and football was the only thing I was ever really good at. It was the thing that brought me out of my shell. Then to be told I couldn't do it, it was so difficult. "
Coyle turned to football again a few years later and having built his fitness up for Omagh Town initially, he re-signed for his hometown club. His dream was once again a reality.
He would repay Derry's faith in him on his very last game for the club. Derry City had found themselves in a relegation scrap and it came down to a play-off against their North-West rivals Finn Harps. With the game on a knife-edge, Coyle came off the bench and scored the deciding goal to maintain their Premier Division status.
Alan Keane - Episode Two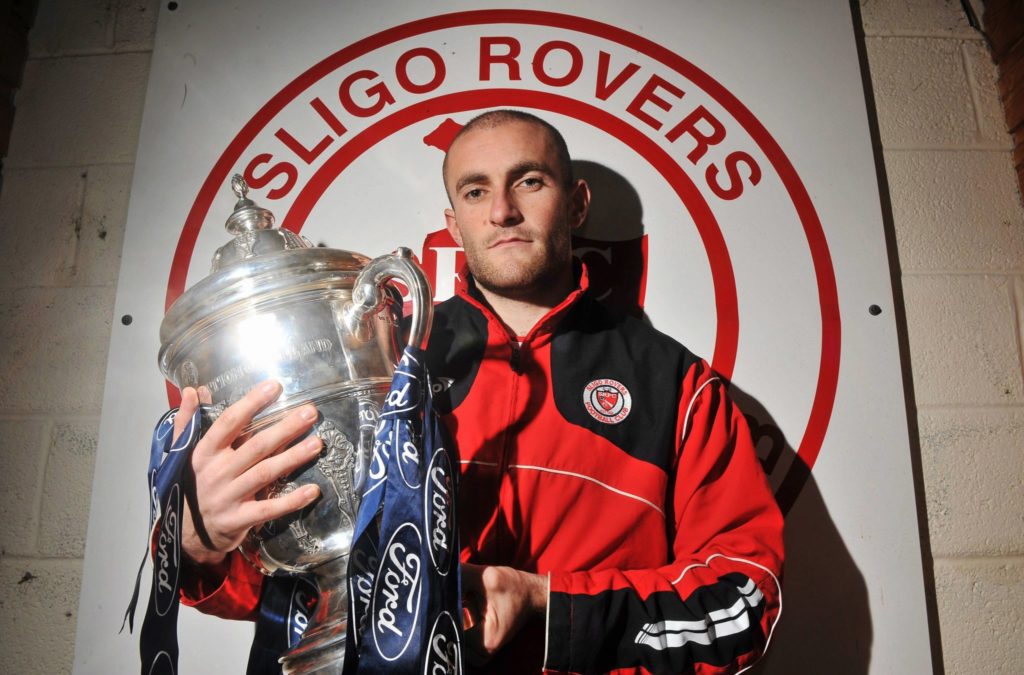 Like Coyle, Alan Keane is a player whose career could have been over before it had really begun.
Keane was an up-and-coming player for Galway United in the First Division when he went flying into a tackle with Shamrock Rovers' Vinny Perth. The result was a broken tibia and fibula.
Despite being told he would never play football again, Keane managed to work his way back and help Galway United on their way to promotion to the Premier Division a few years later.
Having spent some time in Australia, Cook returned to the Irish shores after receiving a call from Sligo Rovers manager Paul Cook. As part of a squad including the likes of Joseph N'Do, Raf Cretaro and Danny North, Keane helped bring home Sligo Rovers' first League of Ireland title in 35 years.
Keane initially retired from the game but made a surprise return for Stephen Kenny's Dundalk side and made a few appearances at the end of the season.
John Caulfield - Episode Three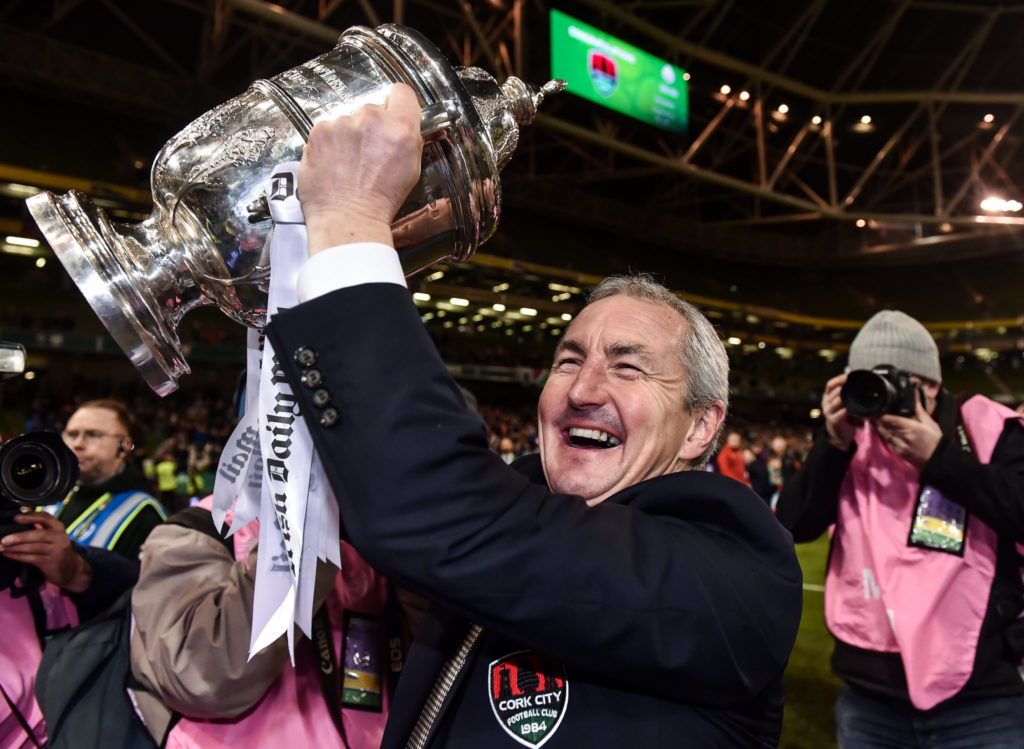 John Caulfield is more recently remembered for his stint as manager of Cork City but he is also the record appearance holder for the club as a player.
Caulfield played for the club from 1986 until 2001, making 455 appearances. Cork, of course, had been through the ringer financially and the club 'Cork City' had just recently formed when Caulfield first started with them.
He was part of the league winning side of 1993 - a breakthrough year for the club - which led to a memorable clash with European Giants Bayern Munich.
As a manager, Caulfield took charge of Cork City in 2013 and by the end of his tenure in 2019, they had been to four FAI Cup finals, winning two, had won another league title and finished runners-up four times.
Tony Sheridan - Episode Four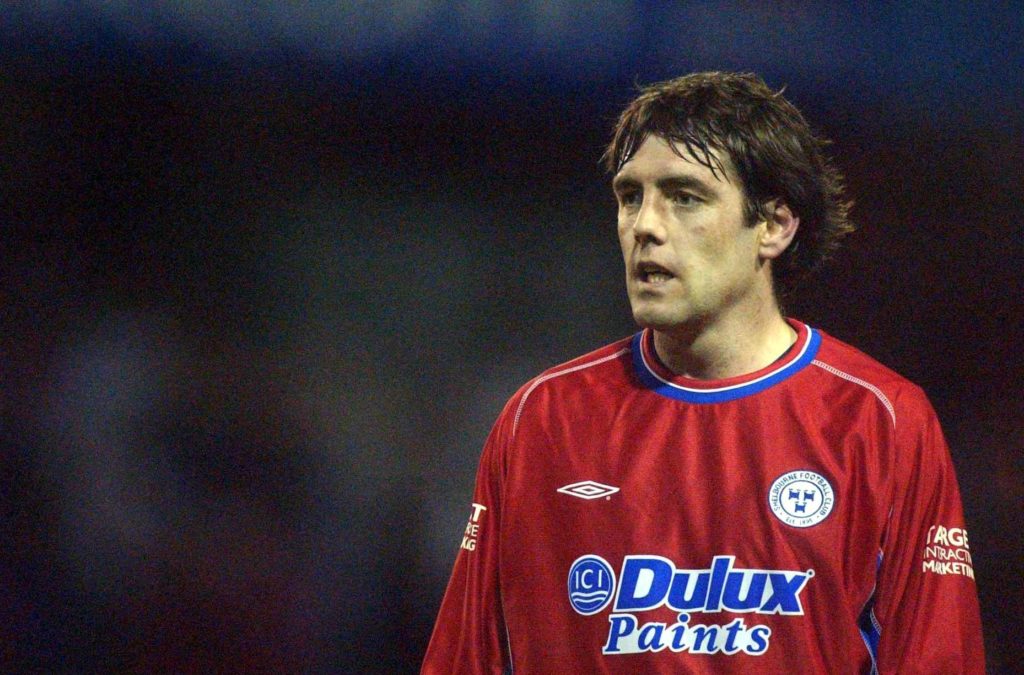 Tony Sheridan's most famous goal came in the 1996 FAI Cup final against Sligo Rovers and pretty much sums him up as a player. Pure class.
Sheridan glides past three Sligo players with his long black locks moving with his body, he gets to the edge of the box, the ball sits up perfectly and with the most delicate of touches, he loops it over the keeper's head.
A maverick in every way, looking back on his career leaves you with a feeling of 'what could have been' but watching him is a joy.
Having spent time at Coventry City, Sheridan came back to Ireland and played a key role in the brilliant Shelbourne sides of the 1990s.
In the end, he would end his career with just two FAI trophies but his career won't be defined by the trophies, he will be remembered for doing things the way he wanted.
"If I did things in a game that made people say 'wow', that's not me putting it on. That's just me playing football the way I wanted to play."
Pat Fenlon - Episode Five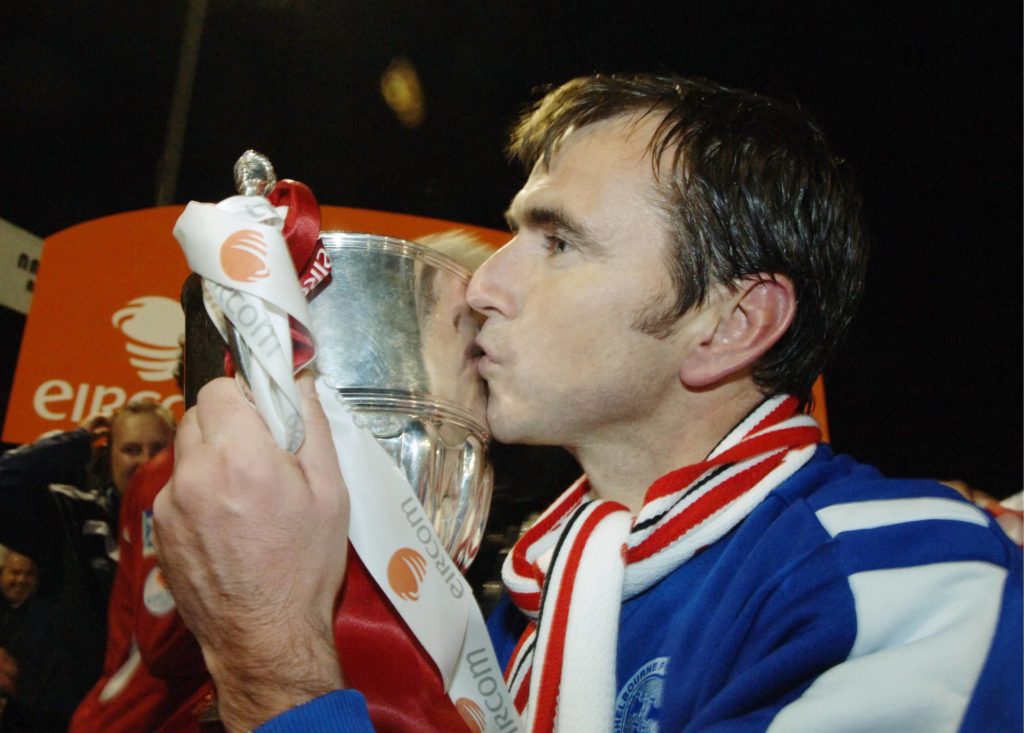 Pat Fenlon, like John Caulfield, is probably someone we remember for his management career before his exploits as a player, but he too had a successful career on the pitch.
Having returned from the Chelsea youth team, success seemed to follow the young Dub around as Fenlon signed for a Brian Kerr managed St Patrick's Athletic, winning the league in 1989.
Following on from that, he moved to Dalymount Park to Bohemians where he won the 1992 FAI Cup and a Player of the Year award.
His next move was the shock of the nation as the Dubliner became the first Irish Catholic to sign for Linfield, an unprecedented move at the time. Despite the controversy, Fenlon speaks highly of his time there, where he won two IFA Cups and scored the goal to decide the league title.
He had yet more success when he moved to Shelbourne in 1997, helping the club to a league and cup double in the 1999 season.
He took over as manager of the Dublin club in 2002 and transformed them into a winning machine, bringing home three league titles in his four years in charge of the club, not to mention their brilliant European run in 2004.
After a brief stint at Derry City, Fenlon took charge of Bohemians in 2007 and had yet more success with a league and cup double in 2008 and another league title in 2009.
Such success on this island brought about more opportunities across the water and Fenlon jumped at the chance to manage Hibernian in the SPL. Hibs were struggling at the time but Fenlon still managed to take the club to two Scottish Cup finals in his time at the club.
Brendan Bradley - Episode Six 
"When you look at the overall record, I think it's 309 in all competitions, without depending on penalties, I think it's pretty good", Bradley laughs.
The league's top scorer of all time, Brendan Bradley is rightly idolised in Finn Park and one of the best strikers the league has ever seen.
Bradley joined Finn Harps the first year they entered the league in 1969. The Balleybofey based club played their first game in the league four days before the British Army were deployed into Bradley's hometown Derry.
Bradley made the journey across the border regularly in the midst of the Troubles and although he had little hassle the majority of the time, he was once arrested under the Special Powers Act while crossing back to Derry after a match.
The two most important goals of those 309 came in the 1974 FAI Cup final - the only major trophy Finn Harps have won in their history.
Mark Quigley - Episode Seven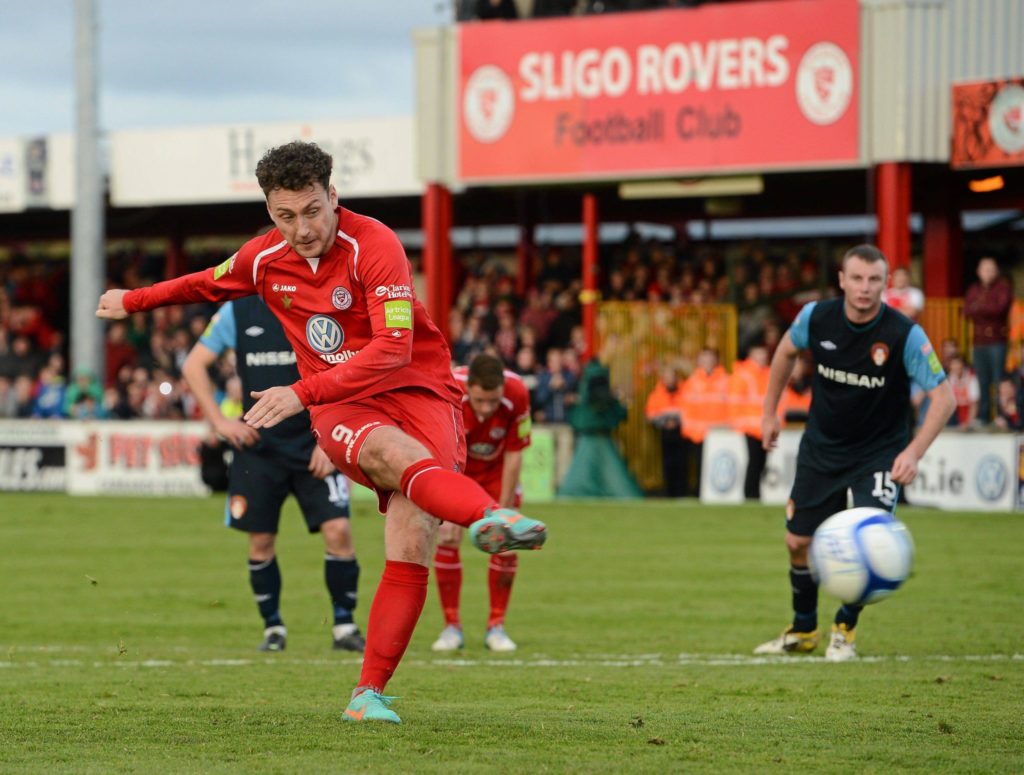 "My mindset was "I can't wait to take this penalty because I'm going to score it and win the league"', Mark Quigley recalls with unexpected calmness.
The penalty in question is in 2012. Sligo Rovers were on the brink of their first league title in 35 years and standing in their way was Quigley's former club St Patrick's Athletic. It didn't phase him and he tucked it away.
Quigley started playing football on the streets around Sheriff Street and early into his teens made his move across the water to Millwall.
Like so many Irish teens, a management change at the club had a huge impact on his career as he was on the brink of first-team football.
After returning home to Shamrock Rovers under Roddy Collins initially, Quigley signed for a St Pat's side with Johnny McDonnell at the helm and started to shine almost immediately.
In his first two seasons at the club, he finished joint top-scorer and was voted PFAI Young Player of the Year as St Pat's finished runners-up two years in a row.
Despite the great individual form, he wanted more. He felt he was good enough to win more and so after a few frustrating years at Bohemians first and then Dundalk, he signed for Sligo Rovers.
Ian Baraclough had taken over in the interim after Paul Cook left for Accrington Stanley and the club were on their way to their first title in 35 years.
After taking a two-goal lead, it looked like the title was all but wrapped up for the Bit O'Reds but goals from Christy Fagan and Sean O'Connor left the game in the balance. Then Sligo were given a lifeline.
Conor McKenna was adjudged to have handled the ball in his own box. St Pat's fans to this day will argue that it wasn't a penalty but the referee pointed to the spot regardless.
"As soon as the penalty was awarded, I knew it was going in. It was meant to be for me to score that penalty so I had that in my mind. I knew where I was going to put the ball"
Owen Heary - Episode Eight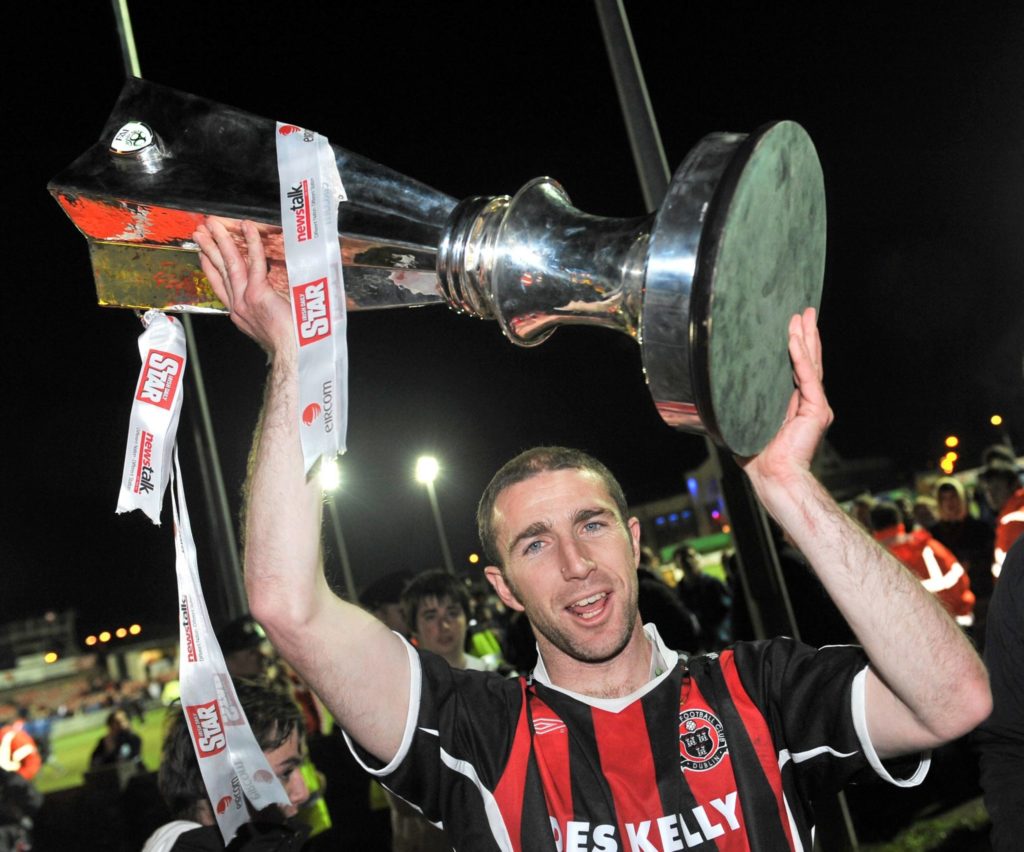 Owen Heary is a stalwart of the League of Ireland. From the age of 16 up until the ripe age of 38, Heary played the game on Irish soil.
After an early stint with Kilkenny City and Home Farm, Heary was brought to Shelbourne as a young right-back. He would go on to captain one of the most dominant teams in recent history in the league.
From 2000-2006, Heary was a key member of the side which won the league four times in six years. He also captained his team in Shelbourne's famous Champions League run.
After financial difficulty struck the club, Heary moved across the road to Phibsboro and his childhood club Bohemians.
He was joined soon by his Shelbourne boss, Pat Fenlon, and the league title and FAI Cup followed.
Despite his success as a player, it proved difficult to replicate for Heary, who, after taking over Bohemians to begin with, moved to Sligo Rovers. This led to one of the most bizarre situations in recent memory.
"I'm doing Setanta Sports and they come up with the idea of releasing a statement saying that I agreed that I would finish up which I did no such thing."
After that disappointment, he moved back to Shelbourne, this time as manager. However, the club he managed was vastly different to the club he played for.
Laying at the bottom of the First Division, Heary brought the club to a sixth-place finish, the following year to fourth and to a playoff spot in his third year in charge.
Heary wouldn't get another crack at bringing the club back to the top division though as new CEO Dave O'Connor brought in Ian Morris as the manager.
"I think it's unfinished business for me. Look, I'm glad the club are doing well now, I'm glad they've put money into it, they've gone on to win the First Division and in the Premier. That's something I wanted to achieve with them and I think I set the ball rolling for that and Ian Morris has done a great job since he has come in."
Download the brand new OffTheBall App in the Play Store & App Store right now! We've got you covered!
Subscribe to OffTheBall's YouTube channel for more videos, like us on Facebook or follow us on Twitter for the latest sporting news and content.