Aaron Wan-Bissaka was sent off as Manchester United lost away to Young Boys in the Champions League.
Cristiano Ronaldo opened the scoring for the away side after a perfect pass from Bruno Fernandes set him up inside the box. But after Wan-Bissaka's reckless tackle got him sent off, Ole Gunnar Solskjaer decided to shut up shop with defensive substitutions.
The strategy didn't work and Young Boys eventually won the game at the death.
Here are the player ratings for Young Boys 2-1 Manchester United:
David De Gea – 6
Despite playing for so much of the game with 10 men, De Gea had relatively little to do. Young Boys were camped in the Manchester United half during the second half but they didn't create a clear cut chance until the very end.
He had no chance on the first goal and was sold out by Lingard's poor pass for the second goal.
Aaron Wan-Bissaka - 2
Wan-Bissaka couldn't complain about his red card. His poor touch caused the ball to get away from him and then he overreacted to try and win it back with his studs going over the ball. He had done very little before that point despite United dictating the play.
Victor Lindelof – 4.5
Ironically, Lindelof was probably the only Manchester United player who was happy when Wan-Bissaka got sent off. He was uncomfortable with the ball prior to that point as his side dominated possession. After Ole Gunnar Solskjaer switched to a more defensive formation, Lindelof could happily sit in tight spaces and attack the ball whenever it came his way.
Harry Maguire – 5
Maguire had one or two moments he'd like to forget on the ball but was mostly solid in defence throughout the game. He could have possibly cut out the cross before it reached the middle for Young Boys' equalizer but there was nothing he could do when Lingard set up the winner at the end.
Young Boys were never able to isolate any of the Manchester United centre backs in space after the red card. That played into Maguire's strengths.
Luke Shaw – 5.5
A couple of poor touches early on prevented Shaw from taking advantage of good positions before he settled into the game. His work rate up and down the wing was impressive but he'll likely feel like he could have gotten out quicker to pressure the cross that led to Young Boys' equalizer.
Fred - 7
Fred opened the game with one bad decision as he misjudged a tackle in the middle of the field. He allowed Elia to brush him off in the wrong direction to then run clear at the defence. That was the only bad step Fred had in the game.
He was one of his team's best performers on the night. He retained possession by keeping the ball moving smartly and showed a high work rate off the ball.
Donny Van De Beek – 5.5 (subbed off 45')
Anyone hoping for a big impact from the young Dutchman didn't get it before he was subbed off at halftime. Van De Beek was solid, he kept the ball moving and consistently showed for it to help control the game before Wan-Bissaka's sending off.
He didn't have any real standout moments, which feels like the problem for him at this stage.
Paul Pogba - 6
Despite Manchester United dominating possession before Wan-Bissaka's red card, Pogba never really got into the rhythm of the game when he was on the left. The ball too often passed him by to Luke Shaw or Bruno Fernandes. After the red card, he played more centrally and had a greater impact on the game without having a great impact on the game.
Bruno Fernandes – 8 (subbed off 71')
Fernandes had one exceptional assist but should have had at least one more. Before he found Cristiano Ronaldo with the outside of his boot for United's goal, he hooked a perfect ball into Jadon Sancho in the box to put him in on goal. Sancho let the ball get away from him instead of finishing it.
It was an energetic display with more than a few highlight passes sprinkled in. Fernandes ran himself into the ground and likely could have been taken off on the hour rather than 10 minutes after. He was notably laboured when Young Boys worked the ball to his side for the goal.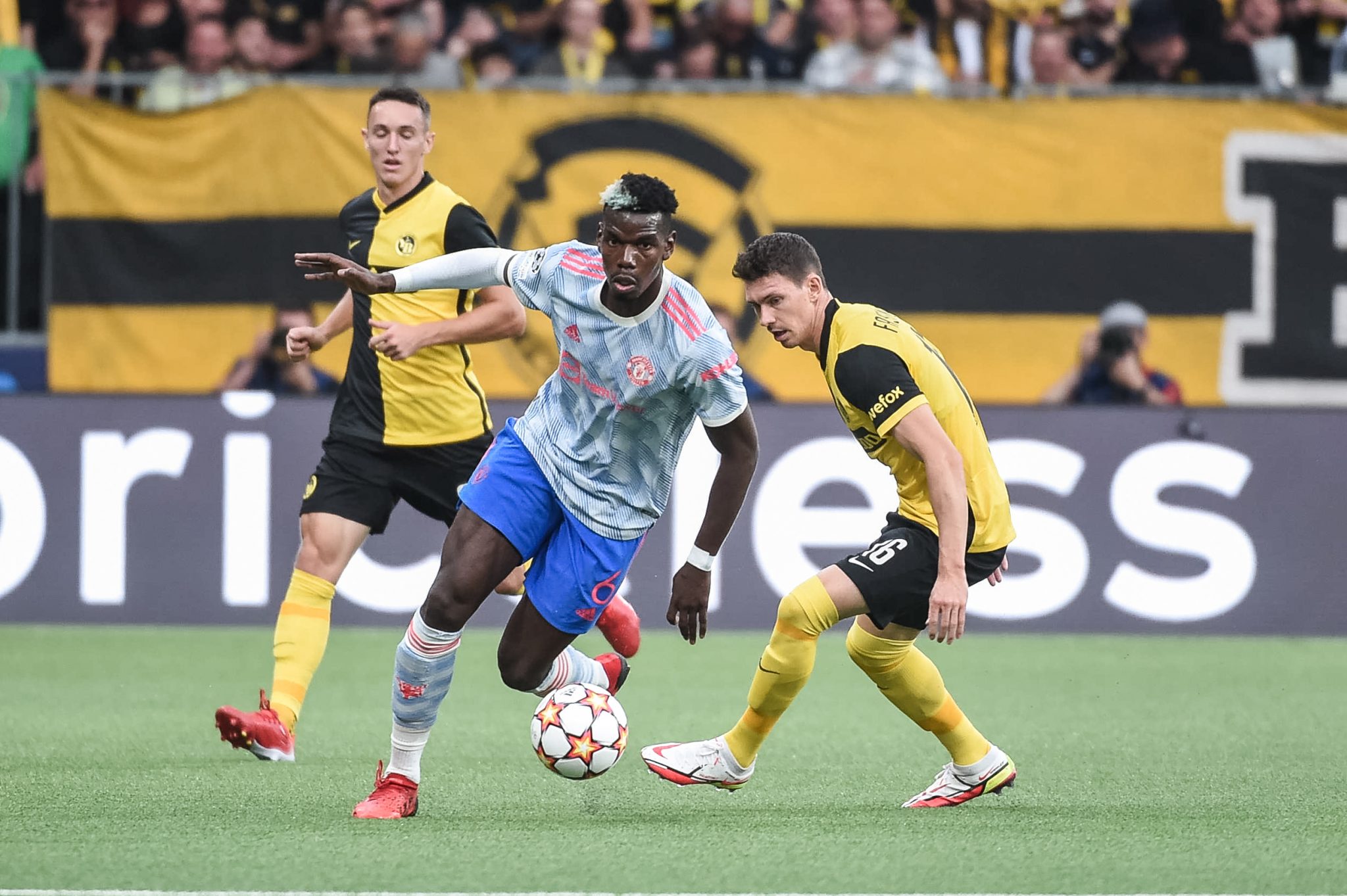 Jadon Sancho – 3 (subbed off 35')
Sancho was the sacrificial substitution to account for Aaron Wan-Bissaka's red card after 35 minutes. He probably would have been taken off at halftime anyway because he had been extremely wasteful before that point. He should have scored early on when Brune Fernandes supplied him with a perfect cross, he gave the ball away in bad positions three times and then turned back into the fullback in the box after being played in behind him.
It was a game to forget for the young English winger.
Cristiano Ronaldo – 6.5 (subbed off 71')
As you'd expect, he expertly finished Bruno Fernandes' cross to give Manchester United an early lead but essentially did nothing else in the game. He did clamour for a penalty on a breakaway in the second half but went down too easily instead of staying upright to take his chance on goal.
Even during his prime, Ronaldo wasn't someone who was suited to play in a team that was trying to sit on a lead with 10 men.
Substitutes:
Diogo Dalot – 6 (subbed on 35')
Coming on when the team went down to 10 men, Dalot had no real opportunities to get foward or get on the ball. Even playing as a wing back, he was essentially just there to solidify the right side of the defence. He did that effectively.
Raphael Varane – 5 (subbed on 45')
Varane was brought on to solidify the center of the defence. He was the closest defender to the Young Boys goalscorer who nipped in ahead of him to reach the ball. Besides that moment, the defence was mostly solid and Varane was effective in dealing with everything that came his way.
Jesse Lingard – 3.5 (subbed on 71')
Swapping Ronaldo out for Lingard was about getting fresher legs on the field to hold the defensive shape. As such, Lingard didn't really have any impact with the ball. The absence of a striker playing ahead of him limited his options. When he dropped deeper into the middle of the field, the big mistake came.
Lingard simply didn't see the striker. It happens but it's still a grave mistake to make at the worst possible time.
Nemanja Matic – 5 (subbed on 71')
Matic wasn't on the field for very long. He showed good positioning to intercept and break up play on more than one occasion, filling the exact role that his manager wanted to him to fill by bringing him on.
Champions League, Cody continues & rightful red cards? | The Newsround
Download the brand new OffTheBall App in the Play Store & App Store right now! We've got you covered!
Subscribe to OffTheBall's YouTube channel for more videos, like us on Facebook or follow us on Twitter for the latest sporting news and content.