Thirteen Premier League titles in the 20 years between 1993 and 2013. So, what is the ultimate Manchester United Premier League XI? OTB Sports' Colm Boohig reveals his United team.
Certain omissions proved contentious in our best Republic of Ireland Premier League XI so expect similar debate emanating from this selection. As with Ireland's side, the same rules apply on this occasion.
Firstly, each player has to play in their first choice, natural position. This is a team, not a collection of individuals so disappointment is inevitable. Some huge names have been left out, unfortunately. Secondly, each chosen player is included based on their Premier League contribution to the Manchester United cause, not on the length of their service to the club.
The formation is an expansive 4-4-2 lineup as a homage to Alex Ferguson and as a means of capturing the essence of the individuals within.
Here we go, the ultimate Manchester United Premier League XI.
GK - Peter Schmeichel
Goalkeepers were supposedly Alex Ferguson's weak spot. But for every Massimo Taibi, Mark Bosnich and Ricardo (remember him?), see David de Gea, Edwin van der Sar and Peter Schmeichel.
The Great Dane arrived at Old Trafford in August 1991 and departed in 1999 with five Premier League titles, three FA Cups, one League Cup and the Champions League in what was his final game for United. Not a bad return for the little over half a million pounds spent to acquire him eight years earlier.
Inducted into the English Football Hall of Fame in 2003, Schmeichel was chosen as the number one in the 1992/93 PFA Team of the Year, was voted the 1995/96 Premier League Player of the Season and in 1997/98 was honoured as the UEFA Club Goalkeeper of the Year.
He kept 128 clean Premier League sheets in 310 matches, including spells at Aston Villa and, controversially, Manchester City at the tail-end of his stellar career.
Schmeichel additionally scored once and directly assisted another three goals in the Premier League alone.
He made the goal look tiny like all great goalkeepers do but perhaps did it better than anyone else. Schmeichel had the build of a man you wouldn't want to mess with and the reflexes of a sprightly cat under threat.
Equally imposing in the opposition's box, Schmeichel was primarily peerless as the last line of defence, thinking nothing of unleashing a verbal tirade of abuse on teammates should they fall short of his incredibly high standards.
De Gea has been terrific and van der Sar was world-class but Schmeichel is unique. He made youngsters aspire to be a netminder and peers feel in awe of his talent.
LB - Denis Irwin
The Cork native's skills have already been addressed in OTB Sports' best Irish Premier League XI (see here), but they're worth repeating for emphasis' sake.
So, verbatim:
Like with everything in his career, little fuss was made when Irwin moved to Manchester United from Oldham Athletic (having started with Leeds United) in 1990. From there, the Togher native embarked on a glorious 12-year United spell which culminated in seven Premier League titles, three FA Cup crowns, one League Cup, the European Cup Winners' Cup and, of course, the Champions League. He finished up with two seasons at Wolves.
Irwin was wrong-footed for a left-back but made that position his own, despite occasionally lining out at his more natural side for club and country.
Twice named in the Premier League's PFA Team of the Year (1994 & 1999), Irwin had it all for his position; tough-tackling and focused in defence, supreme going forward at a time when English-based fullbacks were not renowned for their attacking prowess.
Add to that his amazing set-piece ability at free-kicks and penalties - he scored 18 Premier League goals and assisted a further 25 - and Irwin was the complete player.
Patrice Evra was fantastic and won the lot with the club but when you are talking about Denis Irwin you are discussing quite possibly the best fullback in Premier League history, full stop.
CB - Rio Ferdinand
The temptation to pick the partnership of Steve Bruce and Gary Pallister was fierce, such was its dynamism and consistent solidity at start of the Premier League era. But the allurement could not be quashed when it came to Rio Ferdinand; the slickest United centre-back since Paul McGrath.
Ferdinand was already the world's costliest defender before moving to Old Trafford in 2002 when Leeds United paid West Ham United £18 million for the youngster's services in November 2000. When Leeds collapsed into financial oblivion Ferguson pounced and for £30 million Ferdinand became Britain's most expensive player in history after a superb World Cup in South Korea and Japan.
Despite United regaining the Premier League title in Ferdinand's first season, he struggled at times. It was not until Nemanja Vidic arrived to partner Ferdinand that he really became comfortable in a United shirt. From that point, he thrived.
In a golden generation for English defenders, Ferdinand was always picked in the national side. That is some feat with competition like John Terry, Sol Campbell and Ledley King present.
Six Premier League titles, one FA Cup, three League Cups, the Champions League and the FIFA Club World Cup, he was six times a member of the exclusive PFA Team of the Year, selected in the 2007/08 FIFPro World XI and, in 2016, was inducted into the English Football Hall of Fame.
In total he played 504 Premier League games - including a final season swansong with Queens Park Rangers - and scored 11 goals, assisting another eight.
The only thing more impressive than Ferdinand's stats was the ease in which he would control the opposition's forward threats when in typically sublime form which, during his peak, was often.
CB - Jaap Stam
His Premier League career was cut short courtesy of a regrettable call by Ferguson to sell the Dutchman to Lazio. It took five years for United's defence to recover. That is how imperative Jaap Stam was to the success of Manchester United.
Signed in 1998 from PSV Eindhoven, the 1997 Dutch Footballer of the Year was the key foundation to United's treble-winning season and added another two Premier League championships to his trophy cabinet before acrimoniously departing the club in the summer of 2001.
In each of his three seasons at Old Trafford, Stam was named in the PFA Team of the Year and won the UEFA Club Best Defender of the Year award twice in succession between 1998 and 2000.
It was short but sweet for the main man in Manchester.
Vidic was stoic but Stam was a colossus.
Powerful like no other and intimidatingly tough, Stam was deceptively quick, accurate in the air and good with both feet when playing out from the back. And yet, he played only 79 Premier League games and scored just a solitary goal, away to Leicester City.
There was nobody better at the time, it should not have ended when it did.
RB - Gary Neville
The most technically limited player in this All-Star XI by a distance and still a shoo-in sans debate for the right-back slot. That, in itself, encapsulates Gary Neville the footballer.
Never has a player worked harder at improving their craft. The elder Neville squeezed the soaking sponge of his career over two decades until it was bone dry. He played exactly 400 Premier League games for United, assisting 35 goals and scoring five of his own. It all culminated in historic success.
Neville won the Premier League eight times, the FA Cup on three occasions, the Champions League twice, along with a trio of League Cups and the FIFA Club World Cup.
He was picked in the PFA Team of the Year no less than fives times, was named in the PFA Team of the Century and, in 2015, was inducted into the English Football Hall of Fame.
Referring to the aforementioned high number of assists, Neville was an underrated crosser of the ball and illustrated envious stamina over nearly 20 years at the top level on the right flank, forming a formidable partnership with best pal, David Beckham.
Neville was the ultimate team player in a series of great sides.
Colm Boohig, Daniel Harris, Ger Gilroy and Eoin Sheahan discussed Manchester United's greatest Premier League XI on OTB AM. Watch below:
LW - Cristiano Ronaldo
Patience. It is an increasingly unusual trait to possess in modern football and if Alex Ferguson didn't have it between 2003 and 2006 then we may never have witnessed the best of one of the greatest ever.
Cristiano Ronaldo arrived in Manchester in 2003 having embarrassed his future United teammates weeks prior in a pre-season friendly for Sporting in Lisbon. He did the same to Bolton Wanderers on his unforgettable Premier League debut at Old Trafford. In that brief cameo, the 18-year-old showcased his stardom... but frustration followed over the ensuing three seasons.
Ronaldo was developing, evolving both as a footballer and in his physicality. With that came mistakes and in his place, Wayne Rooney - acquired a year later and by far the more consistent prospect.
Something, however, fundamentally changed over summer 2006 after that infamous World Cup winking incident involving the duo.
The Portuguese prodigy returned a man and the second-half of his United career would be etched in stone eternally. Ronaldo had not broken double figures in any of his first three seasons in the Premier League and yet left the club after six years having scored 84 goals in 196 league games, along with producing 34 assists.
He won the Premier League three times, the League Cup twice, the FA Cup once and the Champions League and FIFA Club World Cup with United.
But individually at the club? Well, Ronaldo was voted as the PFA Players' Player of the Year two seasons in a row, was named in the PFA Team of the Year four years consecutively, won the Premier League Golden Boot and European Shoe in 2008 and won the FIFA Puskas Award in 2009 thanks to his stunning Champions League knockout strike against Porto.
Ronaldo was a peerlessly skilful winger who turned into a goalscoring machine of a forward. In 2008 he won the Ballon d'Or. He is the only Manchester United player in this dream team to do so.
CM - Paul Scholes
The man who is going to make this team tick.
Small and asthmatic, less was expected of Paul Scholes compared to his Class of '92 teammates. What do you think when you envision Scholes, though? Your mind's eye immediately displays the outrageous strikes away to Middlesbrough, Bradford City and Aston Villa that proved to be his trademark, and they are just the top-of-the-head Premier League goals.
Scholes, like Ronaldo, was two-players-in-one throughout his tremendous career. Part I introduced the goal-getter from attacking midfield; the original Frank Lampard who defences struggled to pick up and halt. Part II welcomed the deep-lying playmaker in the QB role from the base of midfield, less concerned with scoring goals than running the game from just inside his own half.
Scholes was high-end fashion with an insouciant demeanour; an unfathomably beautiful footballer who tackled ugly. The player who called it a day at Old Trafford only to return months later and do it all again. The midfielder of his generation who walked away from England duty aged 29.
Scholes was always his own man and forever a conscientious colleague; the other guy who missed out playing in the 1999 Champions League final.
In 499 Premier League games for United, he scored 107 goals and set-up 55 others. He won 11 of United's 13 Premier League titles along with three FA Cups, three League Cups, two Champions Leagues and a FIFA Club World Cup. He was twice named in the PFA Team of the Year, four seasons apart.
It is hard to envision another Paul Scholes in stature, talent, attitude and accomplishments. Ferguson had him.
CM - Roy Keane (captain)
Again, no need to change what was said about Roy Keane in OTB Sports' Irish Premier League XI, so we will repeat it:
The first name on the team sheet. Captain Fantastic. Seven Premier League titles for Manchester United, four FA Cups and a Champions League (whether he likes it or not!), included five times in the PFA Team of the Year, along with being voted as the 1999/00 Football Writers' Association (FWA) Footballer of the Year and, in the same season, the PFA Players' Player of the Year having missed out the year before to the Tottenham Hotspur winger, David Ginola.
Roy Keane's Premier League impact is hard to measure in numbers - 39 Premier League goals and 33 assists in 366 matches for Nottingham Forest and United - but he had it all, and you know that already.
Few are subject to a British record transfer having just been relegated, but such was Keane's appeal to would-be champions Blackburn Rovers and Ferguson in 1993 that it did indeed occur.
He could tackle, he could run, he could fight, he could score and he was a much better passer than given credit. But more than anything else, Keane was a winner. And he won often.
RM - David Beckham
No left foot of note, no significant turn of pace, no aerial ability of substance and no real tackling prowess... yet David Beckham came second only to Barcelona's Rivaldo in the 1999 Ballon d'Or reckoning. That is how good the former England captain's right foot was, and it was amazing.
The obvious, justifiable temptation with this team was to name the most decorated United player in Ryan Giggs on the left flank, with Ronaldo's natural width on the right, but Beckham just pips it over the Welsh icon for two reasons:
his inimitable crossing, passing and shooting ability thanks to his generational technique
his overall work ethic and understanding with Gary Neville on the right side which was key to United's Treble.
In his 265 Premier League games for United, Beckham created 80 goals and scored 62 of his own, many of which perpetually resurface.
There are the two chips at Upton Park against West Ham, the long-range piledriver away to Spurs, the free-kicks at Anfield and at home to Villa and that Wimbledon goal which singlehandedly created a cultural superstar.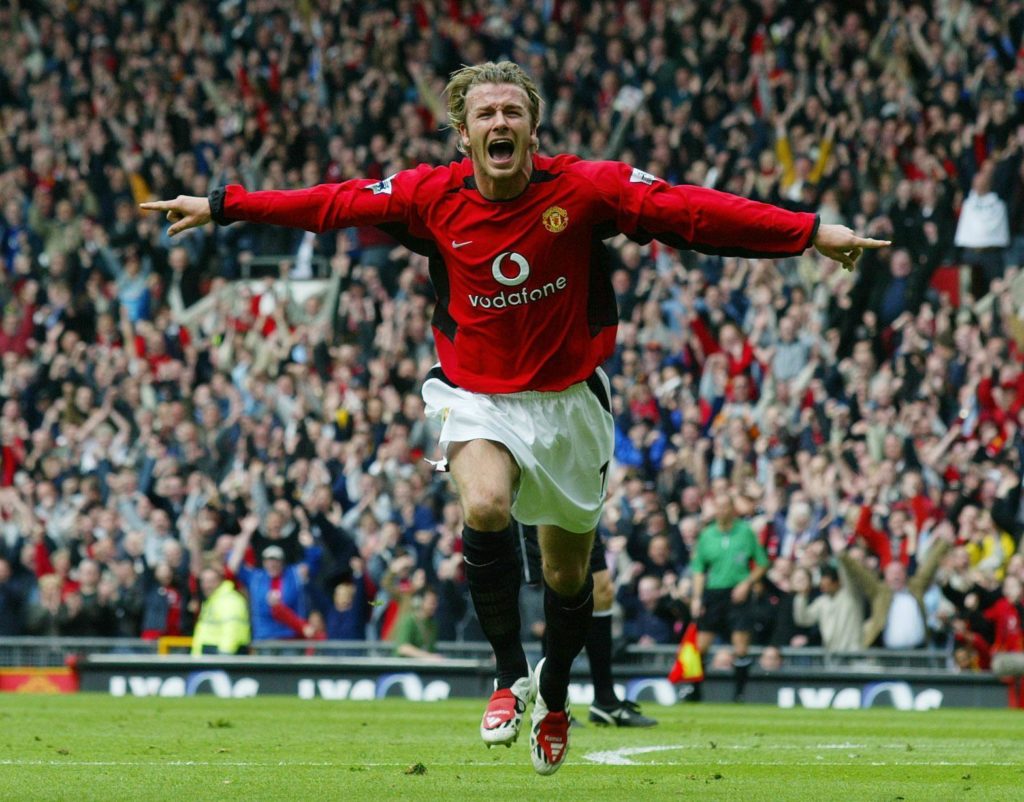 One of the few to perform well against Bayern in the '99 final, Beckham won six Premier League titles, two FA Cups, one Champions League, was voted the 1999 UEFA Club Footballer of the Year, the 1997 PFA Young Player of the Year and, for four years in a row, was named in the PFA Team of the Year.
It is a shame that a player at the forefront of Ferguson's mightiest triumphs departed as he did. But it was time, regardless of how it felt.
CF - Eric Cantona
There is a big shout for Eric Cantona's performances through the 1995/96 campaign as being the greatest individual season in Premier League history.
Cantona returned to football on October 1st, 1995 having served a nine-month ban for his Kung fu kick at Selhurst Park the previous January. In his absence, Blackburn won the league by a single goal and Everton beat United in the FA Cup final. After his autumn afternoon comeback against Liverpool, the Frenchman went on to score the winner in five one-nil league victories as United regained the Premier League and FA Cup double.
That is Cantona at Manchester United. 'King Eric', who led the club to their first league title since 1967 after signing from Leeds as an outcast in November 1992.
He would win a further three Premier League titles along with two FA Cups, scoring 70 goals and assisting 56 in 156 Premier League games.
Cantona was awarded the PFA Players' Player of the Year in 1993/94, named the 1995/96 FWA Footballer of the Year and scored legendary goals against the likes of Liverpool, Newcastle United and Sunderland. You know the ones. Then he retired, out of the blue and without comment to teammates, in the summer of 1997 six days shy of his 31st birthday.
The talisman simply had enough of football. And the rest of us were left incredulous.
ST - Ruud van Nistelrooy
The least decorated United player in this XI but the most accomplished striker Ferguson ever had at the club.
Ruud van Nistelrooy only won one Premier League, an FA Cup and a League Cup in his five years at the Theatre of Dreams. During a transitional period for the club it made his personal achievements all the more remarkable.
A former striker himself, Ferguson had a keen eye for a good finisher, recruiting fabulous forwards over the years like Mark Hughes, Brian McClair, Andy Cole, Dwight Yorke, Ole Gunnar Solskjær, Teddy Sheringham, Carlos Tevez, Dimitar Berbatov, Robin van Persie and all-time top scorer Wayne Rooney. Make no mistake, leaving Rooney out of this XI is a burden but none of the above were as lethal as the ex-PSV and Real Madrid hitman.
Van Nistelrooy signed from Eindhoven in 2001 for £19 million, just 12 months after breaking down with a severe knee injury which had initially scuppered his move to Old Trafford - a fact not to be ignored when studying van Nistelrooy's tremendous record at United. In 150 Premier League games he scored 95 times and assisted another 14 goals.
At a mediocre time for the team, van Nistelrooy shone, scoring wonderful individual efforts against the likes of Fulham, Charlton Athletic and Arsenal while never failing to demonstrate his consistent brilliance when on form, regularly surrounded by developing or inadequate clubmates.
After a series of injuries it ended disappointingly at United for the two-time Dutch Footballer of the Year and the 2001/02 PFA Players' Player of the Year. His quality against the elite in his pomp cannot be overstated.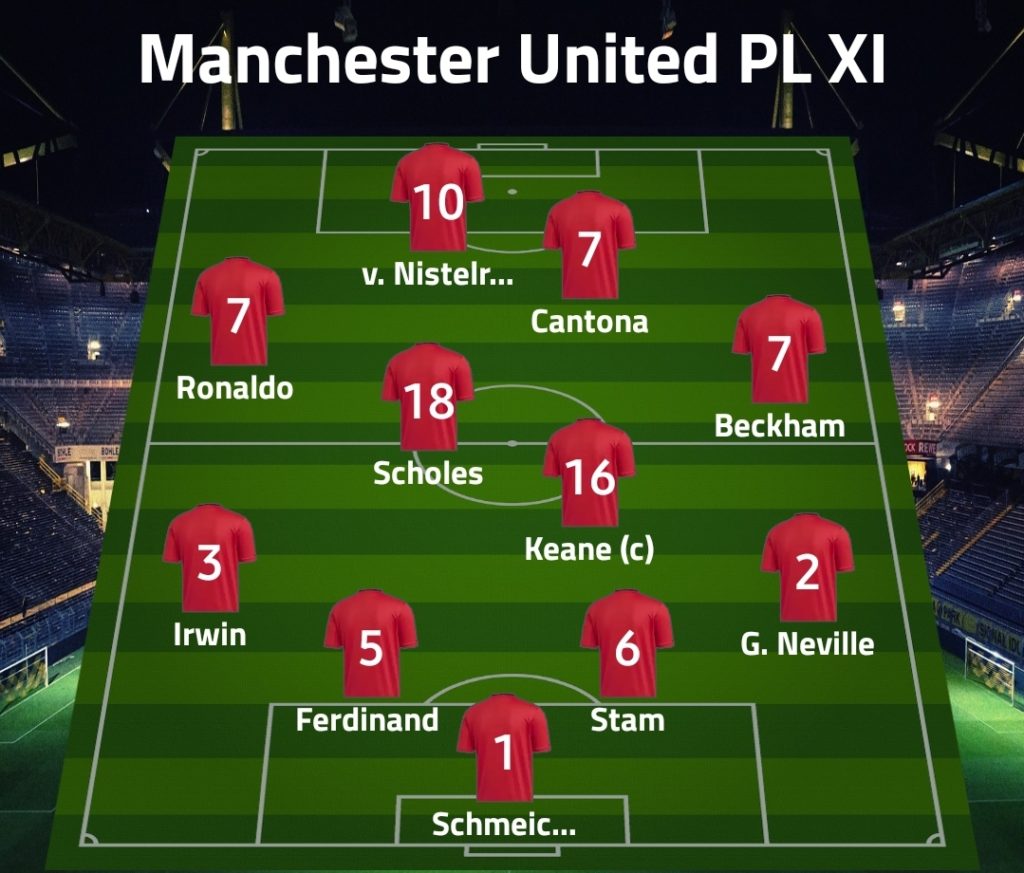 (Plan B: Giggs and Rooney on for Beckham and van Nistelrooy. A switch to a fluid 4-2-3-1 formation with Keane and Scholes in midfield, Giggs on the left, Ronaldo on the right, and Rooney in behind Cantona.)
So, there you have it. The greatest Manchester United XI in Premier League history. Let us know your team...
Tweet us at @offtheball or WhatsApp us your best Premier League Manchester United XI, on 087 9180 180.
Download the brand new OffTheBall App in the Play Store & App Store right now! We've got you covered!
Subscribe to OffTheBall's YouTube channel for more videos, like us on Facebook or follow us on Twitter for the latest sporting news and content.