Three central figures in Martin O'Neill's outstanding Celtic team of the 2000s, Neil Lennon, Chris Sutton and Stiliyan Petrov considered what it was that set him apart as a manager and a man. 
It is now easily overlooked, but Martin O'Neill's arrival at Celtic coincided with the club's hitting of a particularly low ebb.
Dick Advocaat's Rangers had just completed a domestic treble and, as if to assert their dominance for all to see, finished 21 points ahead of Celtic in the Scottish Premier League in the process of doing so.
Remarkably, within 12 months O'Neill had led Celtic to a treble of their own, orchestrating a 36-point swing between themselves and Rangers as they won the league title with games to spare in April.
Between Neil Lennon, Chris Sutton and Stiliyan Petrov, three players who have the combined experience of playing under O'Neill at Leicester City, Celtic and Aston Villa, they shared insights into his "genius" at OTB Sport's UEFA Champions League Final preview night in association with Pepsi Max and Doritos.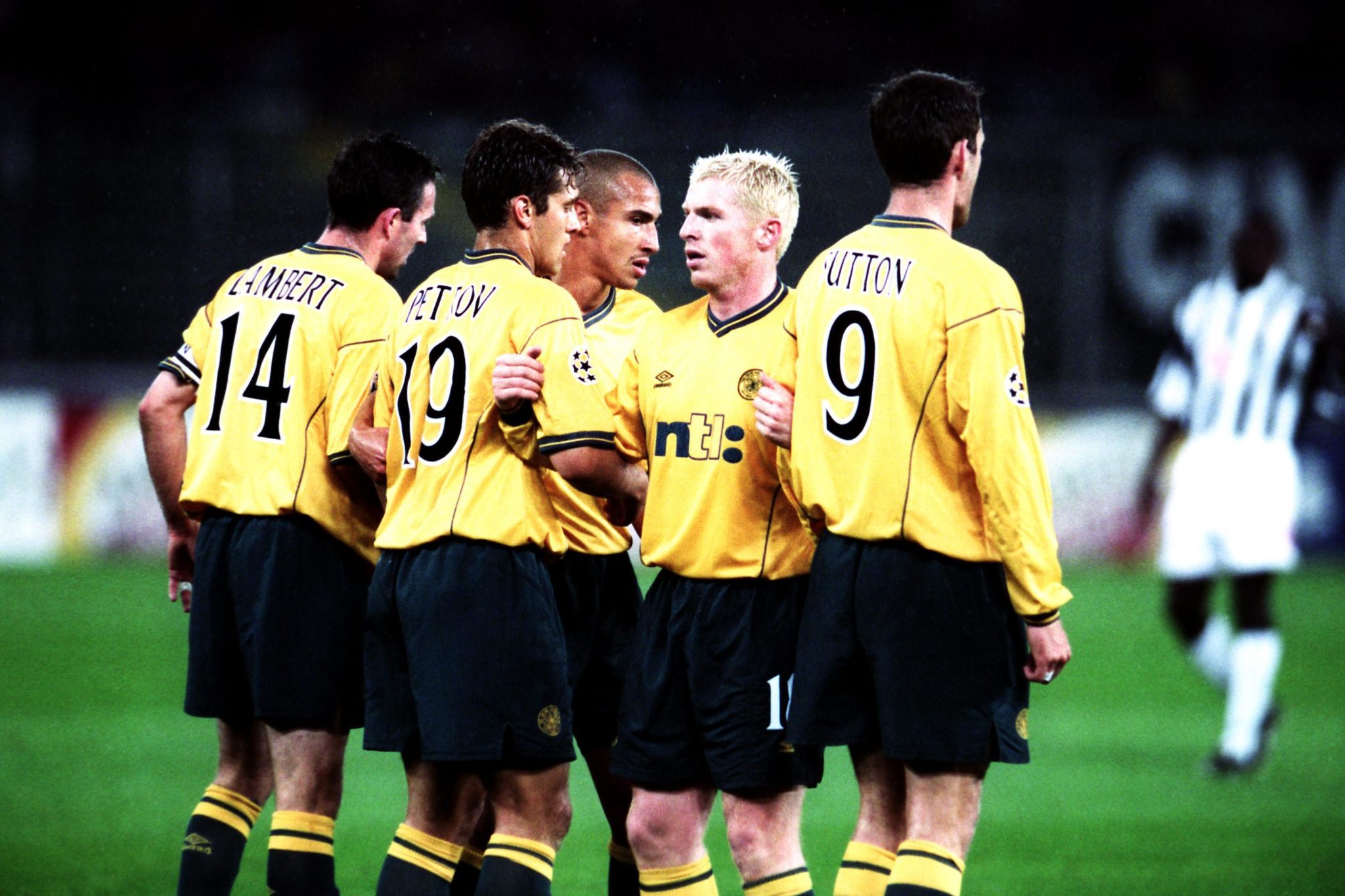 Neil Lennon: "Martin transformed Celtic at the turn of the century. He totally transformed the mentality of this club. From that the club has gone on this incredible run over the last 20 years where Celtic have won 15 out of the last 20 titles or so."
Chris Sutton: "Yeah, Celtic are in this position now because of what Martin O'Neill did in his early years. He understood the values and people at Celtic and got everybody on side. To turn around a 21-point gap in so short a time then, to give the supporters and players belief, it was such an incredible feat. What he did was nothing short of exceptional."
Stiliyan Petrov: "For me, he is a very special person, not just as a manager but as a human being as well. He gave me an opportunity to become something. He made me a winner. He made me believe that I could achieve things."
*     *     *
As he has rarely been shy of discussing when he feels the moment demands it, Martin O'Neill enjoyed spectacular success in his playing career.
Twice a European Cup winner with Nottingham Forest, one league title, two League Cups and a host of other medals followed as he thrived under the firm hand of Brian Clough's management.
Appointed manager of Wycombe Wanderers in 1990, O'Neill, a few years retired from playing, had to be satisfied starting from the bottom. Over a five-year spell with the club, however, he would guide them from the Conference to within a few points of the play-off places in the old Division 2.
After a brief spell with Norwich City, O'Neill moved on to Leicester City where he first signed another Northern Irish midfielder in Neil Lennon.
"He can make you feel 10 ft tall or about one-inch," explains Lennon of a managerial trait that O'Neill seemed to share with his old boss, Clough.
"In his pomp, he was absolutely unbelievable. He was a genius. He worked on the psychology of the game and the player more than anything else. I would say that 85% of what I do as a manager has been based around what I learned from Martin.
"At Leicester City and at Celtic, he was up there with the best of them. Some of the stuff he did at Leicester as well. I mean, we got promoted through the play-offs and had four top-10 finishes in the Premier League which is unheard of.
"Everyone is waxing on about Sheffield United these days, Leicester did that 20 odd years ago. We got to three League Cup finals and won two of them on a budget that was minuscule compared to other clubs.
"For 10 to 15 years he was one of the best managers around in British football."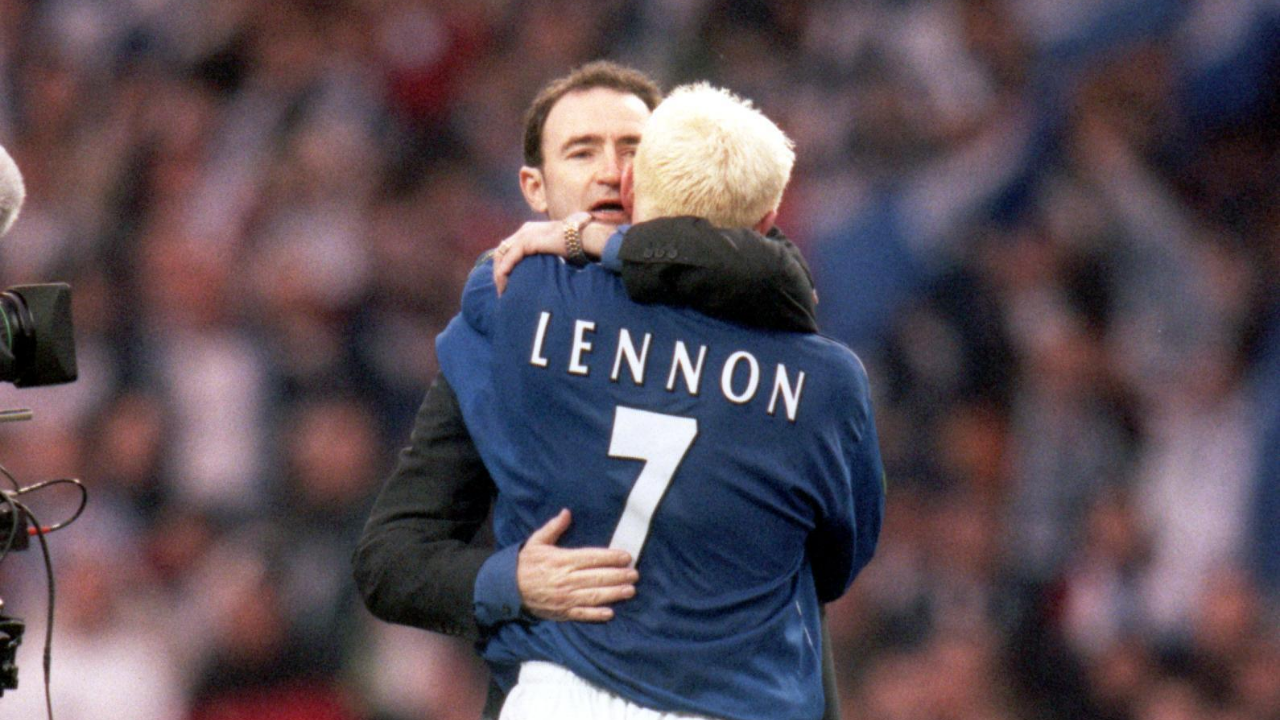 Chris Sutton: "I know there's been criticism about Martin, does he do enough coaching and this. I can honestly say that there's wasn't ever once where we crossed the white line and didn't know what our role in the team was."
Neil Lennon: "He wouldn't be at training two or three days a week, but that wouldn't matter because he had good coaches in Steve Walford and John Robertson. On match-days he would come alive then. He knew the game inside-out and how to get the best out of his players.
*     *     *
Appointed Celtic manager in the summer of 2000, O'Neill's arrival in Glasgow brought with it significant changes in playing personnel.
The club's top scorer in the disastrous season just gone, Mark Viduka's departure to Leeds United for £6 million allowed for the recruitment of Chris Sutton as a natural replacement.
At one point in his career, Sutton's striking relationship with Alan Shearer had powered Blackburn Rovers to Premier League success. However, five years later and after a disastrous one-season spell with Chelsea, he represented something of a risk for O'Neill's Celtic.
"He resurrected my career," admits Sutton as he looked back on the move two decades later, "but Martin had a tremendous eye for a player and all you need to do is look at his treatment of the players he inherited at Celtic.
"Johan Mjällby was a central midfield player at the time and Martin saw him as a central defender. What a tremendous, dependable servant he was to Celtic as a centre-back.
"It looked like it would be the end for the likes of Lubo Moravčík too. He was ageing then and I thought he would be surplus to requirements because he wouldn't run around. But Martin always liked a maverick and saw something in Lubo which was phenomenal and he played some great football under Martin.
"Didier Agathe was a £30,000 signing who had been playing as a striker for Hibs. He did such a spectacular job for Martin as a wing-back. On one of those unforgettable nights at Celtic Park, he played against Ronaldinho and didn't give him a kick.
"He had an amazing talent for seeing players in a different way."
After spending five years with Celtic, Martin O'Neill's tenure brought with it remarkable success for the club on a domestic front, as well as an unforgettable run to the 2003 UEFA Cup final.
A period of great rejuvenation for Celtic, while Rangers' off-field issues exacerbated their fall from grace, the two decades since O'Neill took over have largely been dominated by the ten-in-a-row chasing Celtic.
Departing for Aston Villa in the Premier League, Stiliyan Petrov was only one of those who had worked under O'Neill at Celtic to follow the manager south of the border as he sought  a fresh challenge.
In what amounted to a four-year stint with the Birmingham club, O'Neill led Villa to three successive top-six finishes in the Premier League. The first time he had spent a reasonable time at a club and not delivered a trophy, he nevertheless guided Villa to a League Cup final in 2009-10.
"I had opportunities to go to different clubs at that time," explains Stiliyan Petrov, the former Celtic midfielder who would go on to spend six seasons with Villa.
"I only needed two minutes with Martin telling me what he wanted to achieve with Aston Villa though to decide what to do. He was very determined to achieve with Villa and he managed to do that.
"I found it difficult in England initially and he even left me out for three months at one stage. He told me that he was going to loan me out to a lower-league club. Well, I was like, 'you can't do that! I'm going to show you.'
"That was enough for me. He knew I was a competitor who needed to be challenged to do better."
From Villa to Sunderland and on to the Republic of Ireland, though O'Neill's five-year spell in international football brought with it qualification for a major tournament, his time is largely looked back upon with some frustration.
To those who have known and worked with him at Leicester City, Celtic and Aston Villa, however, his grasp on what players required and what was required to get them playing remains a source of great admiration still.
Check out OTB Sports UEFA Champions League Final preview across our social channels all weekend, in association with Pepsi Max and Doritos. It's Back, Get Ready #UCLisBack
Download the brand new OffTheBall App in the Play Store & App Store right now! We've got you covered!
Subscribe to OffTheBall's YouTube channel for more videos, like us on Facebook or follow us on Twitter for the latest sporting news and content.