Chiedozie Ogbene has been a revelation for Stephen Kenny's side and has made himself undroppable for Ireland, according to former Ireland international Simon Cox and The 42's Gavin Cooney.
Ogbene scored an excellent bicycle kick goal against Belgium on Saturday night, before he set up Alan Browne for the equaliser in the Republic of Ireland's 2-2 draw at the Aviva.
Irish captain Seamus Coleman praised his young teammate for his player of the match-winning performance after the draw, with many suggesting that the 24-year-old is too good for Rotherham United.
'As soon as he puts on that Irish jersey he gets that belief' | ⚽️@SCoxy31Real has seen some exciting talent in Chiedozie Ogbene, while @gcooney93 feels he has been the reason Aaron Connolly has been sidelined | 🇮🇪

Football w/ @SkyIreland

Full chat ➡️ https://t.co/Ya1VO4DX2H pic.twitter.com/9vu95imKRq

— Off The Ball (@offtheball) March 27, 2022
Ogbene is keeping Connolly out of the side
Speaking on Off The Ball on Sunday to reflect on the match, former Ireland striker Simon Cox felt that Stephen Kenny has found the right place for Ogbene, who has played as a right wingback over the course of his career.
"I definitely see him as a forward player," Cox said. "I've spoken to a few people at Rotherham about him and I think the one thing that they always said to me about him is that , talent, pace and power, he's got it in abundance.
"He just lacks that little bit of belief. Then, as soon as he puts on the Irish jersey, all of a sudden he gets that belief. Three goals in six matches, that should give you the biggest belief in the world."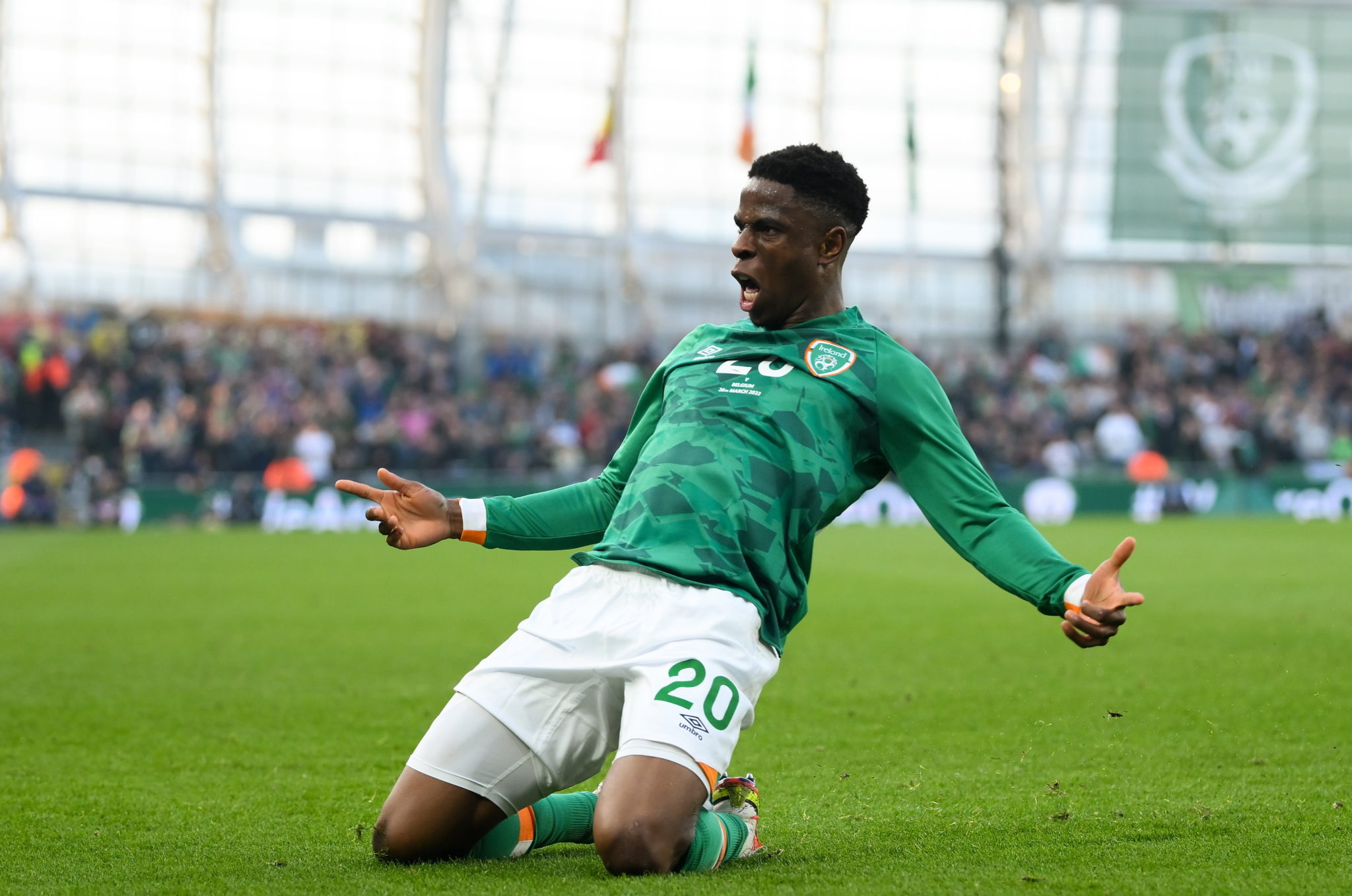 For Cox, the decision by Kenny to move Ogbene further up the field was a stroke of genius that prevented a problem from arising.
"I think Stephen Kenny has been really clever in the way that he has pushed him further forward," Cox said. "If you played him in that right wingback position, you've also got Matt Doherty, you've got Seamus Coleman who can play there as well.
"So, he's actually solved a problem without it actually being a problem. That is clever management in a sense."
The 42's Cooney, who joined Cox on Off The Ball, agreed, suggesting that Ogbene's pace and power has made him an undroppable forward in Kenny's squad.
"He is very much a forward in [Stephen Kenny's] eyes," Cooney said. "Just his pace alone is enough to worry teams.
"Ireland have lacked pace in the last couple of years. That was the main case for including Aaron Connolly. Connolly is well out of favour now, but one of the main reasons Kenny placed so much trust in him earlier on was Connolly had pace.
"We saw that pace was used to stretch Portugal that Ireland came so close to winning. But Ogbene is even faster than Connolly.
"He's helped sideline Connolly since, and he's been a revelation. Stephen Kenny is the type of manager that he can build that confidence and Keith Andrews as well.
"I think even the management team are a bit surprised at the extent to which he has excelled now. Three goals in six games, he is undroppable on current form."
'I definitely see him as a Premier League player!' | ⚽️@SCoxy31Real feels that John Egan is vital to Stephen Kenny's squad going forward, and wants to see Will Keane play on Tuesday | 🇮🇪

Football w/ @SkyIreland

Full chat ➡️ https://t.co/Ya1VO4VxUf pic.twitter.com/bpbyPjAKxV

— Off The Ball (@offtheball) March 27, 2022
Important players for Stephen Kenny
While Ogbene was the star of the match, John Egan made a good account of himself as well against the world number one Belgian side.
Although Kenny has gone on record previously stating that he sees Egan as a Champions League player, Cox does not think he is there just yet.
"I probably don't agree that he's ready yet for the Champions League, but I think he's definitely a Premier League player," Cox said.
"Forget Everton's position in the league, I think if he went to an Everton it could be a really good move, possibly like a Newcastle would be a really good move for him.
"A team where he could go and thrive, where he could still be that defender where he likes to throw his body in the way and still be able to play out."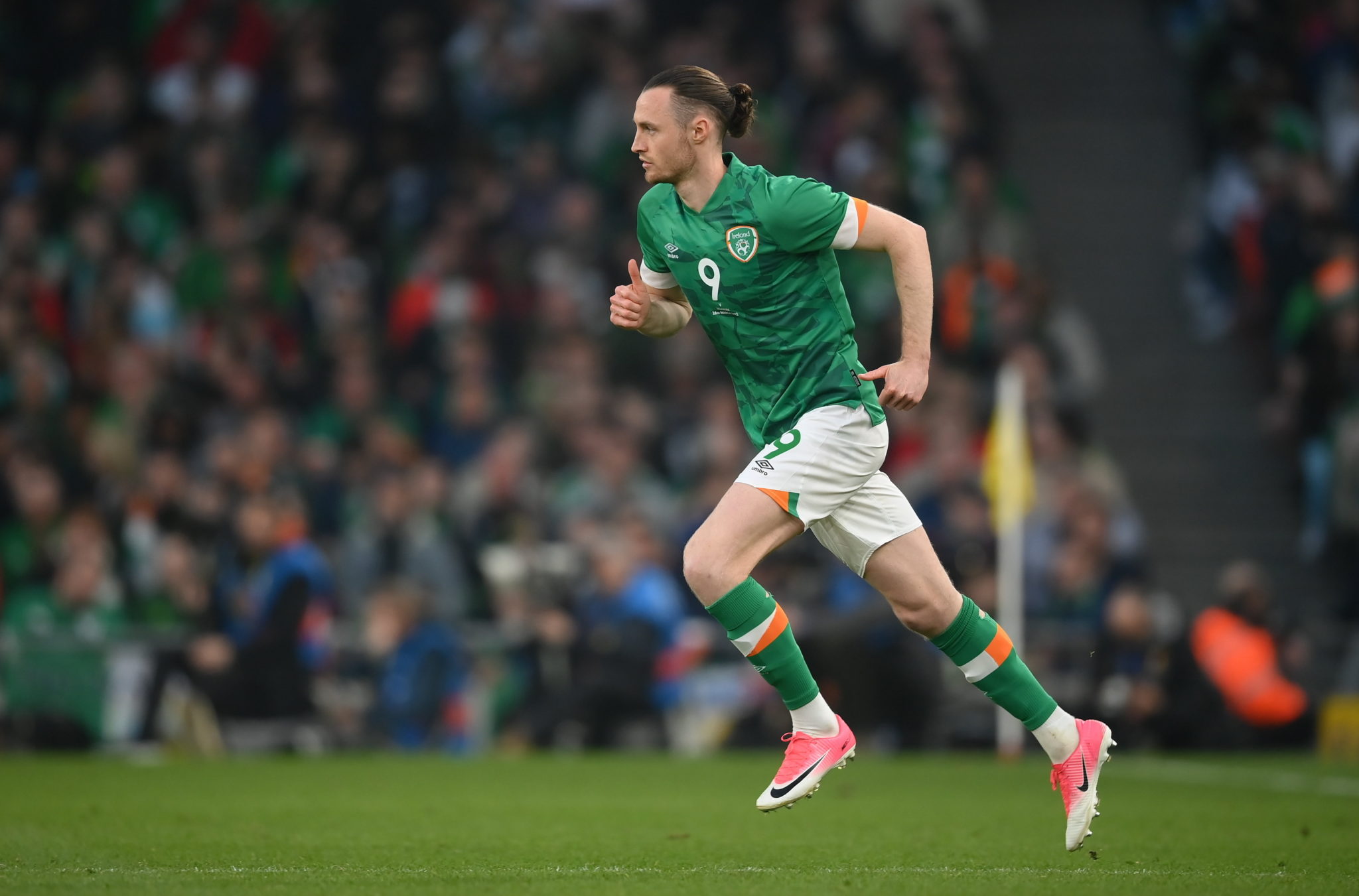 Ireland will take on Lithuania in an international friendly on Tuesday. While it is a less important game for Kenny than the match against Belgium, Cox believes that there are a few changes that the Irish manager needs to make.
One of them would be to start Will Keane in the XI to give him a chance to prove himself.
"I think he's got something to give," Cox said. "He'll be chomping at the bit to get some minutes under his belt and show what he can do.
"It's another friendly, so why not throw him in and see what he can do? You'll never know what he can do if don't give him a chance.
"Five minutes or ten minutes at the end of games, you're not really going to see the best of him. So you might as well give him the chance."
Football on Off The Ball brought to you by Sky. All the football you love in one place across Sky Sports, BT Sport & Premier Sports.