The next month will be crucial for Ole Gunnar Solskjaer's chances of securing a full-time role at Manchester United, according to Daniel Harris.
Speaking to OTB AM this morning, Harris believes that the Norwegian's promising return to Old Trafford will be sufficiently tested in upcoming games against the likes of Paris St Germain, Liverpool and Manchester City.
"If United get beaten by Paris St Germain and start to lose ground in the league," Harris posited, "then obviously it's less likely that he'll get the job."
Taking over from Jose Mourinho in charge of Manchester United on a temporary basis, Solskjaer's spell in charge has coincided with a noticeable upturn in the club's form.
With the exception of a 2-2 draw with Burnley, United have won the remaining nine games played under Solskjaer; the performances of Paul Pogba and Marcus Rashford improving greatly in that time.
If United come out of February and they're still in Europe and still in a run for the top-4, then it would be very difficult to see anyone else get the job.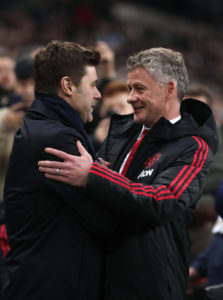 "I suppose what we've seen in the last few weeks, he's still getting points but you could start asking some questions," Harris was careful to point out, however.
"Why wasn't he able to affect the flow of the game against Leicester?
"You might look at that another way and say, well, you've watched loads of those games under Alex Ferguson where United weren't performing that well but still produced one moment of definitive quality in the game and came away with the win.
"I guess you could look at it a third way and say that United just don't have the players to dominate a decent team in midfield."
Falling in Solskjaer and United's favour is the current downturn in luck bestriding Paris St Germain's season, however.
With it looking increasingly likely that both Neymar and Marco Veratti will be absent for the Champions League tie against United, Harris believes the French champions look infinitely more beatable as a result.
"[Playing] the home leg first probably works for Solskjaer," Harris believes.
"United have an opportunity to establish themselves in the tie, rather than playing at home and they're already, say, 2 or 3-0 down.
"They've got to try and find a way to beat Chelsea in the [FA] Cup, they've got to try and beat Liverpool at home, and it seems unlikely to me that they're going to construct a winning run that encompasses all of those games.
"But, if they come out of February and they're still in Europe and still in a run for the top-4, then it would be very difficult to see anyone else get the job."
After bouncing back from a mid-week draw with Burnley to beat Leicester City on Sunday afternoon, Solskjaer's United travel to Craven Cottage this weekend where Claudio Ranieri's relegation-threatened Fulham will offer the opposition.
Subscribe to Off The Ball's YouTube channel for more videos, like us on Facebook or follow us on Twitter for the latest sporting news and content.