Phil Thompson has rubbished John Giles' claim that Liverpool "should be up before the FA" after ground-staff cleared only half the Anfield pitch of snow during a mid-week draw with Leicester City.
Speaking to OTB AM this morning, the former Liverpool captain was perplexed by the Irishman's complaints.
"Have I got to listen to this," Thompson queried by way of a greeting.
"This is absolutely ridiculous, and John should know better.
"It's been ever thus, a storm in a teacup, and I'm not just saying it because this is Liverpool.
"Over the years of watching football, and this is why I'm saying John should know, going back not too far when the football pitches were cutting up and there were divots, the ground-staff would always get out there, and what would they do? They would always put the divots back in the offensive third for the home team.
"That was ever thus."
It's a storm in a teacup, and I'm not just saying it because this is Liverpool.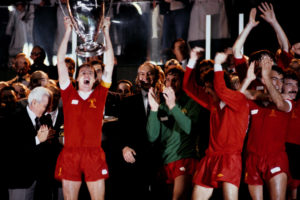 Highlighting similar strands of behaviour among ground-staff in other sports, that Liverpool's conduct may have been unbecoming and 'just not cricket' didn't wash with Thompson.
"Come on," an exasperated Thompson responded to the suggestion.
"John's trying to make a big thing of this, but I've seen it happen before.
"To go on [and suggest] it should be brought before the FA, I think, 'oh my goodness.'
"I've seen it happen so many times."
Arguing that such small measures are generally employed to help the home side in any sporting contest, Thompson dismissed the notion that Liverpool have anything to answer for.
Download the brand new OffTheBall App in the Play Store & App Store right now! We've got you covered!
Subscribe to OffTheBall's YouTube channel for more videos, like us on Facebook or follow us on Twitter for the latest sporting news and content.