Legendary Irish footballer Ray Houghton described Jack Charlton as man that will be remembered with great affection, didn't have "a bad bone in his body," and who treated his players like men.
Speaking on Off The Ball, the former Liverpool midfielder Ray Houghton paid tribute to the man who brought him into the Irish panel which he would represent on 73 occasion and lead the way to some of the greatest moments in Irish sport.
"In 1985, I was playing for Oxford against Aston Villa in a League cup first leg. Jack came to watch John Aldridge. He knew John had a connection with Ireland and he was looking out for new faces to come in.
"After the game one or two reporters said to Jack that I was eligible because my father was from Donegal so he asked me to come and join the national set up and it was actually funny because he said he'd give me a couple of days to think about it. Nine o'clock the next morning Jack was on the phone asking me did I make my mind up.
"It was the best decision I ever made because he completely transformed my career from playing in a European championship and two World cups, it was brilliant to be apart of that Irish set up.
Houghton described Charlton's humour as very 'tongue and cheek' especially after the 58-year-old scored two of the most famous goals in Irish football. In Euro 88 against England and at the World cup in 1994 against Italy.
"When I scored in 88, I remember he said to me 'don't ever do that again.' I thought he meant score against England, but he said, score that early. But that was Jack he had a great sense of humour, very humble man, great humility, and a very wise man at the same time.
"When I scored the goal in 94 against Italy, he told people I didn't mean that because I never kick it with his left foot.
"If you were in a room with 300 people chatting a way, the doors could open, and Jack Charlton could walk in and everyone would go silent because they had that much respect for him.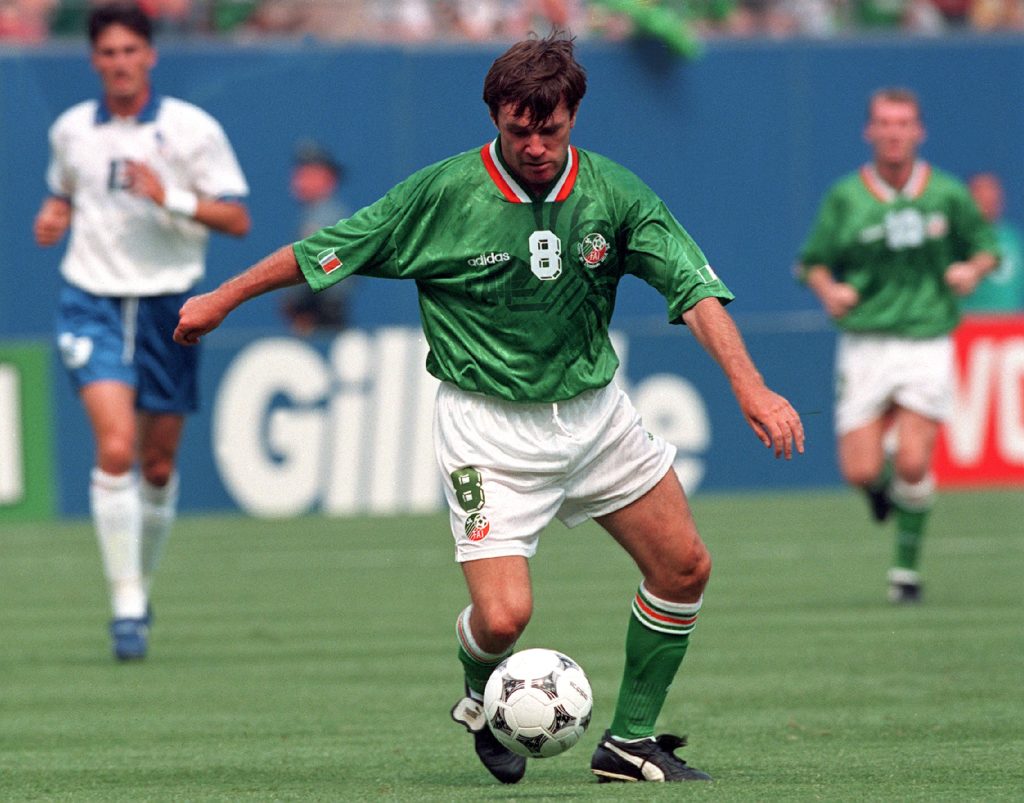 Ray Houghton remembers on one occasion Jack Charlton hunting him down in the players lounge in Wembley after he missed a great goal chance in a 1-1 draw against England in a Euro qualifier in 1991.
"I missed an absolute sitter to win the game. After the match I was waiting for Jack to tell me off. I got into the changing room not a word, got into the big bath, hiding from him. Sneaked out up to the players lounge, very impressed I got away with a telling off from him, only to find the doors banging and it was Jack Charlton at the end of the room.
"He had only his eyes on me. People were congratulating him, but he just had his eyes transfixed on me. He came marching across and just gave me an almighty telling off. Everyone was listening and I'm just shacking my head as he walked off.
"My wife said are you going to let him speak to me like that and I thought after tonight he can say what he wants.
The Scottish born midfielder, said the Charlton-era as one of his best moments in football, describing the managerial style and down to earth personality that the World cup winner had.
"One of the great attributes that he had and he had a few but was he treated you like men, he understood as a former player because he came from a Leeds team that had real top quality players and hard men both on and off the field.
"He wanted us to be like that, he wanted a tight knit, because he didn't have hundreds of players to call upon. We had a small group of players that he relied on game after game and Jack was very loyal.
"He wanted that bound and he wanted that spirit. You were all together as one, as a team and that was very important in the success we had.
"There was no heirs or graces about him, he was just a very humble man from a working-class background. What a fella!
"He loved football. He was still in love with the game. He loved what it was about. He had an incredible career at Leeds United.
"I hope he's remembered with great affection and respect. He came at a time when we hadn't qualified for a tournament, and we had some fantastic players but never got that rub of the green or that luck and he certainly had it.
"There wasn't a bad bone in him. He was just a lovely fella, he had great time for people, he loved his pint of Guinness and loved his whiskey and he was just a great character and I'm sure that's mutual amongst the Irish public."
Watch back what Mick McCarthy, John Giles, Kevin Moran, Jason McAteer, Mark Lawrenson, Ray Houghton and Kevin Sheedy said to Off The Ball about their memories of Jack Charlton. 
Download the brand new OffTheBall App in the Play Store & App Store right now! We've got you covered!
Subscribe to OffTheBall's YouTube channel for more videos, like us on Facebook or follow us on Twitter for the latest sporting news and content.