Stephen Kenny issued an impassioned defence of his reign as Ireland manager as well as asserting his support of Ireland players taking the knee.
Kenny has had a tumultuous time in charge of Ireland, winning just one of his 13 games in charge after promotion from the U-21 side.
But he becomes nearly tearful when he talks about the importance of a multi-cultural Ireland team that can inspire young people.
In recent years, Irish society has been enriched by the diaspora of countries across the globe. The Irish football team is now reflective of Irish society, with players such as Adam Idah, Gavin Bazunu and Chiedozie Ogbene.
Stephen Kenny on multi-cultural Ireland
Kenny said he feels the Irish team should be a team that represents "everyone from all aspects of society."
He continued, "We want the Irish team to make the Irish public proud. We have to do that through our performances and results, but it must be reflective of the new multi-cultural Ireland. It has to be a team that represents all facets of Irish society."
To show their support of the fight against racial injustice, Ireland players took the knee before their games last month. There were abhorrent scenes in the game against Hungary as Hungarian fans booed and abused the players for their decision.
The public discourse around sportspeople taking the knee has intensified in recent months, especially during the European Championships, with British politicians and social commentators linking the protest to radical left-wing politics.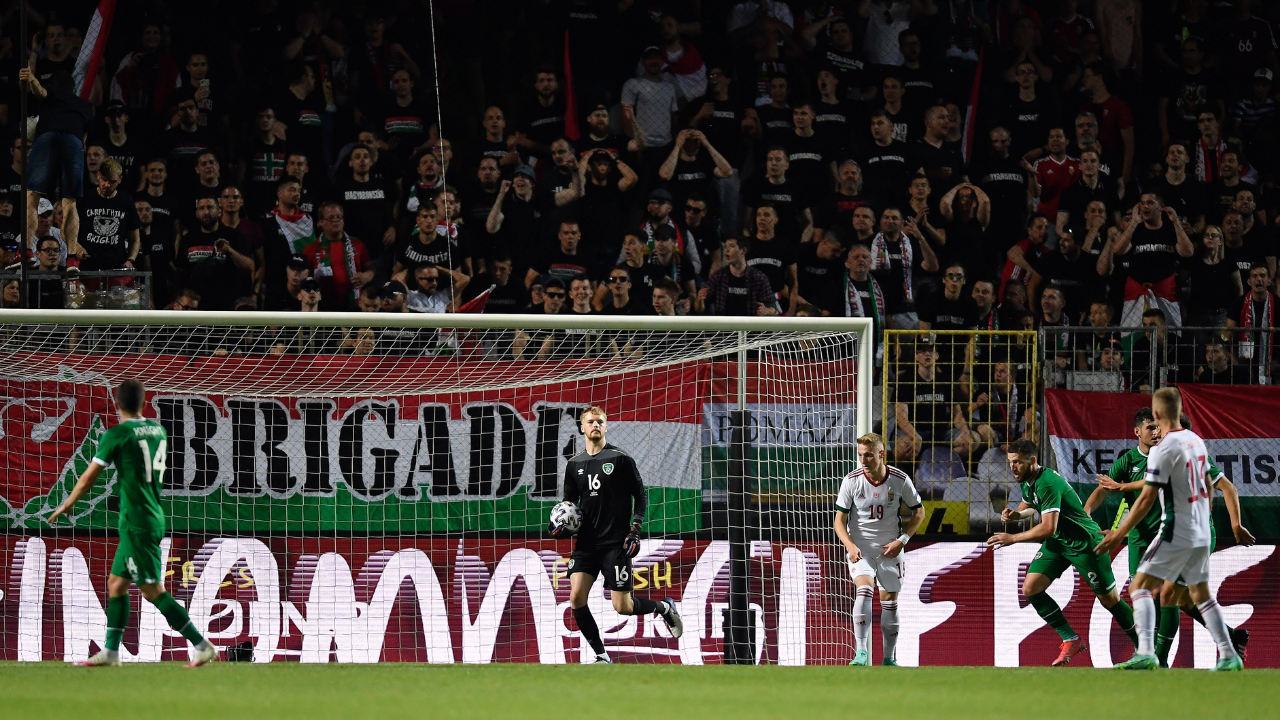 Despite this, Kenny reiterated his full support of his player's decision, saying the fight against racial inequality is not a political idea.
"The booing of taking the knee, I don't understand it.
"The issue regarding taking the knee, some people criticise it because you're supporting a Marxist organisation. Marxist is the distribution of wealth; it's Das Kapital, not Mein Kampf, is it? It's not McCarthyism.
"I don't see it as a political issue; it's a humanitarian issue. It's not about politics; it's about supporting people. Our players want to take the knee, and I fully support them.
Kenny concluded that hopes to create a team that the nation can be proud of, with players that reflect the diverse communities across the island.
"That's the thing about football; it represents every strand of society. People have nothing, and the team represents that. We spoke about that in June; every individual must look at someone like Séamus Coleman and be very proud that he's our captain representing Ireland.
"We want heroes; we want to create heroes for everyone to believe in."
Style of play
| The Stephen Kenny interview |

- The heart scare that nearly killed him
- His emotional defence of a multi-cultural and multi-class Ireland team
- Defending his work so far 🇮🇪
- Lessons from #Euro2020

Well worth your time:https://t.co/AC6QTztBOD

— Off The Ball (@offtheball) July 1, 2021
Kenny has endeavoured to implement a style of play that moved away from his predecessors more direct approach, opting for a progressive possession-based system.
However, with his win percentage as manager languishing at around 8%, Kenny  has received criticism for continuing with this style.
Speaking on Off The Ball's The Football Show, Kenny fervently refuted the criticism by saying the foundation he is building now will reap exciting rewards.
"We're building a very special team with Ireland. If you look at the players, we've brought in; Caoimhín Kelleher, Gavin Bazunu in goal. Darragh O'Shea has played nine times for Ireland.
"We've got a midfield three that we've brought in; Josh Cullen, Jason Molumby and Jason Knight. These are players with great energy and great technical ability.
"We've got attacking players that have come in Troy Parrott, Adam Idah and Aaron Connolly. They aren't proven, and people say 'they're not ready to be full internationals', but they have a lot of potential.
"We've got all those players coming through with brilliant technical ability who are going to be good players. I'm very excited about the squad that we're developing. We're going to have a very, very strong squad."
Kenny's critics illustrate the conservative and archaic attitude that has plagued Irish football for decades. Even after potentially sackable defeats, Kenny has been unyielding in his mission to bring Irish football out of the dark ages and is confident his efforts will be actualised.
"I want this team to be one that the Irish people are really proud of and identify with. I won't accept that we can't play out from the back, or we can't pass the ball. That's completely lacking faith in the talent that we have. I won't accept it, and it will be proved otherwise."
Kenny has given thirteen players their senior international debut during his short reign as manager, which has become another stick to beat the Tallaght man with. Kenny previously criticised previous administrations for their lack of youth development, leaving him with no experienced replacements for ageing players.
Kenny said he understands that there may be wariness of the wholesale promotion of uncapped players but utterly refutes it as a negative for Irish football.
"They have come through the underage international system. We've had a rapid introduction of players; some people will say I've introduced too many too soon; that's a criticism."
When asked does he accept the criticism, Kenny was forthright in his response, saying, "No, it's the right thing to do. I absolutely back it; we've had a few defeats, we've had other reasons for that as well. It's absolutely the right thing to do; I defy anyone who argues otherwise."
Kenny continued that the game time inexperienced players receive now will stand them in better stead in 12 months.
"These lads will have 15 or 20 caps for the next European Championship qualifying campaign. They will have a lot of international experience by that time."
Read More: 'Opinion | Stephen Kenny may sacrifice his career for Irish football's future'
Football on Off The Ball, with Paddy Power's SaveOurGame, Donating 10k to Irish football for every goal England score at the Euros.