Noel King joined the Football Show on Off The Ball to reflect on the opening matches of the Stephen Kenny era.
The former under-21 boss has been underwhelmed by the results so far under Kenny, but King suggests the manager may have created a rod for his own back.
"Stephen has come into the job with big expectations. A lot of them put on himself by saying he was going to change the game and change the way we play," observed King.
"He's gone about that, he's true to his word. I would love nothing more than for us to be able to out-play teams but at the moment it's very, very difficult for him.
"No goals, no wins, it makes for a pressure situation and it makes for difficult times for him.
Stephen Kenny improvements?
If there have been improvements in the team's style, King says it will not all be attributed to Kenny, some credit must go to the FAI too.
"It's too early to say [if he has changed things] but it's not like it's a new invention he was trying to play. To be fair to the FAI, [that is] going back to 2008 when they brought Wim Koevermans in from Holland to try to restructure the underage.
"Then they followed it up with Ruud Dokter and they've given something like eight to ten years where the underage players are playing that typical continental game.
"This is happening, this is not something new, we've all played it.
King believes people need to be realistic about the level Ireland are at and how difficult it is against better opposition.
"The problem is when you play it at senior international level and you go and play against the top team in the world, it's very difficult to outplay them, virtually impossible," said the former under-21 manager.
"At the moment, we're not playing the top-seeded teams, we're playing well well down the rankings. You would have felt we would be doing a little bit better than we currently are doing."
Possession without pressure
King feels Ireland had possession at times without pressure - which, he feels, is irrelevant.
"Playing without pressure on you, it's easy to keep possession. Where it really matters is when you start getting into the opposition half.
"When you start getting into the opponents' penalty area and people have the courage to start showing for the ball, giving little deft passes, going down the side of a defender, all that sort of stuff needs to come in.
"As you are developing a new team, that's virtually impossible on three days preparation. It's a very, very difficult thing to do."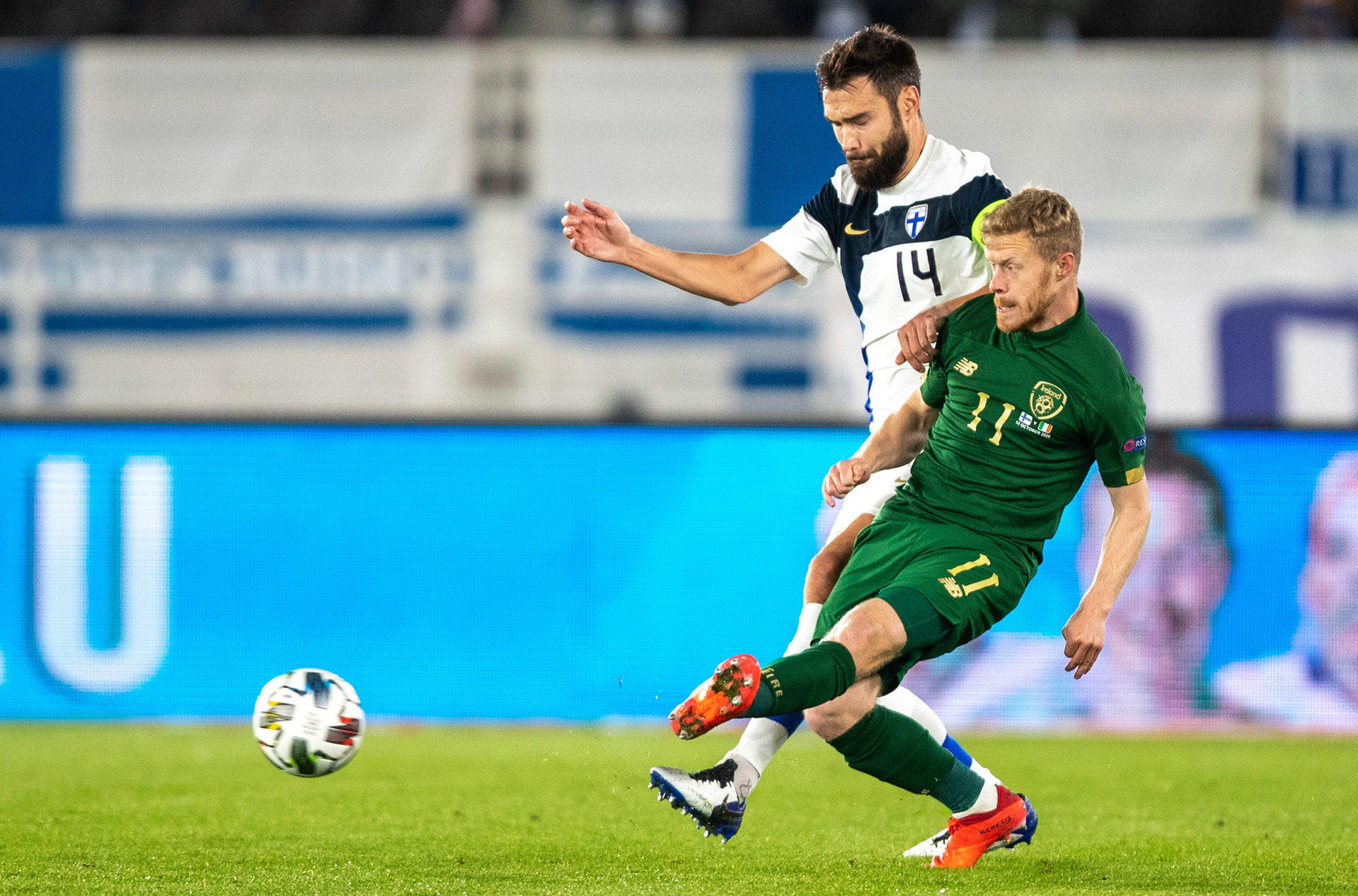 On the topic of Stephen Kenny getting his team playing 'pretty' possession football, King is adamant the Finns were better at it than Ireland.
"Finland were far better over the two games at playing possession football where it's most difficult, that's in the box and outside the box. Areas where it's crowded by opponents and your own players," asserted King.
"We got crosses, we got flick-ons and that sort of stuff, rather than creating chances in those areas. That will come I'd imagine.
"I just feel, it's about winning and it's very difficult to take, we've had five games and not had a win."
King also dismissed Richard Dunne's suggestion that Robbie Keane should not have been cast aside, as a "red herring."
Poor relation of sport
The expectation that Stephen Kenny's Ireland can compete by replicating a 'continental' style is not realistic, according to King.
"The harsh reality is the expectation for Ireland is massively, massively over-hyped. We're a small little country, we don't have a full-time professional league," King asserted.
"The facilities in Ireland are atrocious around the League of Ireland. We have ambitions from England rather than ambitions from Ireland, that's just the way we are.
"We're the poor relation of sport: League of Ireland soccer. The GAA, the rugby must be delighted at the moment, some, not them all, but one or two will be delighted we're struggling.
"I just find it sad."
King ultimately painted a depressing picture for Ireland fans about the level they can expect to compete at.
"You have to play with the hand of cards you're dealt, that's the most difficult part," said a pragmatic King.
"Look at Germany, they'd have four teams who would beat us. That's without exaggeration, I don't mean that in a bad way.
"The size of the country, the quality of their leagues, the number of clubs they have playing football, the number of players that they have is absolutely incredible." he concluded.
Download the brand new OffTheBall App in the Play Store & App Store right now! We've got you covered!
Subscribe to OffTheBall's YouTube channel for more videos, like us on Facebook or follow us on Twitter for the latest sporting news and content.