The Republic of Ireland manager who handed Stephen Hunt his first international appearance, the former Reading man revealed what it was like for the Irish players working under Steve Staunton. 
Bookended between Brian Kerr and Giovanni Trapattoni, Steve Staunton's 21-month reign in charge of Ireland is regrettably remembered for its low-points.
For Stephen Hunt, it was the start of an international career that would take him to the heights of the 2012 European Championships.
"He gave me my debut, so I'll not say a bad word about Steve," he declared on Friday's OTB AM.
"He always reminds me now, because he lives quite close to me in Birmingham, 'I gave you your debut, son.' I'm like, 'You did, but I was playing Premier League at the time, Steve.'"
"When you sit down and have a coffee with him he's very charming, but when he got in front of the Irish media it didn't happen."
He didn't have much charisma, but as a manager that happens. It could happen to anybody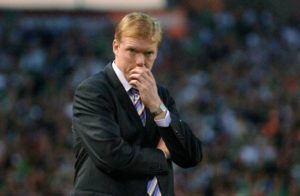 In a reassessment of Steve Staunton's tenure on OTB AM, Hunt explored a number of the managerial deficiencies that ultimately proved to be the inexperienced Staunton's downfall.
"Tactically, no he wasn't [on it]," admitted Hunt after much probing, "I'll stop beating around the bush, he wasn't.
"He didn't have much charisma, but as a manager that happens. It could happen to anybody.
"Putting yourself in a situation like that as an international manager, it isn't easy."
A situation that became clear to a number of those within Staunton's squad, Hunt, though a still a relatively new member of the set-up, was aware of the whispers going on.
"The back of the bus would be like, 'Jesus, what's Stan like now?!'," he recalled, "whisperers and all that, but from my point of view, I didn't care what he was like because he'd given me my debut.
"It wasn't ideal, but again, when I'm sitting down and having a coffee with him, he'll have a very constructive, detailed conversation about tactics and everything."
By comparison, Hunt's memories of Steve Staunton's successor are of one who was entirely assured of what he was doing.
"Trapattoni came in and said, 'This is what we're doing'," he explained, "he knew what he had to do and what had to be done to get us to be a success, and we were a success under Trap."
To watch Stephen Hunt's assessment of Staunton's reign in its entirety, click here. 
Download the brand new OffTheBall App in the Play Store & App Store right now! We've got you covered!
Subscribe to OffTheBall's YouTube channel for more videos, like us on Facebook or follow us on Twitter for the latest sporting news and content.