Stiliyan Petrov has spoken to OTB Sports about Celtic's reaction to his fight against acute leukaemia.
Petrov was diagnosed with the form of blood cancer in March 2012, after then club Aston Villa's 3-0 defeat to Arsenal at the Emirates.
It was the reaction of his former club Celtic that particularly struck a chord with the Bulgarian midfielder, who played for the Hoops for eight of their most decorated seasons. He recalled the situation during OTB Sport's UEFA Champions League Final preview night in association with Pepsi Max and Doritos.
"It was very emotional for me because I went through a very cruel treatment for three years. That was the first time that I faced people. I had to keep away from everyone. I had to be in total isolation which, for me, was very difficult. I wasn't looking myself.
"So when Celtic approached me to do the game, I was very skeptical about it. For me it was very difficult because I was probably 45 kilos over the weight that I was playing at. I didn't look myself at all and people hadn't seen me for a long time.
"I didn't know what to expect - it was very nervous for me. But when I stepped out onto the pitch and I saw 60,000 I said to myself: "I won't cry, I'll be strong" but I couldn't help it.
"It was great for the family because my family went through a lot. They had to give their life to save my life, they had to sacrifice so much for three years. So for them to get out there and to be given such support, it was great to see.
"I was very honoured that I played for such a special and incredible club."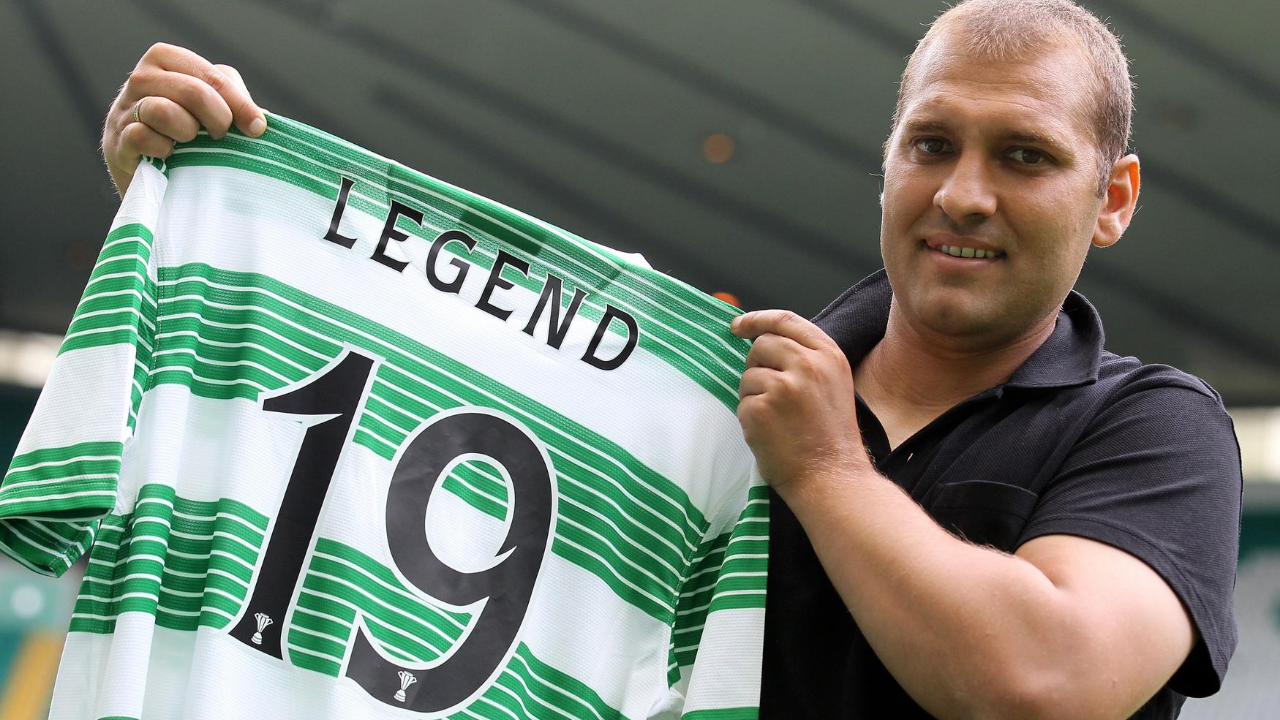 Stiliyan Petrov on cancer diagnosis
We were joined by the excellent @StanPetrov19 at our @PepsiMaxIreland roadshow | #ForTheBold #UCLisBack

— Off The Ball (@offtheball) August 21, 2020
Petrov spoke movingly about the experience of cancer treatment and its reverberations within his family.
"I have always been in the spotlight since I started playing, with my family around me; I have been the main man in the family.
"All of a sudden, I was hopeless. I couldn't do anything, I had to be in the hospital all the time with that brave mask as a good competitor. As always, I wanted to be the strong man, I had to wear that fake mask and show that I am still the dad, still the husband, still the man who looks after the family.
"So in that moment, I realised my family would have a great appreciation that I'm back, I'm still there and can still put on my boots and play 11-a-side football.
"For me, it was a special moment."
Check out OTB Sports UEFA Champions League Final preview across our social channels all weekend, in association with Pepsi Max and Doritos. It's Back, Get Ready #UCLisBack
Download the brand new OTB Sports App in the Play Store & App Store right now! We've got you covered!
Subscribe to Off The Ball's YouTube channel for more videos, like us on Facebook or follow us on Twitter for the latest sporting news and content.