Former Manchester United striker Teddy Sheringham considered his arrival at the club and how he dealt with Eric Cantona's legacy in conversation with OTB Sports. 
In circumstances few could have envisaged, Eric Cantona's professional career reached its conclusion in 1997. At 31, the Frenchman had just won his fourth Premier League title with Manchester United.
While European success had not been forthcoming during his five seasons with the club, he was widely regarded as indispensable during the club's ascent under Alex Ferguson.
A little over one month older than the retired Cantona, Teddy Sheringham's arrival would eventually coincide with Ferguson's team bridging that continental gap and United becoming one of the world's great sides.
An England international who had left Tottenham Hotspur to nominally replace Cantona and win trophies at Old Trafford, a player who would become synonymous with United's greatest season had to first endure a complicated arrival.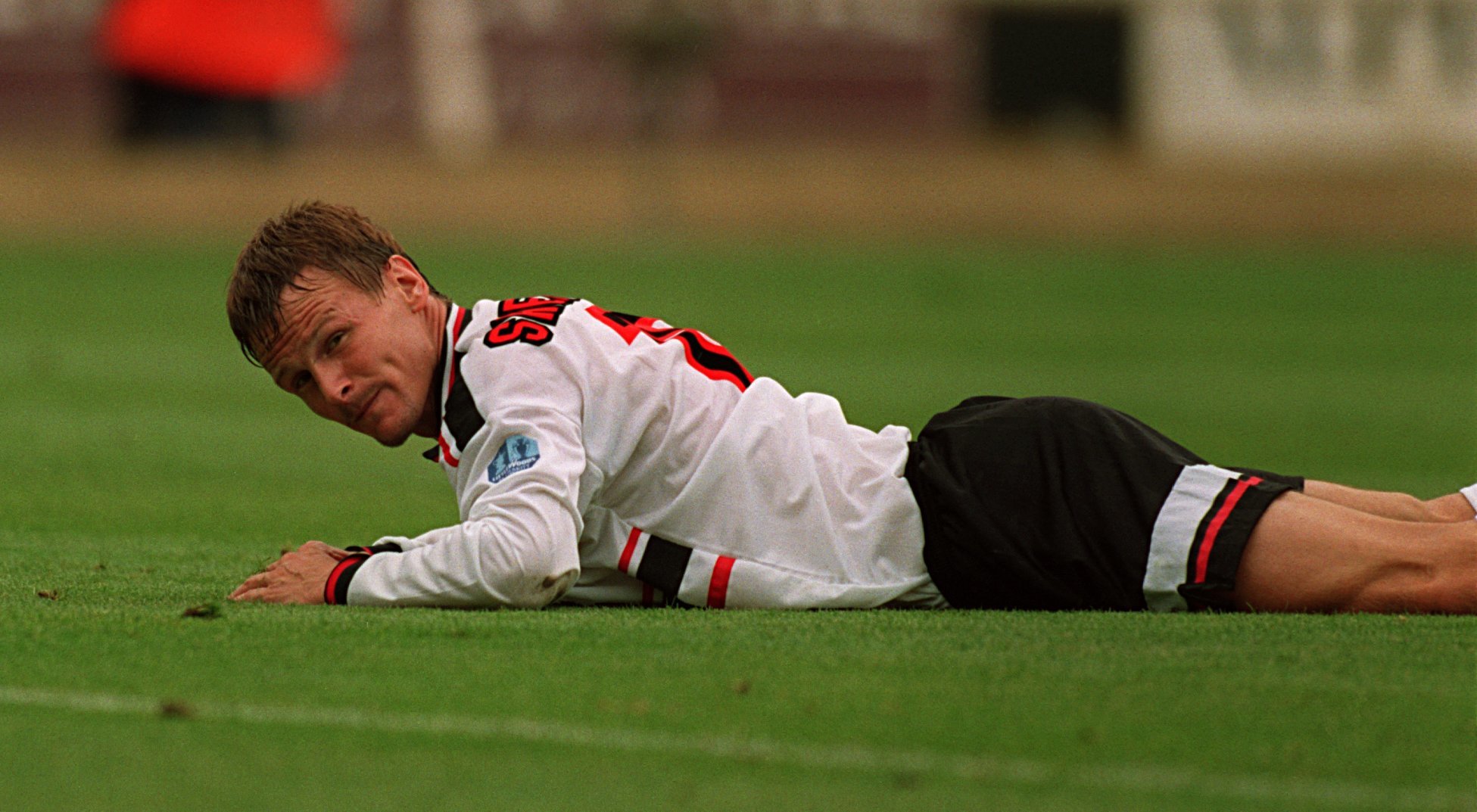 In his own way, Teddy Sheringham had a little bit of that Cantona flair in how he carried himself.
Arriving at Old Trafford 12 months before the final remnants of Ferguson's first great United team left, Sheringham, with 15 seasons behind him and an astonishing 11 to come, knew what he was about.
"Yeah, without a doubt I felt confident," reflected Sheringham on his arrival at Manchester United during OTB Sports' Cadbury FC remote roadshow.
"The best manager in the country, maybe even the world, wanted me to sign for this fantastic club, how could I not feel confident about that?"
One of England's stars in their run to a European Championships semi-final the year before, the prospect of replacing Eric Cantona - or anyone, for that matter - didn't bother him all that much.
"If you wanted you could look at it like, 'Woah, I'm replacing Eric Cantona, that's a big deal' and put extra pressure on myself," he admitted, "but I'd gotten into the England squad by kind of replacing Peter Beardsley, a fantastic player. I'd joined Tottenham replacing Gary Lineker.
"So, all those different moves you make throughout your career, you can put the pressure on or do you say, Terry Venables has picked me for Spurs, the England manager has put me in and Alex Ferguson wants me to play for his great club. Let's take the positives out of this."
Joined by former United teammate Gary Neville on this latest OTB Sports remote roadshow, the former full-back recalled his first impression of a positive Teddy Sheringham.
"It was the first time we'd ever seen a red Ferrari in Salford at the training ground," he explained, the then 22-year-old Neville one of many young players in the squad who had not necessarily been exposed to such luxuries yet.
"Scholesy and Butty wanted to key it, and Becks wanted to buy it."
Quick start, slow finish
Premier League winners four of the last five seasons before Sheringham's arrival, Ferguson's side had claimed FA Cup success in 1994 and 1996 to make them the country's outstanding football team.
In north London, however, the impact of Arsene Wenger's arrival in England would first reap dividends as Arsenal finished out the season with a league and cup double of their own.
The kind of first season that Sheringham had not anticipated, while United started the season well and were sitting top of the league well into 1998, Arsenal's ultimate success informed the opinion that what United had lost in Eric Cantona had not perhaps been replaced.
"I'd said I left Tottenham because I wanted to win things," noted Sheringham, "and we didn't win anything that first season.
"I think that does impact your confidence because you're going to Manchester United to win things. They're proven winners and want to win more.
"To go there saying that I wanted to win things and come out with nothing, it was a big knock to the confidence, yeah."
All told, Manchester United's case wasn't helped by a surprising poor run of luck on the injuries front, however.
"When we got to the crucial part of the season in early 1998," he recalled, "we had a relatively small squad [and it told].
"Roy Keane had already done his knee and he was out. Peter Schmeichel got a back injury. I think Giggsy injured his hamstring and Gary Pallister was injured as well. That was four big players all out at the same time.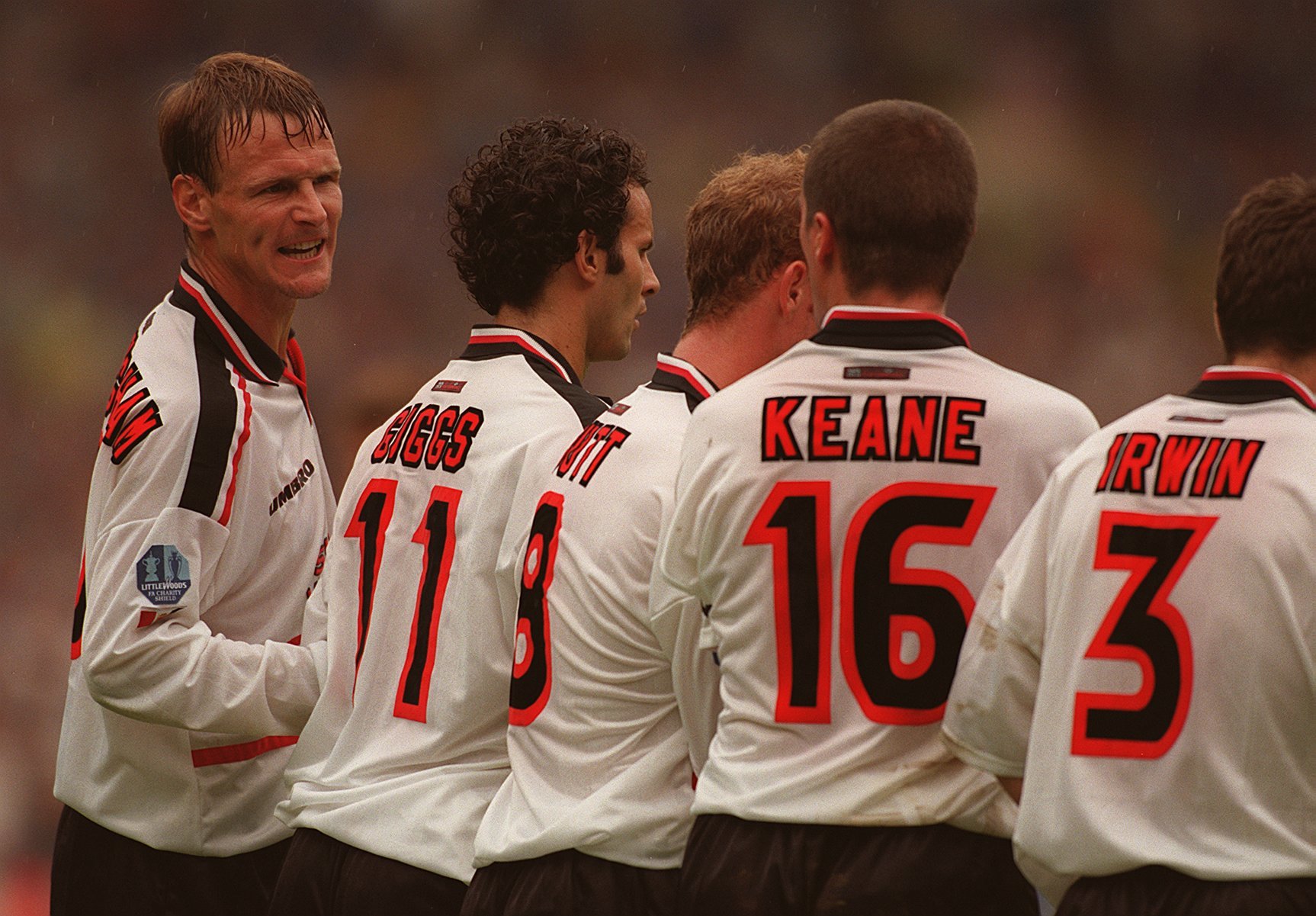 From the disappointment of 1997/98 came the determination upon which Manchester United's greatest season would take shape.
On a personal basis, though Sheringham had only played one season at the club he recognised immediately that things were about to get a good deal more serious.
"With Dwight Yorke coming in," he noted of United's £12.6 million signing in the summer of '98, "I knew my place was going to be under question.
"At the same time, I knew I'd signed a three-year deal with Manchester United and I wasn't about to throw my toys out of the pram and say I want to leave.
"I'd gone up there because I wanted to prove myself as a top player and play for the greatest club in the country, if not the world."
Throughout a season that saw United win the Premier League, FA Cup and Champions League, Sheringham, in competition with Yorke, Andy Cole and Ole Gunnar Solskjaer for a place among the forwards, made his contribution felt in decisive moment.
Famously the player who grabbed United's equalising goal in the Champions League final against Bayern Munich, he also scored the opening goal in a 2-0 defeat of Newcastle United in the cup final.
A Manchester United player for four seasons in total, he came to win trophies and did just that.
Keep an eye out across our social channels for the full interview with Manchester United legends Gary Neville and Teddy Sheringham in association with Cadbury FC in the coming days.
Download the brand new OffTheBall App in the Play Store & App Store right now! We've got you covered!
Subscribe to OffTheBall's YouTube channel for more videos, like us on Facebook or follow us on Twitter for the latest sporting news and content.