Chelsea beat Tottenham 3-0 despite not having an attempt on goal through the first half.
Tottenham ran the game during the first half.
It was the Tanguy Ndombele show as he ran the midfield, overwhelming Jorginho and Mateo Kovacic. The energy that Nuno Esperito Santos' team played with deserved a goal. Their best chances fell to Sergio Reguilon and Heung-Min Son. Both players were wasteful.
Chelsea weren't wasteful when their opportunities came. A smart substitution at halftime from Thomas Tuchel put N'Golo Kante on the field. Kante changed the battle in the middle of the field and Chelsea ran away with the game.
Tottenham
Hugo Lloris 6.5
Lloris wasn't at fault for any of the goals and made every save he could have. He was solid under high balls and had good distribution throughout.
Emerson Royal 4.5
Royal will look back on this game as an imbalanced performance. He was unimpactful with the ball during the first half when Tottenham were on top but did make a number of key interceptions at important moments in defence.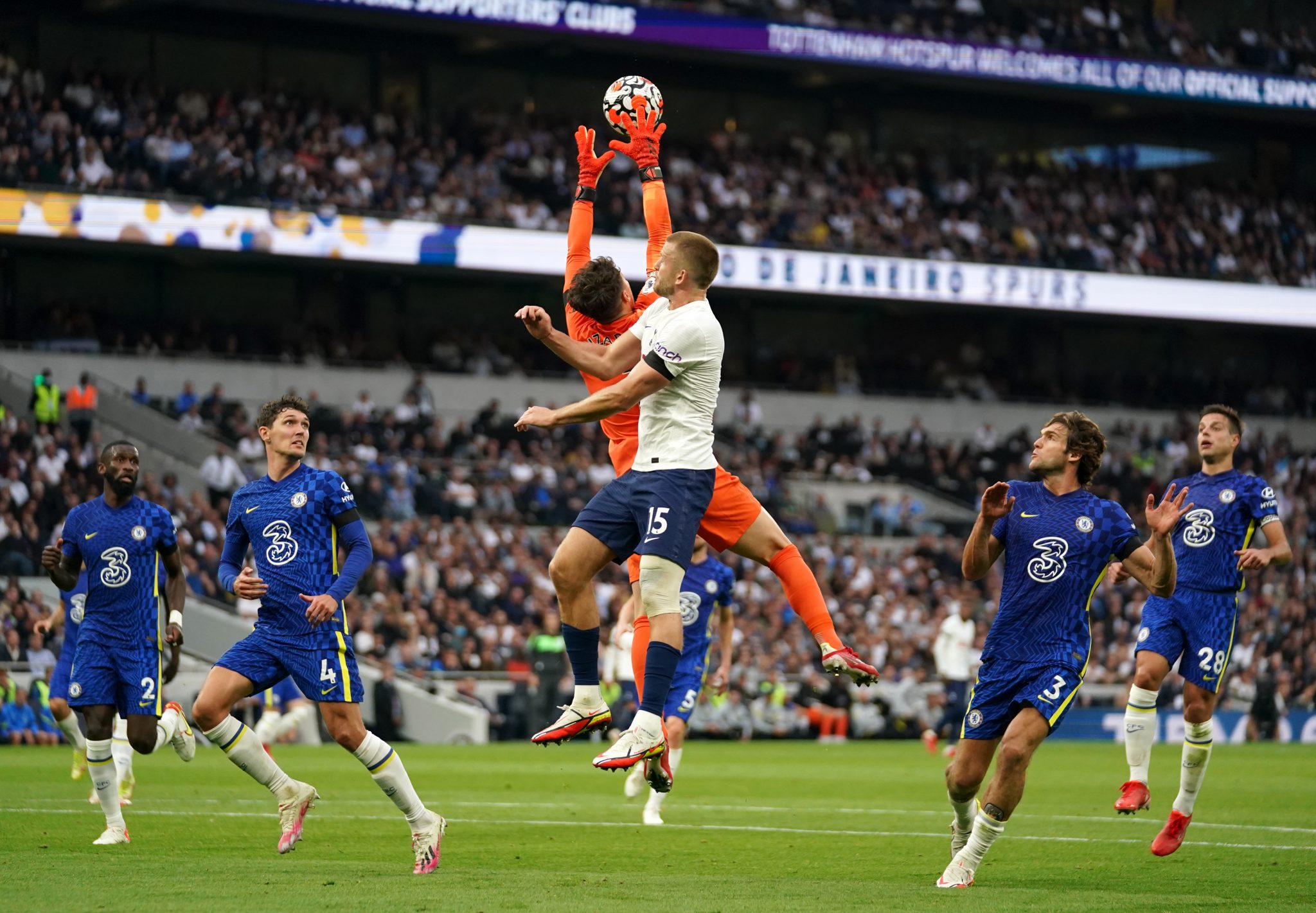 Eric Dier 5.5
Dier was unlucky in this game. He mostly played well and matched Romelu Lukaku's physicality. Only once during the first half did he get caught out of position when he followed the striker too deep into opposition territory and Chelsea set up a break in behind him. He was then unfortunate as N'Golo Kante's shot ricocheted off him to go in off the post.
Surpassed those two moments, he was solid in defence throughout.
Christian Romero 6 (subbed off 83')
When you're making your first start at centre back and you concede two goals (the third came after he was substituted), it would be a fair assumption to say it didn't go well. But Romero was largely faultless throughout this game. He and Eric Dier marshalled Romelu Lukaku so that the striker had minimal impact on the game.
Sergio Reguilon 4
Reguilon made a handful of mistakes with and without the ball in this game. His biggest error came very early when he was played in on goal by Son but looked for the cross instead of having the confidence to drive at the keeper when it was on. That one opportunity could have changed the course of the game.
Pierre Emile Hojbjerg 5
It was a display that has become typical of the Tottenham midfielder during the first half. He broke up play and played the simple pass to retain possession. He had more than one misplaced touch during the game and his impact faded away when Chelsea took over in the second half.
Giovani Lo Celso 5.5 (subbed off 61')
The quietest Tottenham player on the field. Lo Celso didn't have a bad game but it mostly passed him by. He pressed well and held the shape of the team. He did play Son in for a great chance in the first half after being found in the hole by Ndombele but Son couldn't finish to give him the assist.
Tanguay Ndombele 8 (subbed off 61')
This is the type of performance Tottenham have been expecting from Ndombele since he became their record signing. He was everywhere in the first half. He drove the team forward early to create a shooting opportunity for Son, showed off great footwork in tight spaces and was consistently first to the ball.
He was the main reason that Tottenham were able to dominate the first half as Mateo Kovacic and Jorginho were completely overwhelmed. He notably tired at the start of the second half.
Dele Alli 5
For most of the game, Alli shared space with Harry Kane because the striker kept dropping into his area. They linked up very well to pull Chelsea defenders and midfielders out of position. That created space for their teammates to attack. Alli was impressive with the ball and as part of Tottenham's press.
The only major negative he had was losing Silva at the corner for Chelsea's opening goal.
Heung-Min Son 5.5
Although lively throughout the first half, Son's biggest impact on this game was missing a one-on-one when he pulled out before the keeper arrived. He did play Reguilon in from the halfway line for what should have been an assist and he linked up well to set up Harry Kane for a long-range strike but never had the impact his presence promised.
Harry Kane 5
Kane dropped deep throughout the game as Tottenham attempted to isolate Son with Thiago Silva. He didn't cut open the defence with a through ball at any point but was consistently involved in some of Tottenham's best link-up play in tight areas. Like many of his teammates, his energy and impact faded in the second half.
Substitutes
Bryan Gil 4.5 (subbed on 61')
Gil had one opportunity on the ball when he drove at the defence from midfield but played a poor ball out wide to Kane before running himself offside. It was a tall task asking him to come on and redirect the outcome of this game.
Oliver Skipp 4 (subbed on 61')
Chelsea had taken over the midfield by the time Skipp came on. He couldn't match the impact that Ndombele had in the first half as his energy and physicality never stood out.
Davison Sanchez (subbed on 83')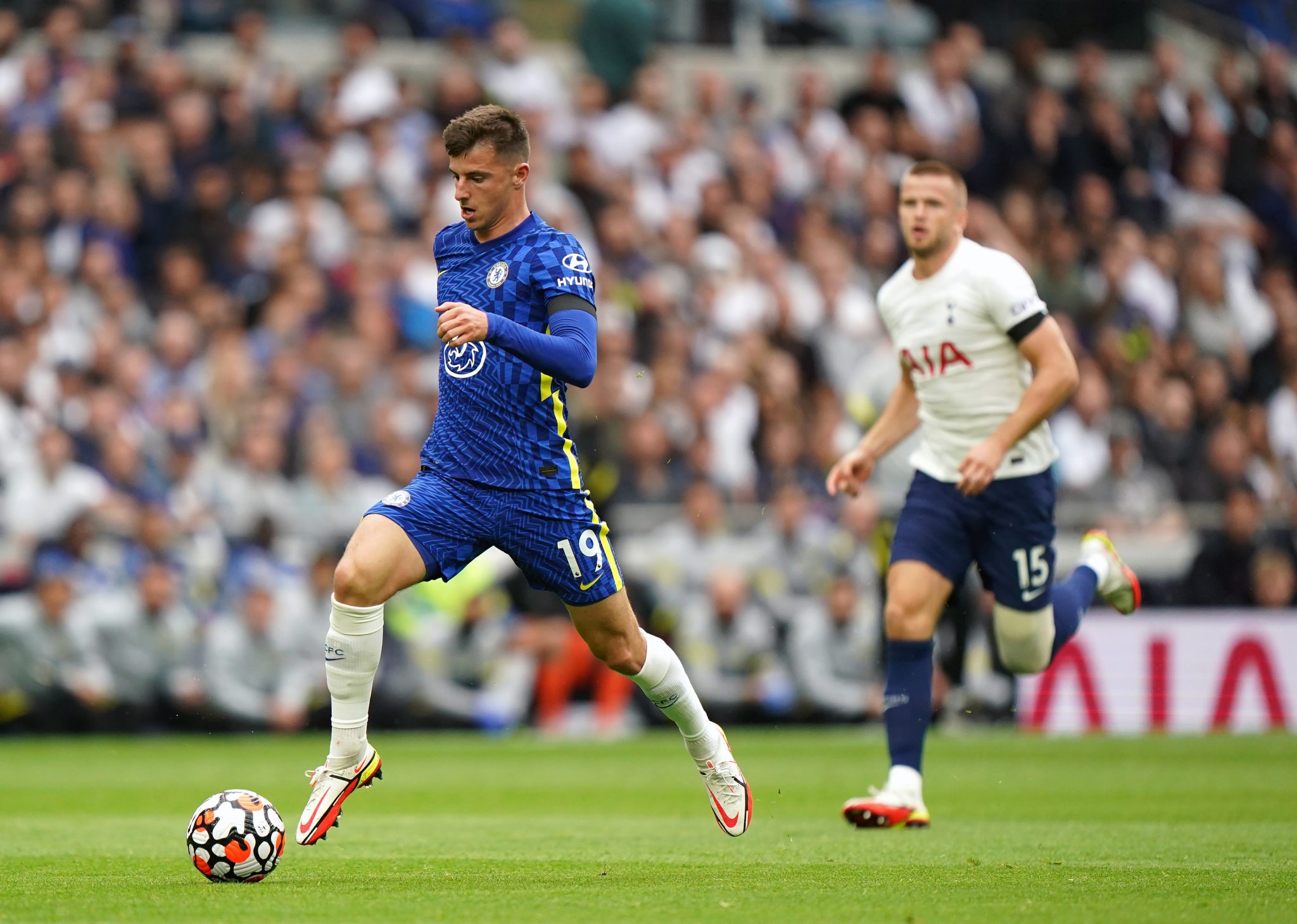 Chelsea
Kepa Arrizabalaga 4
Kepa looked nervous against Tottenham's press when he had the ball at his feet then fumbled a cross midway through the first half. He was very fortunate that there was no Tottenham attacker waiting to prod the ball into the back of the net. Chelsea need their first choice keeper back as soon as possible.
Andreas Christensen 6.5
Consistently good in defence and offered Chelsea an outlet going forward when the midfield wasn't having an impact at different points.
Thiago Silva 7
Tottenham clearly targeted Thiago Silva by standing Son on him throughout the game. While obviously overmatched physically, Silva did enough to not become a liability in defence. Son created some openings and had chances of his own but it was Silva who scored the opening goal when he lost Alli at a corner.
Antonio Rudiger 6.5
Chelsea's back three were challenged by Tottenham's alignment. The space they were forced to play in meant that there was a consistent threat but each of them handled their assigned attackers well. Rudiger misplaced a pass or two but otherwise didn't put a foot wrong.
Cesar Azpilicueta 6
Because Tottenham's strategy meant they were pressuring the centre backs of Chelsea, Azpilicueta found himself without a direct defender to match up to on the wing. He took up good positioning to protect his teammates as best he could and ambled forward when opportunities arose throughout.
Mateo Kovacic 4
He was run ragged in the first half by Ndombele and the rest of the Tottenham midfield. It was a surprise that he wasn't taken off at halftime and although he was better in the second half, he still wasn't particularly impressive. Even when Chelsea were on top he wasted a great chance at the very end of the game.
Jorginho 4
Jorginho was rash at the beginning of the game, giving away a needless foul to set up a dangerous free-kick that Kane hit into the wall. He gave away the ball quite a few times during the first half and couldn't match the pace of those running around him in the middle of the field throughout.
Marcus Alonso 7
Although his impact wasn't always positive, Alonso was one of the few Chelsea players who matched the physicality and intensity of Tottenham. He sometimes overexerted himself to give away fouls or take himself out of the play, but he did have two outstanding crosses in the first half and two good shots on goal in the second half.
He managed to consistently find his way into the box despite playing left wing-back.
Kai Havertz 6.5 (subbed off 70')
Havertz was Chelsea's best outlet for most of this game as Mount and Lukaku struggled to gain possession high upfield. His running in behind almost created an opening in the opening minutes and his ability to link up play or retain possession gave Chelsea some escape. He did well with what he got despite not being heavily involved in the game.
Romelu Lukaku 5.5
One chance came Lukaku's way during the final minutes when his header was comfortably saved by Lloris. He battled with the Tottenham central defenders throughout but couldn't overwhelm them physically. Balls played up to him were scarce and well contested when they arrived. Only once Chelsea were 2-0 up did he have any chances to play in space and set up chances for his teammates.
Mason Mount 4 (subbed off 45')
Because of the way both teams set up, Mount spent much of his time on the right side of the field. He wasn't central so he couldn't force his way into the game while Kovacic and Jorginho couldn't bring him into the game. He had minimal possession and did little with what he did have so couldn't complain when taken off at halftime.
Substitutes
N'Golo Kante 7.5 (subbed on 45')
As he's wont to do, Kante came on the field and immediately changed the game. He won the ball high upfield to win the corner that eventually led to Thiago Silva's opening goal. The second goal started with Kante too as it was his deflected shot from range that rebounded in off the post. The goals themselves were byproducts of an improved Chelsea performance in the second half.
The improved Chelsea performance was a byproduct of Kante being on the field.
Timo Werner 6 (subbed off 70')
Werner tried to stretch the Tottenham defence when he came on and nearly broke in behind but his big impact came at the end of the game when he worked down the right side to set up Antonio Rudiger for Chelsea's third goal.
Listen to live Premier League games every week on the OTB App, Newstalk and otbsports.com.
Download the brand new OffTheBall App in the Play Store & App Store right now! We've got you covered!
Subscribe to OffTheBall's YouTube channel for more videos, like us on Facebook or follow us on Twitter for the latest sporting news and content.