Stephanie Roche joined the Football Show on Off The Ball where she looked at the progress the Irish team has made under Vera Pauw.
The Republic of Ireland lost 3-0 to Germany at the weekend but Roche thought there were many positives to be taken from the performance, even if they appeared to be errors at the time.
"At one stage Leanne Kiernan had the ball inside her own half and she tried to pass it, recalled Roche.
"Now it nearly ended up as a through ball for the Germans, but I was in commentary and said it was a positive.
"It meant she wasn't just knocking it back to Aine to lump it up the pitch. It was trying to keep the ball and play our style of football.
"That's important, particularly going into the likes of the Ukraine, Greece, and Montenegro. I think we need to be able to play football and keep the ball."
Even in defeat, these are signs to Roche that the team under Vera Pauw is going the right way.
"That is something that Vera Pauw has brought. We've seen in her interviews she's realistic. She knows where we are at and knows the capabilities within our team.
"She's definitely improved how we try to play and she has brought that positivity to our forward play."
We want to play football
While Pauw isn't the first to try get the team to play in a more continental style, the Peamount player says it's the conviction she has that makes the difference.
"When Colin Bell came in he tried to do that as well," remembered Roche.
"He would have been more about trying to get us set up defensively and then working our way up the pitch.
"I remember one of her first meetings with the team it was like 'we want to play football, we don't want to kick the ball away and then defend.'
"Even for the girls mentally, that's what we wanted to hear. We have players who can play football."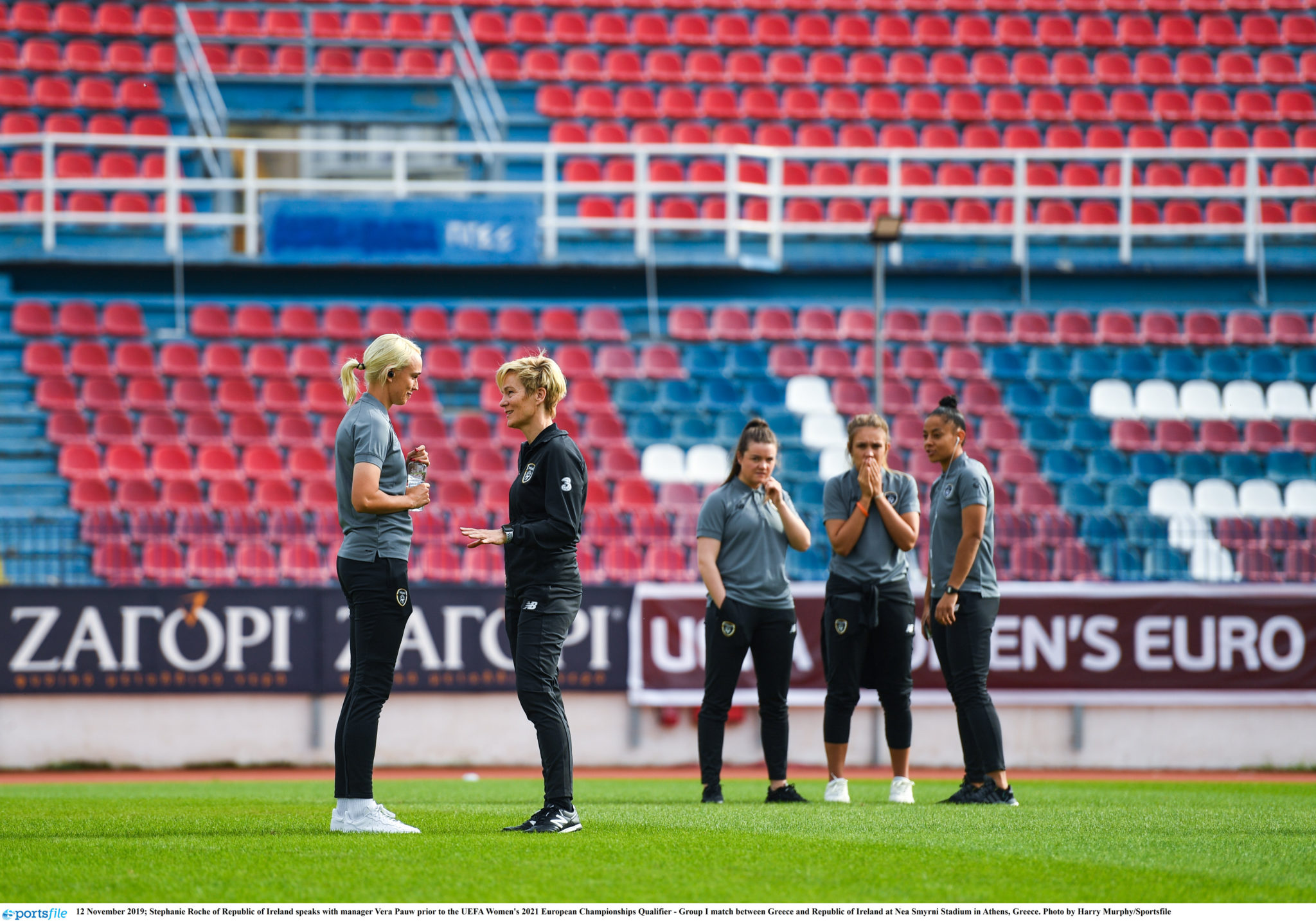 "If you look at the three that were in midfield against the Germans. They are three ball-playing midfielders.
"They worked their arses off in that game and did all they could to try and stop Germany play but when we come up against other teams they are the ones we want to get on the ball and play.
"That's something that has been encouraged over the years but it's a different thing to encourage you and then when it comes to a game maybe panic and say 'get rid of it.'
"Whereas now Vera has that calmness to get the girls to keep the ball and be confident on it."
Download the brand new OffTheBall App in the Play Store & App Store right now! We've got you covered!
Subscribe to OffTheBall's YouTube channel for more videos, like us on Facebook or follow us on Twitter for the latest sporting news and content.