After at least 20 recorded attacks and incessant verbal abuse, this season has been one of the worst ever recorded for Irish grassroots referees, but those involved with the game are hopeful of change.
In November, referee Daniel Sweeney underwent a five-hour surgery with a fractured eye socket, his jaw broken in two places and his face lacerated. He was attacked following an amateur football game between Horseleap United and Mullingar Town.
Four men, three Mullingar Town players and one spectator, had waited after the match and severely beat Sweeney as he returned to the car park beside the game's pitch.
National media coverage brought the story to the forefront on both the front and back pages.
The extensive coverage triggered a public outcry against what many thought was a horrifying but rare case of violence against an amateur level referee in Ireland.
In the past four to five years the problem has completely spiralled.
However, while the extremity of the incident was unprecedented, as an attack on an amateur level referee it was not rare.
In fact, there were 18 more attacks in the next 23 weeks against referees in Ireland. According to those involved with grassroots football in Ireland, the number of attacks, while still few compared to how many matches are played each week, is representative of dwindling respect for amateur referees in the sport.
While the Sweeney attackers received exemplary and heavily publicised bans of 40 years led by the FAI, other attackers have received far lesser bans.
In March, another attack on a referee made national headlines. In the 70th minute of a game between Ballagh United and Gorey Celtic, the last game of the season with nothing on the line for either team, referee Michael Comiskey was physically tackled and wrestled to the ground by a player from Ballagh United.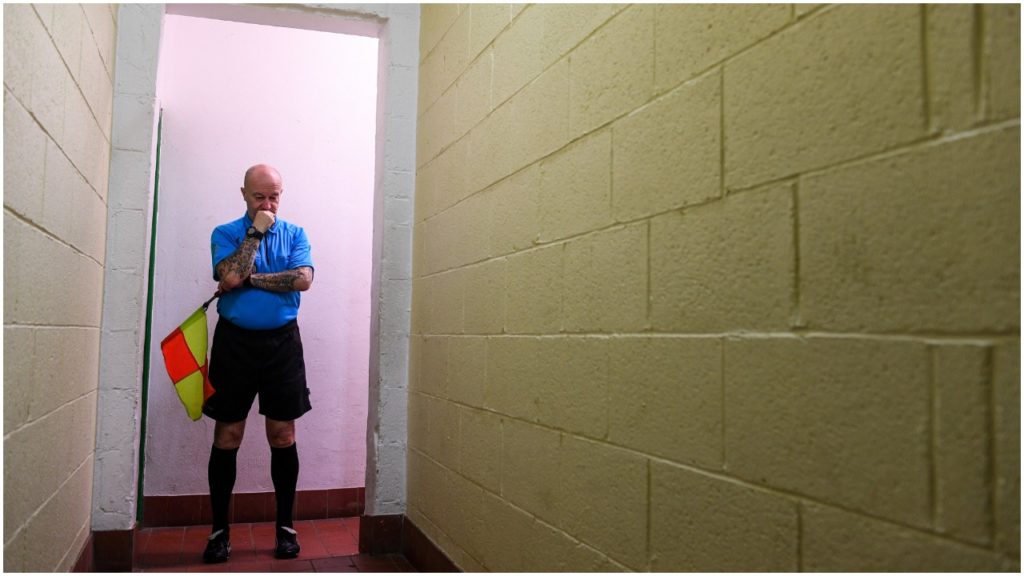 The attack, 23 weeks after the hospitalization of Daniel Sweeney, was just the second to receive any level of media coverage for an issue that has been described by Irish Soccer Referees Society (ISRS) President Paul O'Brien as an "epidemic".
Speaking to Off The Ball, head of the Dublin branch of the ISRS, Seán Slattery, agreed that the last 15 months had probably been the worst period of violence against referees in Dublin in his 24 years of experience.
Across 11 incidents in the 15 month period, referees in Dublin have been headbutt, punched in the back of the head, forced to the ground and struck in the chest. In one case, referee Eric Silva was both physically assaulted and racially abused in a Leinster Senior League (LSL) game between Montpellier FC and Beechwood CYM.
Two players from Montpellier FC received bans. One received a playing ban for racial abuse while the other got a year-long suspension from all footballing activity for assault.
It's absolutely shocking and it's a cancer on the game.
Under the new FAI Disciplinary Control Unit, all bans for assaults on referees will be for all footballing activity. However, in reality, a ban from all footballing activity is very difficult to enforce without the help of the club involved.
For example, Montpellier's player banned from all football activity simply moved from the pitch to the sideline, donning a club tracksuit, seemingly taking up a coaching role in the process.
When contacted by Off The Ball to enquire why the ban was not being respected club representative, Mark Fitzgerald, said he could not comment on individual cases citing Europe's GDPR law.
Speaking to those who have been involved with the game at grassroots level, almost all agree that the attitude towards referees has got worse.
President of the ISRS, Paul O'Brien, says that in the last four to five years the problem has "completely spiralled".
While the increase of violence is an alarming and significant trend over recent seasons, hundreds if not thousands of games are played every week without any violence. The issue raised by most referees as more pertinent is the consistent presence of verbal abuse.
Some players think they can call them anything they want.
Vice-Chairman of the Leinster Senior League Tony Kearney describes the current attitude by some towards referees as "absolutely shocking" and a "cancer on the game".
"I refereed myself for 25 years and you had issues. We always had the odd fella would pass a comment to you, after he was sent off in particular, but it's gone so bad now."
"We sit down and the referee reports are coming in and it's open season now when a referee shows a red card. Some players think they can call them anything they want."
Harry McCann, a 20-year-old referee in the Kildare and District Football League, took to Twitter in March to detail some of the verbal abuse he received during and after abandoning an U15 football game.
The abuse, which began over the position of a throw-in, saw a player attempt to charge at McCann. McCann was also called a "fucking faggot" by a player and a "fucking cabbage" by one side's manager. Two other parents said they would meet him in the car park after the game.
One of the biggest issues according to McCann is that those on the sideline are not willing to call out abusive behaviour when it is in the confines of a football match.
When McCann sent off a player for abusive language after the game had already been abandoned, the reaction of parents, he says, "was: 'The game is already over why are you sending him off?'"
You're just hoping that it will work and common sense will prevail.
When asked by Off The Ball why some people who may be upstanding members of society during the week can then resort to abusing and threatening referees on a weekend, sports psychologist Canice Kennedy notes that a primary reason is that verbal abuse has become accepted in the culture of the sport.
"People behave in different ways in different situations", he explains.
"We adapt our behaviour by our surroundings and who we are with. Sport has what I call 'the perfect storm'. The mix of all these emotions of excitement, of stress, of anxiety have an effect and as a result, our normal behaviours become stretched."
Kennedy also points out that, simply, the rules of football have typically not done enough to eradicate abusive behaviour. In rugby, frees can be moved forward for dissent, in addition, other sports have sin bins, black cards and harsher zero-tolerance policies.
This year, as a part of the process to protect referees after the Daniel Sweeney attack, new rules have been introduced including harsher sanctions on players who verbally abuse referees - a minimum of three games.
The genuine hope is to reinstate unquestionable respect for referees and to create an environment where referees will remain involved in the game. In recent years there have been problems maintaining refereeing numbers. For example, from a batch of 20 beginner referees that began in the LSL 18 months ago, 14 did not continue refereeing for longer than a year.
"I have no doubt that [abuse] is what's caused it", Kearney says. "A referee instead of looking forward to their match is saying 'I'm not going through that again' because the good goes out of it."
Kearney is representative of a hope amongst leagues and referees that these new rules and harsher sanctions against those who abuse referees will finally be the solution to the problem that has plagued the game in recent seasons.
"You're just hoping that it will work and common sense will prevail because this has to stop."
Subscribe to Off The Ball's YouTube channel for more videos, like us on Facebook or follow us on Twitter for the latest sporting news and content.