The Erling Haaland sweepstakes are heating up. Barcelona and Real Madrid are extremely interested in Haaland, however, outside circumstances may see them lose out, according to Graham Hunter.
Hunter joined Thursday's OTBAM to discuss the prolific Norwegian's future and the ties linking him with a move to Spain.
Both clubs met with Haaland's representatives last week.
As Mino Raiola and Alf-Inge Haaland touched down in Barcelona El Prat airport, they were reportedly whisked to the Camp Nou by aides of Joan Laporta, Barcelona's recently re-appointed president.
Laporta is "completely obsessed" with luring Haaland to Barcelona, according to Hunter, but are they in a position to bring him to the club without doing further damage to their finances?
"My understanding is Joan Laporta, understandably, is completely obsessed with buying Haaland," Hunter said.
"People will immediately point to the ridiculous debt at €1 billion globally that Barcelona have imposed upon themselves by their stupidity.
"The debt picture is horrendous but Laporta will attract new money, new credit. Therefore, he is placed in the position of thinking although he bears no physical resemblance, is this the next Lionel Messi or Cristiano Ronaldo?
"If so, do you grab him at any cost?"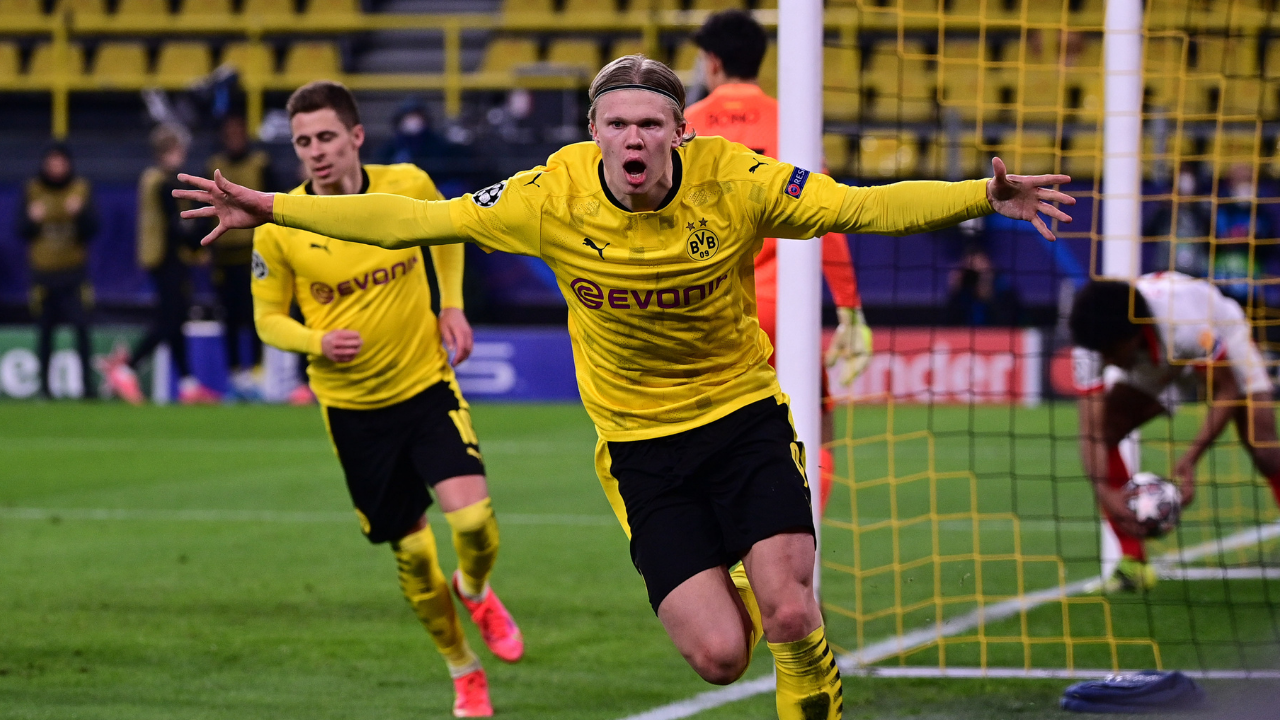 One thing working in the favour of Barcelona and Real Madrid is the style of football Haaland would experience in Spain.
Miguel Delaney, who spoke on Tuesday's Off The Ball, believes that Haaland's career could be extended by avoiding England at this juncture.
"If you are at one of the big two in Spain it is a more forgiving league than the Premier League," Delaney said.
"Certainly the schedule is not as intense for one thing."
It remains to be seen whether that will be a determining factor when Haaland does make his decision.
For Real Madrid, the finances are also a roadblock.
The club are currently completely restructuring the Santiago Bernabeu, however, there is another reason why they may not move for Haaland, according to Hunter.
It comes in the form of one mercurial Frenchman, Kylian Mbappe, who once again lit up Europe with another dazzling performance for PSG against Bayern Munich on Wednesday.
"Their objective was Mbappe. Without question," Hunter said.
"He came and trained at Real Madrid [before moving to PSG], he idolises Zidane. He told Madrid a couple of years ago when leaving Monaco, I will sign for you if you get rid of one of Gareth Bale, Ronaldo or Karim Benzema.
"Madrid did not [do that] and Mbappe did not sign for them. They regret that obviously.
"They are looking at Haaland and going 'we kind of want you if we do not get Mbappe', but not quite that bluntly, which is not a great message to be giving out to anybody.
"So at the moment we do not know where Haaland is going."
With Dortmund looking increasingly likely to miss out on Champions League football after a devastating loss to Eintracht Frankfurt last weekend, there is an increasing likelihood that Haaland may be on the move this summer.
If he and Mbappe did sign for Barcelona and Real Madrid respectively, we could see two of European football's young superstars competing directly opposite one another on at least two occasions next season in El Clasico.
The latest instalment of Barcelona's storied rivalry with Real Madrid takes place this Saturday at 8 PM and with the La Liga title race bursting into life it is shaping up to be one of the most exciting clashes between the two in recent memory.
Download the brand new OffTheBall App in the Play Store & App Store right now! We've got you covered!
Subscribe to OffTheBall's YouTube channel for more videos, like us on Facebook or follow us on Twitter for the latest sporting news and content.