Frequent opponent and occasional teammate, Kieran Donaghy shared his insight into the sustained importance of Stephen Cluxton in Jim Gavin's Dublin set-up.
As yet absent during Dublin's indifferent start to the National Football League, only one win in three games has certain viewers speculating as to whether the reigning All-Ireland winners are overly reliant on the 37-year-old.
"It's just the effect he has ," Donaghy stated on Thursday's OTB AM.
"You look at how good he has been for so long in this Dublin team, and Evan Comerford is a great, solid goalkeeper, but when you try to compare solid with how good Stephen Cluxton has been for Dublin, I don't think there's ever been a player and maybe never a player again that runs a team like he does."
He's always keeping fellas on their toes, not really roaring and shouting or bellowing non-stop, but he is making sure they're doing their jobs.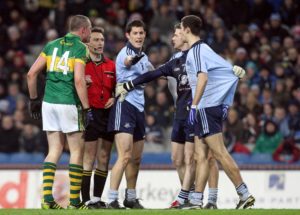 Attempting to clarify the importance of Cluxton in Dublin's recent success, Kieran Donaghy was forced to look further afield for a suitable comparison.
"You talk about Tom Brady with the New England Patriots," Donaghy noted in reference to the recent Super Bowl winner.
"How stable himself and [Bill] Belichick have been, you've a feeling if Jim Gavin came in at the exact same time as Stephen Cluxton, you'd have that dynamic.
"[Cluxton] is the quarter-back of the team, he runs them, and just in Tralee on Saturday night, they just missed him.
"If Cluxton played on Saturday night, Dublin would probably win by a point or two."
A realistion that leaves Donaghy wondering how Gavin's side may fare in the latter rounds of this year's Championship should Cluxton be unavailable, the former inter-county Kerry star discussed his personal experiences with the Parnells man.
"He's just such a great communicator," Donaghy noted.
"I played with him in the international rules, and he'd be very quiet, obviously doing no media or any of that.
"As a teammate, he would be very direct in meetings.
"Playing against him, he's always keeping fellas on their toes, not really roaring and shouting or bellowing non-stop, but he is keeping everybody on their toes and making sure they're doing their jobs."
To the question that his absence in the NFL would perhaps signify any surprise departure from the inter-county scene, Kieran Donaghy was having none of it: "I think Cluxton will be giving his kicking-leg a bit of a break, but ya, he's going nowhere."
Subscribe to Off The Ball's YouTube channel for more videos, like us on Facebook or follow us on Twitter for the latest sporting news and content.