Former Irish internationals Nora Stapleton, Fiona Hayes and Alison Miller relived the historic Six Nations campaign in which they won their first and only Grand Slam.
It was the first Championship that Ireland had ever won, as well as their first Triple Crown, marking 2013 as one of the most historic years in Irish rugby.
Captained by Fiona Coghlan, Ireland beat Wales 12-10 in their opening encounter before taking down England 25-0 in the second week.
They then earned a massive 30-3 victory over Scotland away, securing the Triple Crown and setting up a situation where they could win the Championship in the penultimate week of the campaign.
They would do just that with a 15-10 victory over France, after Italy failed to beat England. This meant that Ireland went into the final match of the campaign against Italy knowing that history had already been made.
However, Italy did all they could to spoil the Grand Slam dream, with two Niamh Briggs penalties being the only points Ireland would score in their 6-3 victory.
Miller, Hayes and Stapleton recalled some of the small and key moments throughout the campaign that, if they had gone another way, would have meant that history would have been very different. One such moment for Miller came against France.
"I remember we conceded a really soft try in the first half," Miller said. "I remember there was a ruck, and the 15 picked and went around the blind side of the ruck and ran in a try.
"I remember thinking it was the softest try and then they kind of got up on us. Then in the second half there was a very strong wind.
"Their 10 put a kick in and I went up to try and catch it GAA-style. It kind of caught the wind and ended up going over my head.
"[Niamh] Briggs was trying to come across, so the winger got on it. Well, she didn't get on it, it was kind of bobbling, and I was sprinting back.
"Just as she was about to ground it I was able to kick it away with my big toe and just moved it a slight inch and she couldn't touch down. If she scored that try, we wouldn't be standing here talking about the Grand Slam."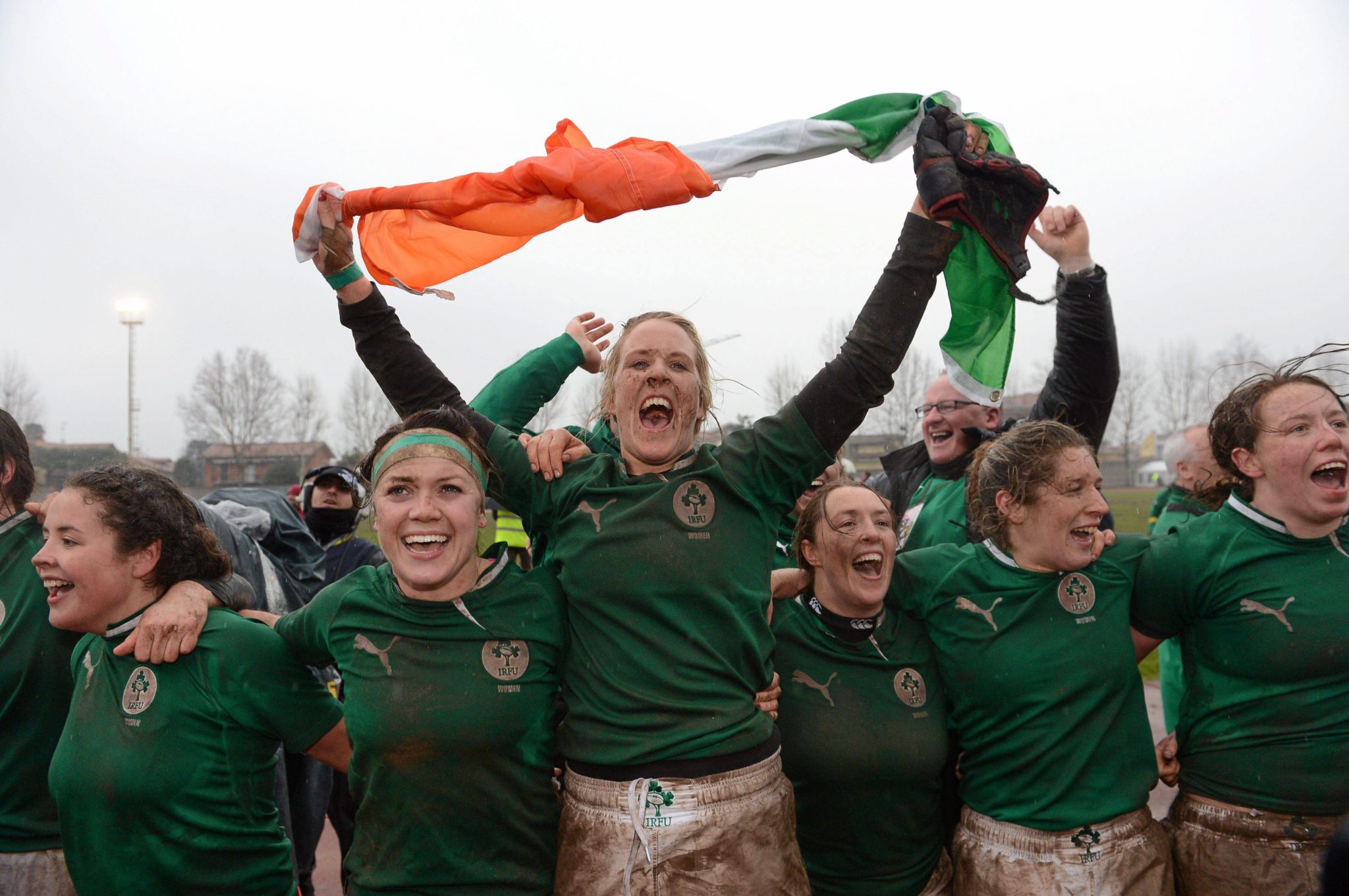 Joy Neville's last minute turnover
While Ireland knew that they had already won a Triple Crown and the Championship, they still had the Grand Slam in focus against Italy.
However, in the dying minutes of the match, Italy seemed like they would get the score they needed to ruin the Irish party. That was until Irish umber eight Neville got her hands on the ball.
"She went for it before that as well," Stapleton said. "She went to try and win the ball before, and I don't know if she was blasted out of it.
"The whole time Fi Coghlan was in everybody's ear: 'Don't give away a penalty!' Just screaming. So, we were all very much on the same wavelength.
"It was probably Italy's last attack of the game, one or two minutes of the game, and then you see Joy put her head in and put her hands on the ball.
"I was just like, 'Oh, she's messed it up!'"
"Then the referee's hand went up," Hayes added. "I remember panicking, thinking, 'What way is this going?'" Miller said.
"We felt like that was the moment of the game," Hayes said. "We knew it wasn't over, but we knew Briggsy had a big boot."
When the final whistle blew and Ireland were officially crowned Grand Slam champions, Hayes recalled the emotion around her on the pitch.
"It was definitely the more senior players that you could kind of see relief in their faces," Hayes said. "I was like, 'This is normal, this is my first year! Winning is just too easy!'
"You could see the relief in Joy [Neville], Lynne [Cantwell], Fi Coghlan. There were tears! It was just raw emotion."
The Women's Six Nations on OTB Sports, in association with Vodafone.
Proudly supporting the Irish women's rugby team.
Download the brand new OffTheBall App in the Play Store & App Store right now! We've got you covered!
Subscribe to OffTheBall's YouTube channel for more videos, like us on Facebook or follow us on Twitter for the latest sporting news and content.