Irish rugby legend Sophie Spence has enjoyed a fast-track career, first as a player, and now as an international coach, being involved with the Welsh women's team.
Spence came to rugby at the late age of 21, having not even so much as watched international women's rugby before heading to university.
From first lacing up a pair of rugby boots at 21-years-old to making her international debut against Wales at the age of 25, Spence has been no stranger to a fast-pace rise in international rugby.
The same can be said of her career as a top-quality coach. Aside from coaching Welsh Division One West team Penclawdd RFC, Spence is a World Rugby coaching intern with the Welsh national women's team.
The position with Wales is set up to increase the number of women in high performance across the world of rugby.
Speaking to Valerie Wheeler on Off The Ball in association with Guinness, Spence detailed how she got involved not only with international coaching, but also in being the head coach of a men's team as well.
"It has come to me a lot earlier than expected," Spence said. "It is something that I have wanted to continue.
"They had a number of people that they were looking for and during the summer I had started the WRU player-to-coach level three [qualification]," Spence said.
"Come September time they mentioned that they were going to get an intern, because they were already qualified for the World Cup and then we had a couple of conversations.
"They asked if I would like to be involved and of course I said yes. It just kind of came out for the blue really, it was pretty fast, but it is an opportunity that I couldn't turn down."
Spence has found that adapting to her new role and the new environment has been easier than expected, as the role itself is something that she has been working towards for a while.
"I thought moving to Wales was going to be pretty difficult to try and get back into a position where I can move forward with rugby, and it was kind of starting from scratch really," Spence said.
"This initiative is something that is going to be brilliant for the future for females that are transitioning out of rugby or females that want to continue their coaching career.
"It is a fantastic initiative to keep females in the game but also give them that platform that they can experience that high-level performance, which I suppose we are missing."
Despite the fast-track nature of her journey to international coaching, Spence is soaking up as much of the experience as possible.
"I joined the WRU [Welsh Rugby Union] in November as their intern, going to four or five training sessions a week," Spence said.
"As I have grown within the role, I have spent more time looking at the scrum with the girls and fed a lot of information within that.
"It is about building relationships and building content that you can then work together as a coaching team.
"This is the biggest coaching team that I have been involved in, so it is a new experience for me, but one that I have thoroughly enjoyed and gained so much experience from."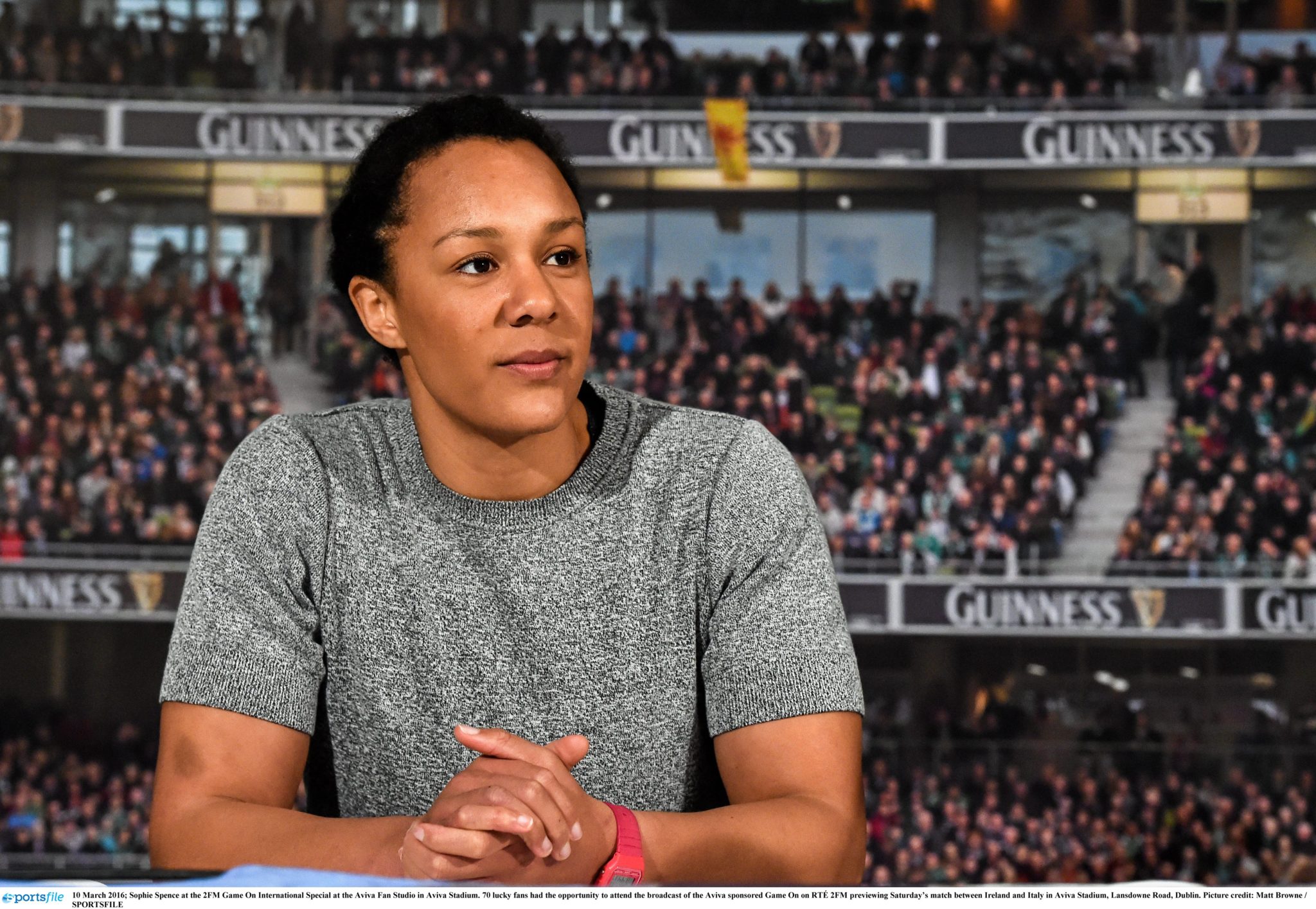 Wales is not Spence's only coaching role
Although she is new to the world of international coaching, the Welsh job is not Spence's first foray into coaching senior teams.
"I moved to Wales in 2018, and my first rugby gig is with Penclawdd's men's team, which I am starting back this Saturday," Spence said.
"It is very different. A senior men's team over here, they have never had a woman coach them before, so for me it was about building those relationships and that respect between both parties.
"I have to say the guys have been 100% fantastic. They have listened, they have taken on board the ideas that I have about playing and the change in training."
Spence has been involved with high-performance training off the pitch since 2014, having set up the Spence Rugby Academy to promote rugby amongst girls of all ages.
"Because I had been working with Leinster Rugby for a year, I had also worked with them to set up the first school of excellence for girls," Spence said.
"For me, I thought we need to get more girls on the ground, we need to get more girls involved within the game. This is the time now, there is success within the game and more people are watching.
"So I set up a rugby academy. The first year it was a rocky start trying to get it off the ground, but the following year I had sponsors such as Nissan and Irish Biltong who were backing me and having camps with 100 girls involved at a time.
"It was so great to see so many girls get involved and want to actually play the sport, which has so many fantastic values."
The Women's Six Nations Show on OTB Sports every Thursday is brought to you in association with Guinness, proud partner of Women's Six Nations. #NeverSettle. Drink responsibly, visit drinkaware.ie
Download the brand new OffTheBall App in the Play Store & App Store right now! We've got you covered!
Subscribe to OffTheBall's YouTube channel for more videos, like us on Facebook or follow us on Twitter for the latest sporting news and content.