Deshaun Watson has gotten better every year he's been in the NFL. The Houston Texans quarterback is amongst the best players in the league, but his franchise is imploding around him. He faces the toughest season of his career so far in 2019, but that shouldn't deter him individually.
Deshaun Watson is moving in one direction while the Houston Texans move in another. Watson has developed to the point that he's one of the best quarterbacks in the NFL. Meanwhile, Bill O'Brien is trading away every piece that Watson needs to compete with Patrick Mahomes and Lamar Jackson.
When Watson entered the league he had Duane Brown at left tackle and DeAndre Hopkins at receiver. J.J. Watt was fully healthy and still in his prime, Jadeveon Clowney was continuing his development into a star. Watt is still there, but his body is breaking down and he's 31 now. Brown, Hopkins and Clowney left.
The Texans made the playoffs last year and were in position to beat the Chiefs in Kansas City. O'Brien made successive awful decisions on fourth downs, leading to an eventual loss.
Instead of kicking on by improving this offseason, he's continued to worsen Watson's supporting cast. The Texans can still compete in the AFC South, but they'll be relying on severe injuries to the Chiefs and Ravens to make it to the Super Bowl. It's a shame because of what Watson has become. He's not on Mahomes or Jackson's level, but he's pressing the top tier of NFL quarterbacks.
Watson has developed greater consistency and a more rounded skillset since entering the NFL. His highlight plays have always been prevalent. But his ball placement and process in the pocket peaked in consistency on a snap-by-snap basis last season.

Getting a top quarterback prospect who proves himself worthy of being a top quarterback prospect early in his career is rare. Getting a top quarterback prospect who continues to develop through the early stages of his career is rarer. The Texans got the greatest advantage available in the sport. A cheap, quality starting quarterback. They've squandered it because of their belief in Bill O'Brien.
Watson's development in terms of ball placement manifests itself in consistency to each level of the field rather than as a linear climb from top to bottom. After ranking outside the top 30 in at least one category in each of this first two seasons, Watson ranked within the top 18 to every level in 2019. His 49.4% accuracy on deep throws last year was the single most impressive aspect of his passing since he entered the NFL.
During his rookie season, Watson threw deep a huge amount. He did so while throwing to Will Fuller and DeAndre Hopkins. As such, he could still be productive without being consistently accurate.
In 2019, he had those receivers still but this time he wasn't squandering opportunities or relying on his receivers to make unnecessarily difficult adjustments.
Watson created a whirlwind at the end of the Week 1 matchup with the New Orleans Saints. The Saints took a late 27-21 lead. Watson connected with DeAndre Hopkins with a well-thrown deep ball down the left sideline. The deep safety on that side of the field confused himself to create that opening. That play began the drive, Watson scored on a throw to Kenny Stills on the very next play.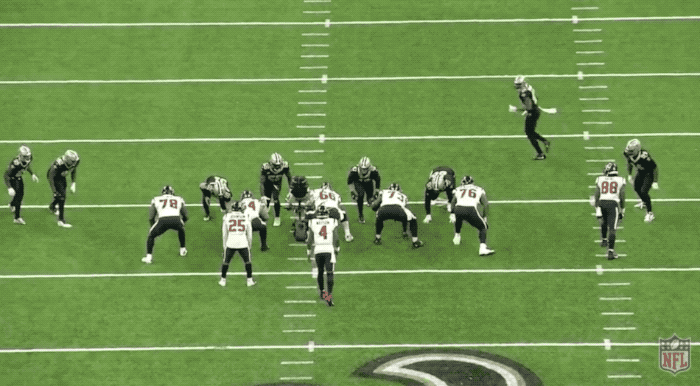 Both throws travelled further than 30 yards past the line of scrimmage. Watson's counterpart in that game, Drew Brees, had two accurate throws that travelled further than 30 yards downfield all last season. Watson did it consecutively, with the game on the line. And the second was an exceptional play.
Having been beaten playing a passive coverage on the previous play, the Saints blitzed from Watson's left. This put the deep safety in a position where he was rotating back toward the middle of the field. Watson looked left to where DeAndre Hopkins was, encouraging that deep safety to stay on that side of the field. He then came off that option to locate Kenny Stills deep.
Stills ran in behind the safety, beating the cornerback with a crisp route. Watson's ball placement led the receiver upfield and hit him in stride despite the Saints' blitz getting home.
Highlight plays aren't always the most technically impressive plays. Often they are just the deepest throws or passes that go into tight windows because the quarterback didn't execute perfectly to find/create a wider window. On this play, Watson had to hold the ball for as long as he did despite the blitz coming. He also had to manipulate that deep safety while waiting for the route to fully develop.
It's not a play that commands huge arm strength or a great physical profile, it's an extremely intelligent and poised play in a decisive moment.
But Watson can fit the ball into those tiny windows when he has to too.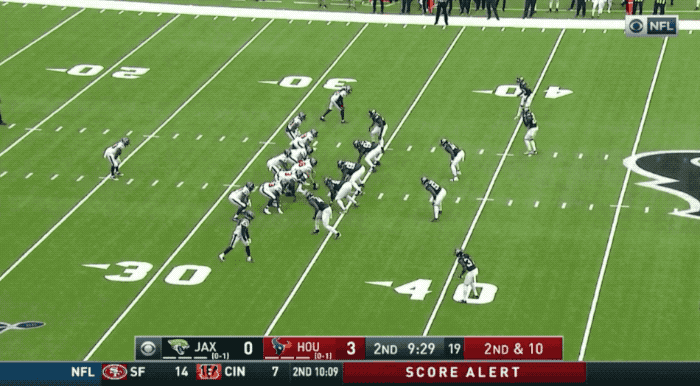 As an athletic black quarterback, Watson is faced with the same racial stereotypes that all black quarterbacks in the NFL battle against. One aspect of that stereotype is the presumption that black quarterbacks have strong arms. They're all Michael Vick apparently. Watson doesn't have a huge arm. He's nowhere close to Patrick Mahomes, Kyler Murray, Derek Carr or Matthew Stafford.
He has enough arm strength to make any throw he needs to make. It was one of the big question marks he needed to answer when he came out of Clemson.
Watson's career has featured a disproportional number of shot play designs. He threw 17.5% of his passes deep during his rookie season, no other quarterback reached 16%. That reliance on seven-man pass protections, hard play fakes and deep route combinations has lessened over the last two years. The above deep ball to Will Fuller is dropped. It's an accurate throw under heavy pressure into a tight window. The ball carries just enough velocity to clear the sprawling defender.
The shot play designs streamlined the passing game through Fuller and Hopkins while allowing the Texans to keep more blockers in pass protection to help the offensive line. Those plays allowed Watson to rack up such huge touchdown numbers. His aggressive mindset means he's willing to hold the ball and seek out the big play.
He still fits better in spread formations.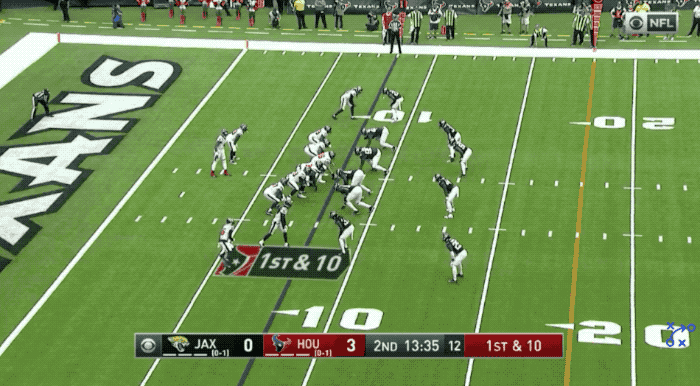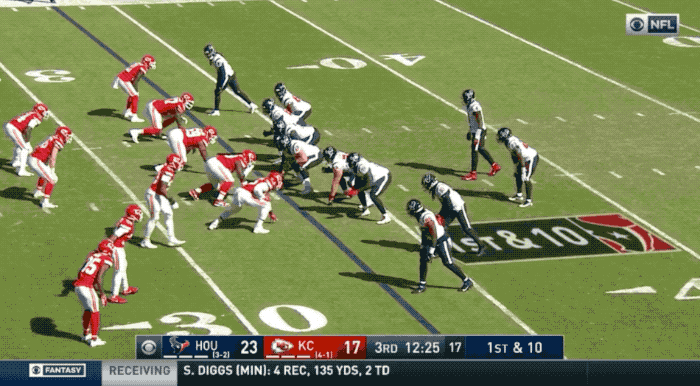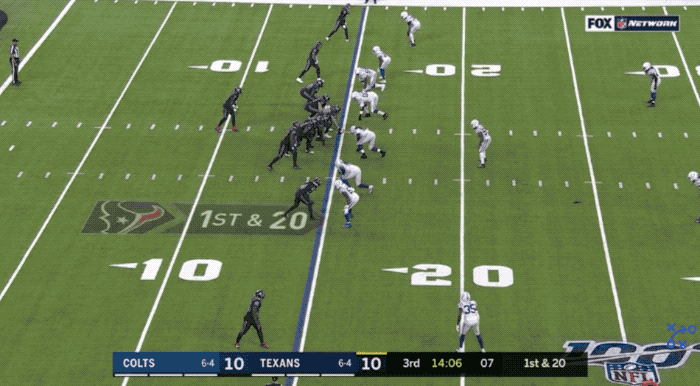 As each of these three plays highlights, Watson is more than capable of diagnosing coverages and making vertical touch throws for big plays. He doesn't need O'Brien to scheme up shot play designs that simplify his reads by reducing his options. Watson is an intelligent, nuanced passer who is closer to the antithesis of the NFL's black stereotype than he is that stereotype itself, despite his ability to run fast in a straight line.
In the final of the three clips above, you can see Watson getting obliterated by a defensive end.
One constant with Watson is his willingness to stand in and deliver the ball against heavy pressure. Anyone who watched the Buffalo Bills playoff game last year understands his toughness. He doesn't flinch and he doesn't prioritize protecting himself over delivering the ball. He's a tough, courageous football player who has absorbed a beating behind the Texans offensive line.
There's no question that Watson is a top-10 quarterback in the NFL now. Instead, the question is how does he take that next step up to join Jackson and Mahomes at the very top of the league. The difference between he and those quarterbacks is his consistency in managing the pocket. Both Jackson and Mahomes excel working the pocket, setting and resetting to maximize their space to throw the ball.
All that pressure that Watson faces from the Texans offensive line isn't always the fault of the Texans offensive line. He had terrible pass protection last year. Watson also created too much of his own pressure. The two statements aren't contradictory.
Watson has gotten better in this area each year, he needs to take another step next season.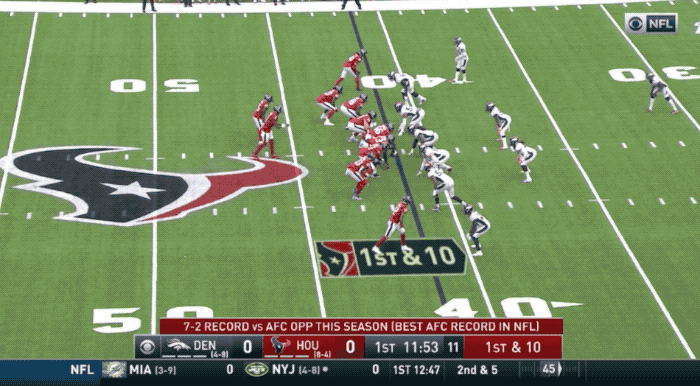 Because Watson doesn't fear taking hits, we know his pocket problems aren't fatal. He's not like Derek Carr or Baker Mayfield, two quarterbacks who are unwilling to stand in the pocket at all. Watson just needs to develop better discipline with his positioning. It's not an awareness issue either, because there are plenty of plays where he stands for the exact right amount of time or makes a subtle movement to reset within the pocket.
Watson's problems begin when he moves his feet aggressively before his eyes.
This takes him out of his throwing posture and causes his eyes to drop. Moving your feet before your eyes leads to broken timing with your receivers and dropping your eyes means you can't see your receivers. It puts you in a position where you can't throw the ball to beat the pass rush and you have to run to beat the pass rush, something that's typically tougher to do.
In the above play, Watson winds up throwing the ball away when nobody was near him because he panics.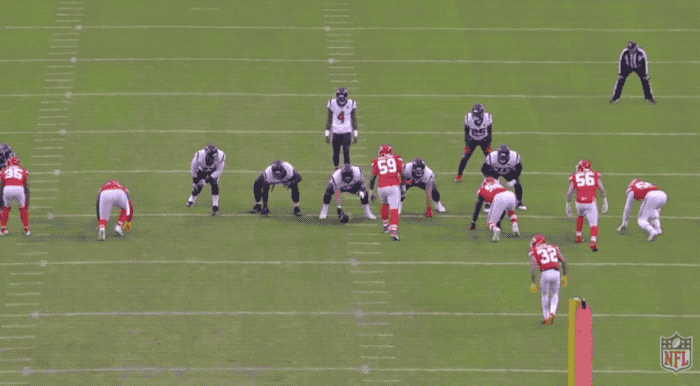 Frank Clark had three sacks in the AFC Championship Game. He didn't beat his blocker for any of them. Watson stepped up into Clark for the first, he ran around in circles for the second (shown above) and he held the ball against an all-out blitz for the third. On the third one, DeAndre Hopkins was open for a touchdown on a short slant. Watson missed another wide-open touchdown against the Buccaneers in Week 16.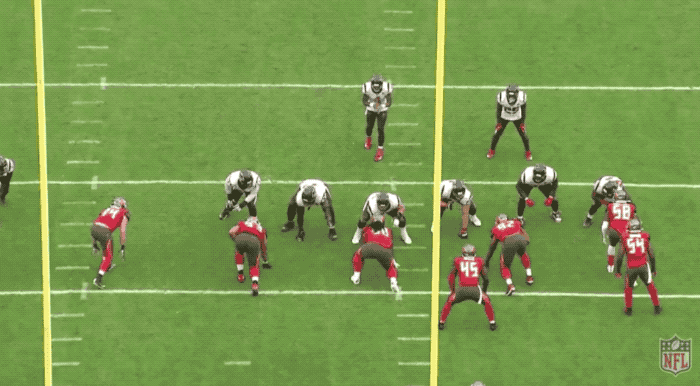 On that play, Watson's front-side receivers were all covered. His eyes lingered for a moment before he turned back tot he backside of the play. However, when he turned, he abandoned his throwing posture instead of resetting. Had he reset, he could have comfortably lofted the ball to Duke Johnson for a wide-open touchdown.
Those are small details that have a big impact. They ultimately kicked a field goal on this drive.
Watson's tendency to move his feet before his eyes comes from his ability to make plays both inside and outside of the structure of his offence. He offsets the negatives that he creates by generating big plays and being an effective scrambler.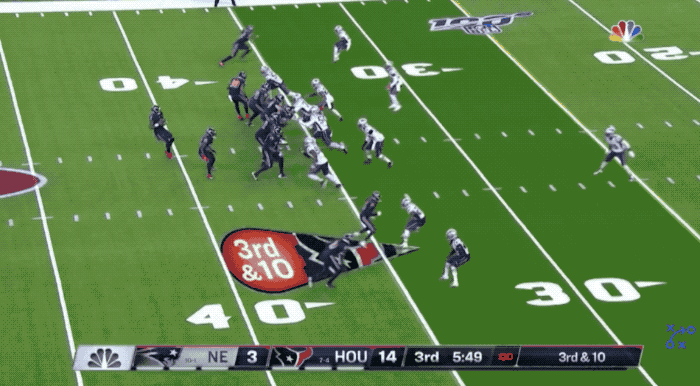 For a player of Watson's style, at least while he's playing in this type of offensive scheme, it's always going to be about the balance between his big plays and his mistakes. The more consistent he becomes in the so-called routine aspects of playing quarterback, the more those big plays become plays that enhance his positive impact instead of offsetting his negative impact.
The balance was right in 2019. It should be right again in 2020. Even better than 2019 based on the trajectory of his career so far.
It just won't matter for the Texans. Watson is on the precipice of greatness. The Texans are on the precipice of rebuilding. Thanks, Bill O'Brien.
Read more quarterback breakdowns on Off The Ball: 
Aaron Rodgers is still an elite quarterback.
Baker Mayfield will be a liability again in 2020.
Ryan Tannehill's success is unsustainable.
Download the brand new OffTheBall App in the Play Store & App Store right now! We've got you covered!
Subscribe to OffTheBall's YouTube channel for more videos, like us on Facebook or follow us on Twitter for the latest sporting news and content.