As Dessie Farrell takes over the Dublin footballers from Jim Gavin, Mickey Ned O'Sullivan recalled the challenges he faced in replacing the legendary Kerry manager, Mick O'Dwyer.
The Course of Empire, a series of five paintings created by Thomas Cole in the early 1830s, captures the damnation of civilisation by way of mankind's susceptibility to celebrate its own existence too vigorously.
Cole's depiction of an imaginary city on its journey from the fecund nothingness of 'The Savage State' to the ultimate destitution of 'Desolation', it is within stages two, three and four that the Bolton-born American artist demonstrates the awesome potential of human ambition and how corrosive this relentless quest can be.
It is, despite this conclusion, inextricably linked to the cyclical nature of the human experience. From the fifth painting back to the first, Cole may have had little confidence in humankind's ability to self-reflect, but as Samuel Beckett captured over a century later, it is our penance or privilege to power on, nevertheless: "you must go on, I can't go on, I'll go on."
Extrapolate the boundaries of Thomas Cole's paintings and Mickey Ned O'Sullivan probably took charge of Kerry's footballers somewhere close to what one may understand as the latter stages of 'Destruction'.
"When I inherited the Kerry team," he told Off the Ball of his appointment in late 1989, "I inherited nothing."
Mick O'Dwyer's first 11 years in charge of Kerry resulted in the improbable tally of eight All-Ireland titles.
Unfortunately for Mickey Ned O'Sullivan, who had served in the Kerry backroom team throughout the mid-1980s, the remaining three years of O'Dwyer's tenure contributed little to his legacy.
"At the end of 1987 when we'd been beaten," he recalled, "I said to Mick O'Dwyer, 'Look, we need to develop a bit of a succession plan here.'
"Nobody had been brought in for 10 years. Yes, we'd been winning and that is self-perpetuating, but there was no light at the end of the tunnel for any young player in Kerry at the time.
"By '87, we were way too top heavy. Mick continued for another few years, but I pulled out because I felt we were going nowhere then."
Kieran Culhane, one such young Kerry player whose pathway into the senior team had been cluttered by O'Dwyer's reluctance to cull players who had served him well, revealed to Off the Ball a comment he recalled one of the senior stars uttering at the time: "It's harder to get off this team than on it."
With the consummation of Kerry's golden era under O'Dwyer all but over, O'Sullivan's decision to replace the legendary figure two years later bears consideration.
To fill the sizable gap O'Dwyer had left, one imagines – much like Jose Mourinho's reported eagerness to replace Alex Ferguson at Manchester United – that any candidate would require a strong sense of their own worth, ego and the team's ability to remain successful under their guidance.
Given Mickey Ned O'Sullivan's awareness of the grim reality that awaited Kerry football on account of little or no forward-planning, this was most certainly not what informed his decision to take charge in late 1989.
Not quite a mission of mercy, perhaps, O'Sullivan was driven by the thrill of a challenge that would inevitably term his tenure a failure.
I had no problem with that though because somebody had to take over after Mick O'Dwyer, and I had the ability to do it. I didn't give a damn what people said about me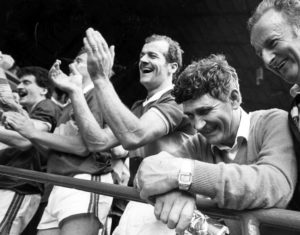 "When I took over, I had to reinvent the wheel from the top down," he explained of the task that lay before him. "I didn't go into this job blindly you must understand.
"I knew there was no real talent there, but that Kerry supporters wanted an All-Ireland. Nevertheless, I was excited because I knew what I was doing. There was never going to be an All-Ireland with me, but I was going to build a base for future success."
The captain of O'Dwyer's first All-Ireland winning team in 1975, Mickey Ned O'Sullivan is not so much impressed with the trappings of success as he is fascinated by the methodologies that enable it.
Thirty-years after he took charge of Kerry's senior footballers, the Kenmare native retains a startling hold over the job that was put before him, and how he went about conducting it.
"I had three players over the age of 35," he recalled of Jack O'Shea, Eoin 'Bomber' Liston and Pat Spillane, "and I had two players between the ages of 35 and 21. I had to bring up lads from the U21s to make up the rest.
"So, I was able to bring a new approach to things. At the time, it was probably more progressive because I didn't have the talent Mick had had at his disposal. We hadn't won an U21 All-Ireland in 13 or 14 years. So, for that reason, I just took over the U21s straight away with the seniors.
"We won the U21 All-Ireland then in 1990 and the next three Munster championships, so that was the basis for the senior team of the '90s. By the end of my tether most of the older guys had gone and the average age of the team was brought down to about 21."
In possession of the bigger picture he'd created for Kerry football, Mickey Ned O'Sullivan didn't flinch. Nevertheless, in overseeing an era that culminated with Kerry losing a Munster final to Clare, he has never been ignorant to the objective assessment of his time in charge.
"A friend of mine told me at the time, 'You're going to be lambasted'," he explained of the period immediately after his ratification, "I had no problem with that though because somebody had to take over after Mick O'Dwyer, and I had to ability to do it.
"I didn't give a damn what people said about me. I knew I was doing the right thing, building a new team."
Although few rushed to tell him as much when Kerry won their first All-Ireland title for over a decade in 1997, O'Sullivan could see the traces of a team he'd forged reaching its potential.
"Eight of my U21s played that day," he noted of the Kerry team that defeated Mayo. "I said to myself, 'Ned, at least we were going in the right direction.'
"Nobody probably saw the connection, but I saw it and I felt vindicated.
"You don't get involved in the GAA for the pats on the back. You make your contribution, do the best you can and when your time is up you just move on.
"The expectancy in Kerry is that winning isn't everything, it's the only thing. But it's not about the result or the scoreboard, it's about the process.
"Marginal gains, night after night – that is success, that will look after the scoreboard. If you're concentrating on winning alone, you lose what it is all about: the process!"
It is with such a frame of mind that Mickey Ned O'Sullivan became so endeared by a modern giant of GAA management.
He is fortunate that he has great players and a great system, but if he can bring his own energy to this, he can actually take it to another level
If Mickey Ned O'Sullivan arrived as Mick O'Dwyer's imperial city was crumbling, what Dessie Farrell has inherited by way of this Dublin team hints at a sort of heavenly permanence alien to Thomas Cole's shifting scenes.
In watching Jim Gavin from afar, O'Sullivan found a kindred spirit.
"Dessie Farrell is inheriting a situation where the previous manager had no ego," he reasoned of the Dublin set-up. "Jim Gavin had set up a system and a process that the players bought into, took responsibility for and ownership of.
"His job was to create leaders in every position and a leadership group where the players would drive the whole thing forward.
"Gavin was a remarkable manager and he reminds me of a quotation from Theodor Roosevelt: "You can achieve anything as long as you're not worried who gets the credit."
"That was his outlook. He empowered people."
Mickey Ned O'Sullivan is confident in Farrell's ability to sustain Dublin's dominance, yet, there are some conditions.
In place of the all-conquering Gavin, Dessie Farrell must assert himself as a voice that warrants being listened to.
"He is fortunate that he has great players and a great system," outlined O'Sullivan, "but if he can bring his own energy to this, he can actually take it to another level.
"However, they've got to be brought to that next level or they won't win. That is his challenge."
Ceaselessly onward churns The Course of Empire.
Download the brand new OffTheBall App in the Play Store & App Store right now! We've got you covered!
Subscribe to OffTheBall's YouTube channel for more videos, like us on Facebook or follow us on Twitter for the latest sporting news and content.