We will act with humility, modesty, and personal and institutional selflessness... In practice, this means that we will act honestly, ethically, and respectfully toward colleagues, grantees, vendors, and others whom we meet through our Foundation. We will not seek credit or recognition for supporting our grantees for the Foundation or ourselves. We will focus attention instead on our grantees and try to keep a low profile. 
- Section 4. Professional Behaviour, Mayo International Supporters Foundation Code of Ethics
Reading the above, it's impossible not to see the contradictions between what was hoped for the Mayo International Supporters Foundation and the reality of what the group has become.
Rather than keeping "a low profile", the group, through its founder and financier Tim O'Leary, has become the story in a series of high-profile controversies and rows with the Mayo County Board.
A bitter dispute between the two bubbled over the winter with O'Leary threatening legal action and withholding a pledged $250,000 donation.
The long-running on-off relationship hit a new low on Monday, however, after Mayo GAA announced it was ceasing all contact with O'Leary after he took to Twitter on Sunday calling for the departure of manager James Horan.
It's simply the latest in a high-profile feud that has featured name-calling, accusations of bullying and all been played out through a litany of statements, tweets, leaks and open letters.
This is how we got here:
Who is Tim O'Leary?
'Every day presents itself with a new challenge - how you react to that sorts the men from the boys' - Tim O'Leary's Linkedin.
Hailing from London but of Mayo descent through his Newport mother, O'Leary resides in the Bahamas and works as a trader.
A mathematics graduate from the University of Manchester, O'Leary has a history of anonymous donations to Mayo GAA according to his foundation's website.
Although a massive Mayo GAA fan, O'Leary follows his country of birth in football, notably hitting the headlines for flashing Alessandro Diamanti during the England-Italy penalty shootout at Euro 2012.
2018: Establishing The Foundation
Following a disastrous Round 1 qualifier defeat to Longford in 2010, the decision was taken to undertake an in-depth strategic review of Mayo GAA.
The aim was to examine how the organisation went about its business and to put forward recommendations for reform. Born then was the idea of an independent foundation that could raise significant sums of money from wealthy individuals who were well disposed towards Mayo GAA.
While the recommendations of an independent foundation with appointed trustees never fully materialised, it was in that vein that Tim O'Leary founded the not-for-profit Mayo International Supporters Foundation in late 2018. The organisation was registered in Dallas, Texas.
Speaking at the foundation's 2019 Gala Dinner, O'Leary said its objective was "to help harness global support, provide financial support for strategic projects like the Training Centre in Castlebar, the new underage Academy, and support to James Horan and his team."
2019: Fundraising and The New York Gala Dinner
A letter to Mayo officials from the foundation in July last year details that O'Leary had contributed a total of $415,000 to Mayo GAA, including a payment of $150,000 in 2018.
That contribution aside, the flagship fundraising event of the foundation's short history was a black-tie gala dinner at the Cipriani Broadway in Manhattan which took place two days before Mayo's Connacht Championship game against New York in May of last year.
Amongst the 300 guests at the $10,000 per table event was former taoiseach Enda Kenny, comedian Conor Moore (Conor Sketches), Mayo manager James Horan and a spread of past and current players as well as county officials.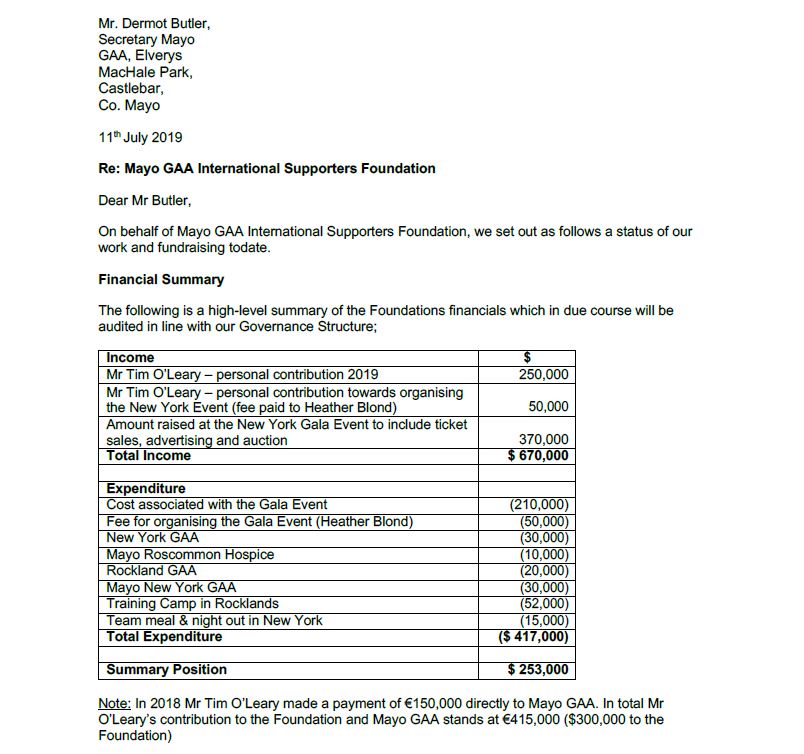 The foundation reported a sum of $370,000 raised through tickets and an auction on the night which advertised prizes including four tickets to every one of Ireland's Rugby World Cup pool matches, a seven-night trip to the Bahamas and All-Ireland final tickets.
Addressing guests, Mayo GAA chairman Mike Connelly described the foundation's event as a "big game-changer" for the county and O'Leary as "one of the greatest Mayo supporters of all-time".
In addition, O'Leary financially supported a significant portion of Mayo GAA's trip to New York that year including a $15,000 night out and $52,000 on a training camp.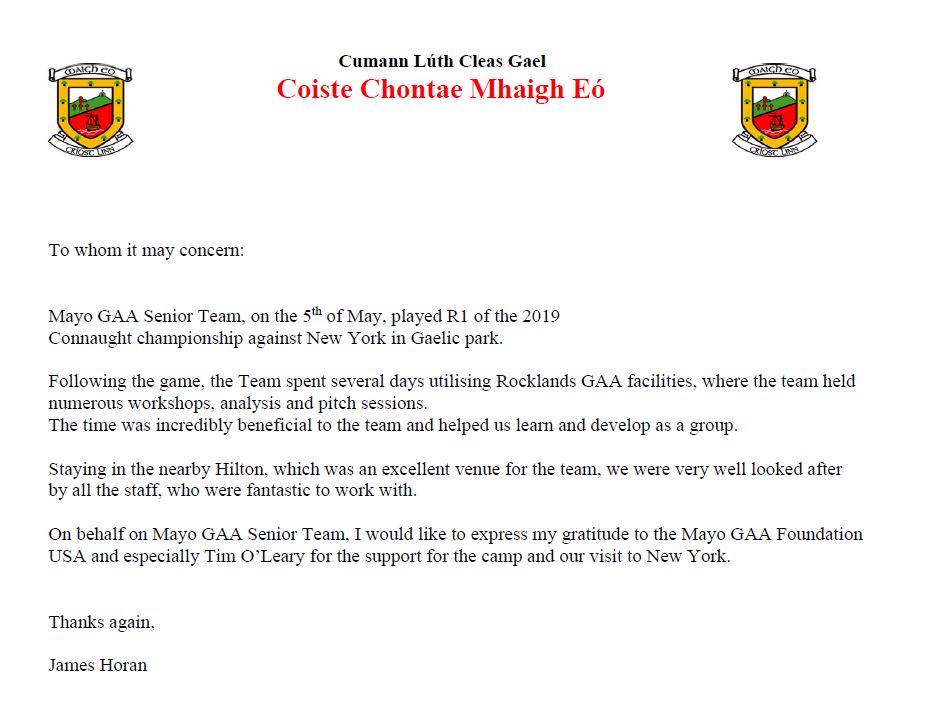 September: Receipts Row and $250,000 Withheld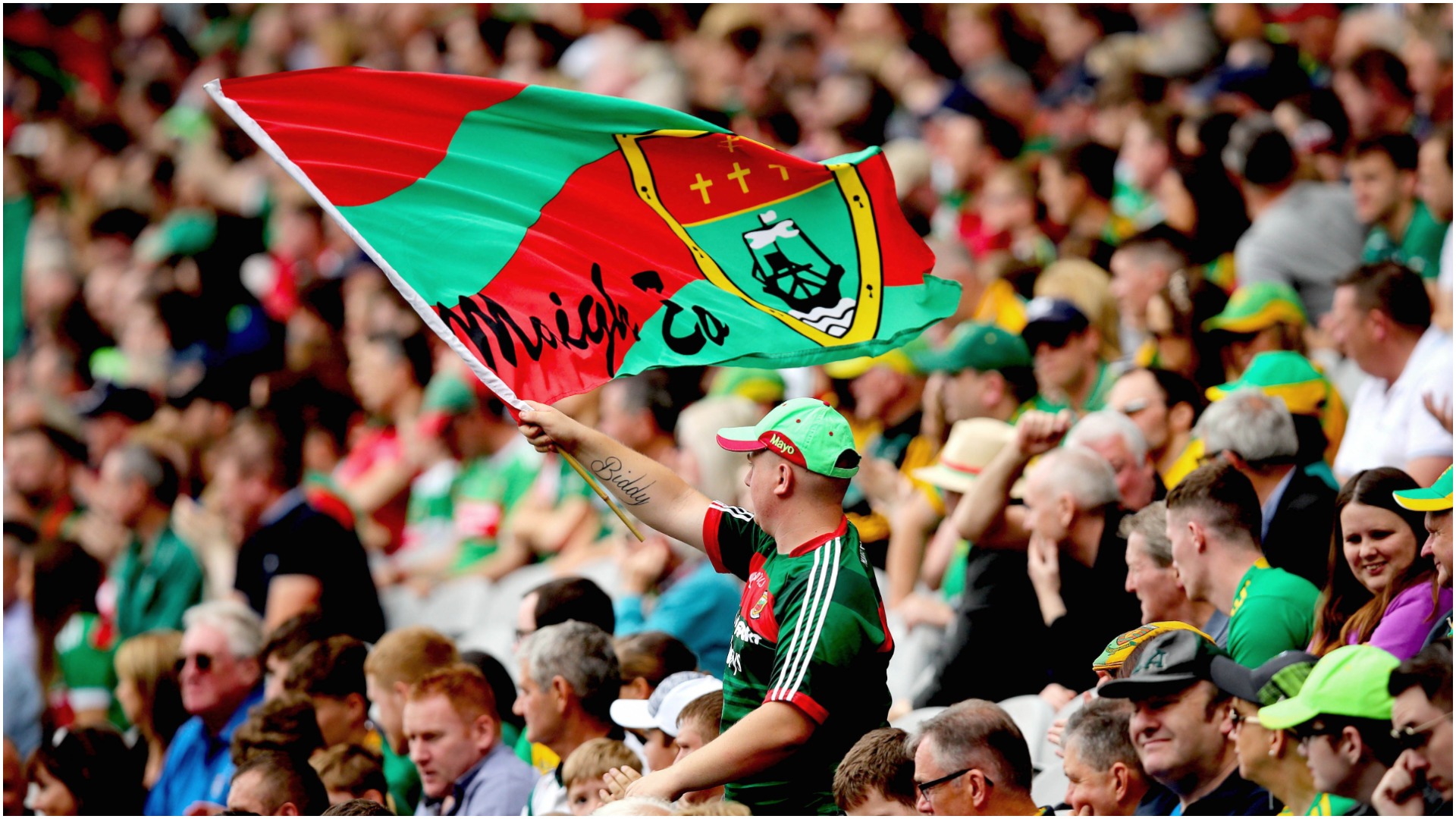 As Dublin collected a historic fifth consecutive Sam Maguire, a row broke out in Mayo over the spending of O'Leary's $150,000 donation.
The businessman claimed he was not given receipts to show how the money was spent, as was dictated in the terms of the payment.
What was provided to the foundation, it purported in an email to clubs, represented "copies of multiple invoices and receipts seemingly randomly picked from the financial files."
"It is clear to the foundation that Mayo GAA need significant financial support to sustain and develop GAA games in the county. The foundation's support is now at risk due to the serious deficits in financial governance at board level."
Disputing their benefactor's claims, the Mayo County Board argued that no such terms had existed but even if they had, they were satisfied.
As a result of the row, O'Leary announced he would withhold the $250,000 donation previously pledged to Mayo GAA.
October: "Donkey" O'Leary Accuses Mayo GAA of Intimidating Culture
The dispute took a farcical turn in October when O'Leary accused the County board of bullying and fostering an "intimidating culture" after he was called a "donkey" in an email by one official.
"I can very much relate to what they say on this point as I have been at the receiving end of a number of personal insults," a leaked letter from O'Leary read.
"As you and other officers are aware, I was called a 'donkey' in an open email by a senior officer of the Mayo Board. As you can appreciate it got a bit personal at that point!"
November: Row Escalates as GAA Attempt Intervention
As the row escalated and O'Leary continued to withhold his funding, members of the Mayo County Committee were asked to meet with Connacht Council and the GAA's Central Council in an attempt to reach a resolution between the two parties.
Eoin Sheahan traveled to Castlebar on the night of Mayo County Board's emergency meeting but was expertly avoided by officials unwilling to talk to the press after a series of leaks.
In leaked correspondence seen by Off The Ball the following week, Mayo GAA treasurer Kevin O'Toole said he would give the money back to Tim O'Leary and the Mayo GAA International Supporters Foundation as the stand-off raged on.
With no resolution forthcoming by the end of November, GAA officials then reached out to O'Leary to meet.
December: O'Leary Goes Legal
The feud appeared to finally be reaching an ugly conclusion in December when O'Leary tweeted that he was commencing legal proceedings against Mayo County Board.
O'Leary said he had "given it much thought and deliberation" but had "reluctantly" decided to begin legal action after he had asked for his donation to be refunded within 21 days.
Earlier in the month, the businessman expressed his willingness to find a solution, pledging $1,000,000 over five years if the county board could fulfill nine demands of the organisation.
January 2020: A False Dawn
A long-awaited apology and the promise of reforms from newly-elected Mayo GAA Chairman Liam Moffatt allowed O'Leary to end the bitter row and cease legal proceedings against the county.
A joint statement was released by the board and O'Leary in which they looked forward to an improved relationship and expressed regret for the deterioration in relations since "all parties motivation, from the outset, was to assist Mayo GAA."
Moffatt added that financial reforms would take place and offered an apology to O'Leary for the dispute: "We have outlined the financial reforms that are taking place within Mayo GAA and I have offered Mr. O'Leary and his family an apology for any inappropriate and personal remarks towards him, an apology which Mr. O'Leary has accepted."
February: Contact Ceases over 'Horan Out' Tweets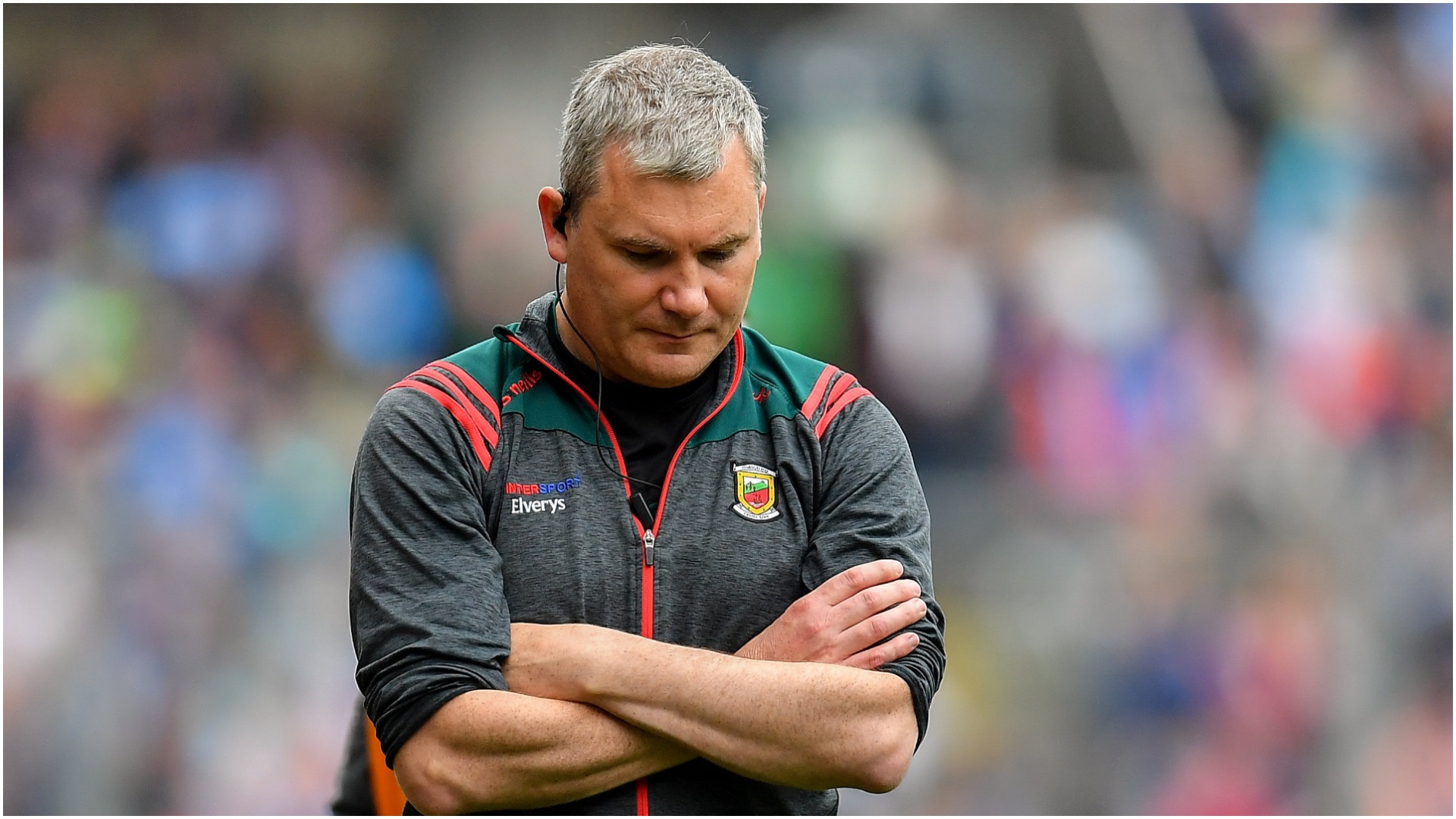 Following Sunday's nine-point defeat to Monaghan at Clones, Mayo's weekend went from bad to worse when O'Leary took to Twitter to call for James Horan's sacking.
"#Horanout We are not very good. #Truthhurts always," read one of two Sunday evening tweets which were later deleted.
On Monday, O'Leary apologised, blaming his outburst on the influence of alcohol: "Sorry for my outburst yesterday - had a few too many pints - lesson learned - I am going to keep my mouth shut going forward."
However, the apology was not enough as Mayo GAA released a statement late on Monday night announcing they had finally "ceased all dialogue" with their millionaire benefactor, citing "stakeholders whose behaviours deviate from what has been mandated by our clubs and in light of recent social media comments made by Mr. O'Leary."
O'Leary has not yet commented on the latest development and on Monday deactivated his Twitter account. His silence is unlikely to be the end of this story.
Download the brand new OffTheBall App in the Play Store & App Store right now! We've got you covered!
Subscribe to OffTheBall's YouTube channel for more videos, like us on Facebook or follow us on Twitter for the latest sporting news and content.