Ireland's 24-14 victory over Wales on Saturday was a step in the right direction. Robbie Henshaw, Conor Murray and Tadhg Furlong amongst others had big days to remind onlookers of their quality. But it was Andrew Conway in only his second Six Nations start who shone brightest.
Andrew Conway scored his 10th try for Ireland last weekend. You may not have noticed. It was one of the least notable aspects of his performance. Conway isn't your typical winger. Unlike Teddy Thomas, he contributes in every way possible for his team. Thomas scored early for France against Italy on Sunday, then spent the rest of the game lost in defence. Thomas is talented enough that he can be one of the best wingers in the world while making defence optional.
Conway is an exceptional talent also, but the competition for places on the wing in Ireland is too great for anyone to get by on finishing alone.
Keith Earls' injury entering the Six Nations and Conway's form through the World Cup combined to give him his opportunity. He started against Scotland in Round 1 and played well. He was arguably the best player on the field against Wales, which is saying something because there were outstanding performances across the Irish backline and in the pack. Conway's try was simple, he was left open on the right wing and ran in from an advantageous position. The rest of his performance reflected his talent and his commitment to refining his technical profile.
Wales targeted Conway in defence early during the first half.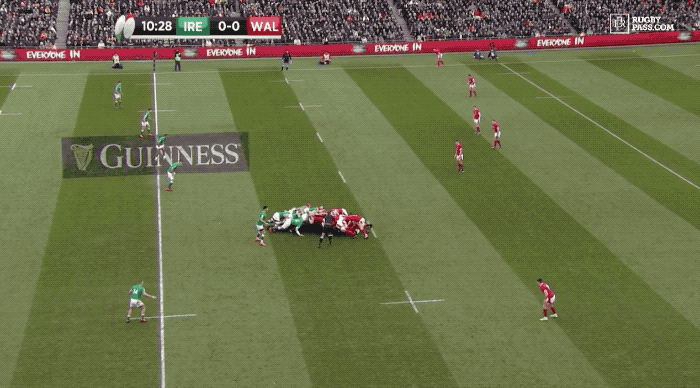 Josh Adams is one of the most proficient wingers in world rugby. Adams scored seven tries to lead all players at the World Cup. Wales saw an opportunity to pit Adams one-on-one against Conway in the 15-metre channel. Conway comes up and sets his initial position off of Conor Murray. He shows good posture and moves with the ball to Adams. That way he didn't open up a gap for the Welsh scrum-half to get past Murray's outside shoulder.
Once Adams catches the ball, Conway is on top of him. His shoulders stay square and his technique is strong to wrap up the inside leg of the winger. Conway didn't concede much ground so Wales didn't gain any forward momentum from this initial phase.
Adams went off injured soon after this sequence. Therefore we didn't get to see the two go against each other again. But we can compare this to Thomas' matchup with Matteo Minozzi.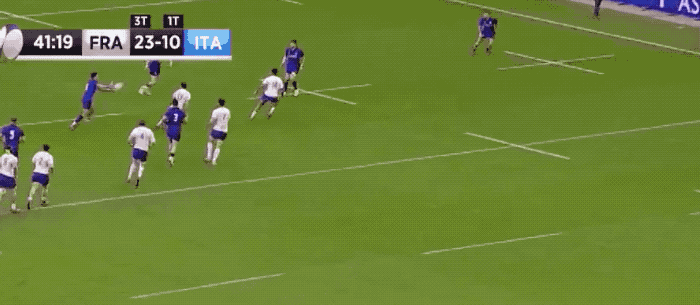 Minozzi repeatedly found himself in one-on-one situations against Thomas. He often had less space than Adams had in the above example. The Italian winger repeatedly threatened outside to turn Thomas around as he broke infield. Thomas didn't show off the same awareness or technical discipline that his Irish counterpart did. That allowed Minozzi to lead all Italian players with 90 metres gained, second only to France fullback Gregory Alldritt who had 130 in the game.
Minozzi also scored a try when Thomas was lost in the defensive line.
Thomas is a better finisher than Conway. He's a better finisher than the majority of players playing right now. But that's not to say Conway is a bad finisher. He's outstanding with the ball in hand. He's scored 10 tries in 20 appearances for Ireland despite not seeing the field during the 2018 peak of Joe Schmidt's side. Conway has mostly played for a Munster team that also didn't play expansive, attacking rugby. That forced him to become well-rounded.
Speaking to Off The Ball AM this week, Conway emphasized how important his development has been, "It's been a building process for the last four years where I stripped back my approach to the game and put a lot of thought into how I can become the absolute best player that I can be. It's about never settling and always looking to evolve as a player."
You'd like to assume every player works on his weak areas, but as Conway himself notes, that's easy to do over the short term, but harder to maintain over the long-term. He has turned his weak areas into areas of strength.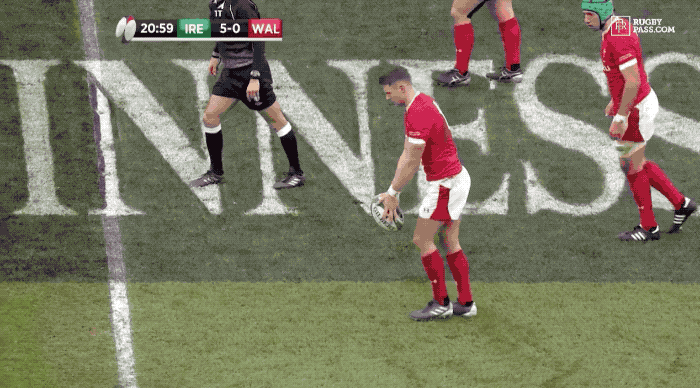 Immediately after Jordan Larmour's try in the first half, Wales kicked off in the direction of Conway. Tadhg Furlong and Iain Henderson misread the flight of the ball, allowing it to become a 50-50 between Conway and Adams. Although Adams had good positioning, Conway rose above him with perfect timing to secure the ball above his head. A risky situation became a comfortable one for Ireland thanks to Conway's technique and athleticism.
Conway isn't an especially small or especially tall winger. He noted this week that he's had to work hard to get his timing right so he can catch the ball in different ways. This is one of the tougher scenarios for a winger to manage. He has to keep his eye on the ball, meet it at its highest point and even if he does everything right, he's likely to be taken out by the opponent. Adams arrived early enough that he could turn and look at the ball without running into Conway.
The Irish winger protected himself by coming at the ball from the side. He doesn't go directly to the spot where he catches the ball when it is in the air. He stays wide before coming infield. That helps him win the ball and protect himself.
Ireland's performance in this game was excellent. But the scoreline hinged on some key moments. It wasn't that Ireland overwhelmed their opponents. They were the better team, but Wales also threatened before the score was 24-7. Conway played an important role in keeping Wales down. He was solid defensively throughout and made two key reads when Wales were attacking.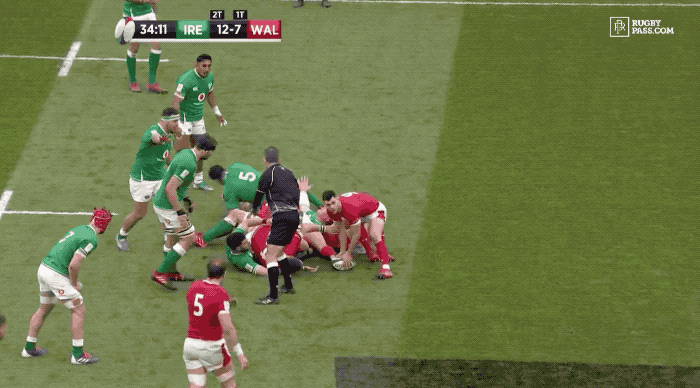 Diagnosing the play as a winger requires smart positioning and knowing when to advance and when to sag off. On this play, Conway comes upfield and recognizes that there are forwards inside of him. Once the winger steps inside of his hooker, Conway knows there is no route for the ball to go outside without connecting with that hooker. Because the hooker has his eyes inside, he has to catch the ball then bring it round before passing it off. Conway recognizes this and hits the hooker before he can turn.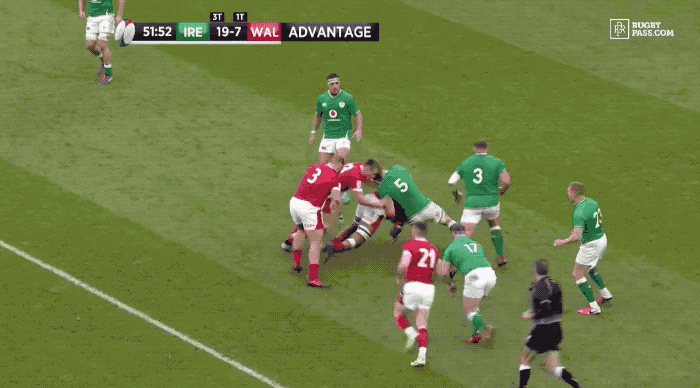 His second intervention came early in the second half when Ireland had a 12-point lead. This play preceded Hadleigh Parkes knock-on at the try line. Had Conway not stepped in at the perfect time to force the tip pass forward, Wales would have had an opportunity to run in the corner with a two-on-one against Larmour. Again this decision from Conway is an educated one based on what unfolds inside of him.
Wingers who step in always expose themselves to skip passes. Conway read the action to play the percentages in his favour. That's the best thing a winger can do. It's also how he scored against Racing 92 in the Champions Cup this year.
Being great under the high ball and smart in the defensive line gives Conway the foundation of his defensive contribution. As any attentive Munster fan will know, that's not where Conway's contributions in his own half end. He's also an outstanding kicker from hand.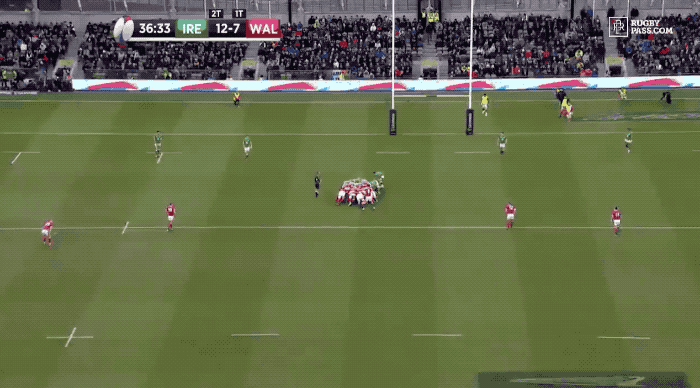 Ireland looked to run the ball from their own 22 multiple times on Saturday. They opened the second half by moving the ball wide on their first two phases before clearing the ball on the third. Those appeared to be pre-planned actions, whereas this play was sparked by Johnny Sexton reacting to the defence. The Welsh defender overplayed the kick block, affording space to Sexton to run into. He drew two defenders, leaving Conway open outside.
Despite Sexton's good decision, Conway found himself in a bad spot. He had no angle to kick the ball and there wasn't space to sprint through. This position required perfect execution. Conway purposely cut across the ball with his right foot to bend it infield then back out, bouncing in front of Leigh Halfpenny to move the ball to the Welsh 22.
It was a perfect kick.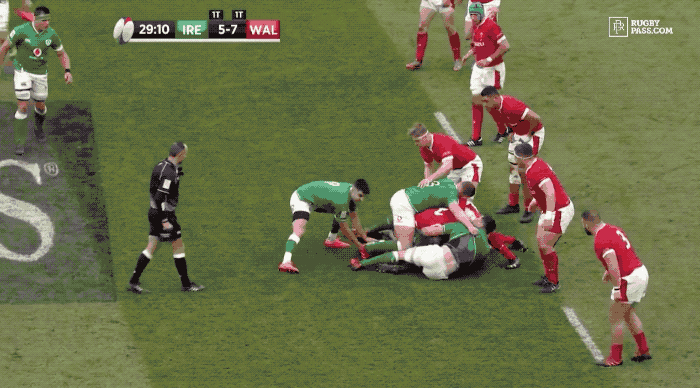 Conway's kicking ability extends to the other half of the field too. His spacial awareness and willingness to kick the ball always stand out for the right reasons. He's not the type of winger who will allow himself to be squeezed out over the sideline. Instead, he will press the defensive line to pull his opposite winger forward before chipping the ball over his head. The above example of such a play led to Tadgh Furlong's score.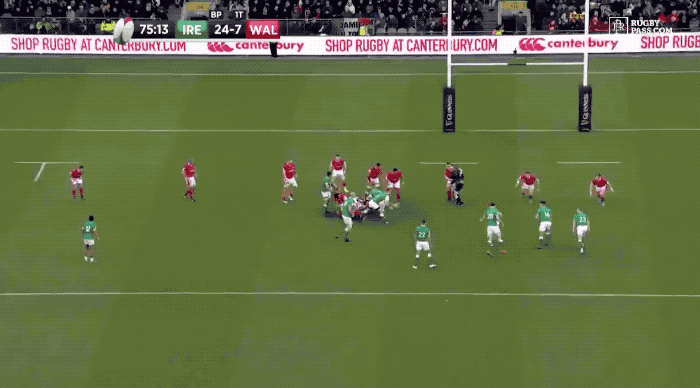 Conway's score came from an overlap when Ireland penetrated the Welsh defence up the middle before moving the ball outside. John Cooney and Ross Byrne both made the right decisions to get the ball to Conway in space. The finish was easy. But prior to touching down, Conway had made three different plays on the ball in the air in the sequence that moved the ball into the Welsh 22.
His impact on the game was consistent from start to finish.
12 months ago, England picked Ireland's back three apart with precise kicks. Six months ago, England obliterated Ireland in part by attacking outside and forcing Ireland's backs into bad reads. Conway didn't start either game. He'll be one of the first names on Andy Farrell's team sheet next week.
Everyone's in the Team Of Us.
Vodafone. The Official Sponsor of the Irish Rugby Team.
Subscribe to Off The Ball's YouTube channel for more videos, like us on Facebook or follow us on Twitter for the latest sporting news and content.